Brussels, Belgium.  
What do you know about it? Probably just the Manneken Pis, a fountain of a little boy peeing. Or the Belgian waffles. Probably not much more, as that's basically what I knew about it. Or at least thought I knew.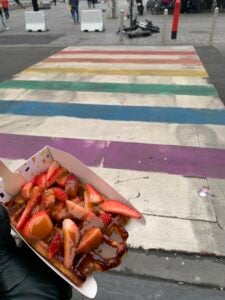 This city was my match made in heaven, and I didn't even know it when I decided on IFE's Brussels program over the Strasbourg program due to more LGBT internship opportunities.  
Firstly, I love Belgian waffles. Well, actually, the waffles I love are the Liege waffles and not the Brussels ones, but that's beside the point. The crunchy sugar layer is my favorite part. I used to buy a package of them at Whole Foods every time I saw them.
Second, like most Americans studying French, I've listened to Stromae for years. I adore his energy. I always forgot he was Belgian, but here I am always reminded of the adoration Brussels has for him.  
Third, my favorite LGBT French song I've been listening to for over a year is "Ta Reine" by Angèle. I even had the lyrics memorized even before I knew what they meant. What I didn't know until I had my Belgian music class was that Angèle is from Brussels.
Fourth, my favorite chocolate growing up was the shells and sea horses from Guylian. I only realized they were Belgian when we went to a chocolate-making workshop at ChocoStory with my program. I honestly love anything with hazelnuts: Nutella, praline and my new favorite hazelnut cookie from Exki.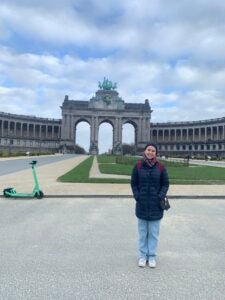 Fifth: I don't like beer. Now, why would I say that made Brussels the best choice since Belgium is known for its beer? Well, the only beer I used to like in the U.S. was Lindeman's raspberry beer, which is brewed in Belgium! It is a lambic beer, so it is quite sour and doesn't have an overwhelming hops flavor. Since going to the Cantillon Brewery with our Dutch professor, I have enjoyed discovering different lambic and gueuze beers in Belgium. 
I never imagined loving Brussels as much I do, but I absolutely see it as my home now. I went to Prague last week, but after 5 days there, I started missing "home." I was missing Brussels. I missed the Belgian Art Nouveau architecture. I missed my new friends.  
Since arriving at the end of January, I have probably walked every street in the center of Brussels. My favorite view has been the Grand-Place lit up at night.  

When I explore, I like to go geocaching. It is a worldwide community of people placing small containers and using GPS to find others. It has been a wonderful activity to get me to walk even more than I normally would and discover the less well-known side streets.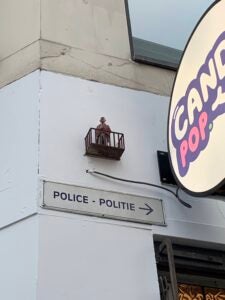 Geocaching has helped me find little treasures around the city, one of which is the comics that are painted on many buildings around the city, and these little men that someone put around town, which you wouldn't see if you didn't know they were there.  I invite all of you to start geocaching in your own cities, to be able to see more cool things. 
Feel free to reach out to me about IFE, Brussels, or studying abroad in general. You can also follow my adventures on Instagram @nellyinbrussels.  
This post was contributed by Nelly Akhmadikina, a Global Ambassador for Spring 2022. Nelly is a fourth-year biology and public health major studying abroad in Brussels, Belgium.