Horns meet World. World meet Aparna Kumar. Aparna is an Advertising and Public Relations major at UT and spent her summer studying abroad at Yonsei University in Seoul, Korea. Here were some of the highlights from her trip.
---
I knew eventually I would have the opportunity to travel recreationally later, but college is the only time I would get to travel and study in another country at the same time. I also knew I wanted to go somewhere less accessible than Western Europe. Considering I had recently started reluctantly getting into K-Pop it made sense for me to go while I was still sucked into the Hallyu wave!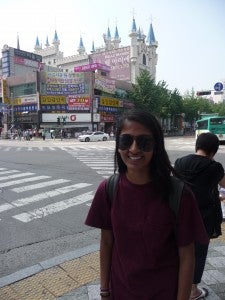 The day I arrived it was pouring rain, pitch black outside, and I only spoke a minimal amount of Korean. So, one wet passport, two taxi drivers (who spoke no English), and a fall down the stairs later, I arrived at my hotel unscathed. After the first day the only real trouble I had was maintaining my vegetarian lifestyle. Trying to articulate to waiters throughout the city that seafood is still considered meat became a never-ending struggle. "Kogi baego juseyo" was my mantra until I eventually decided to put my vegetarianism on hold until I returned to the US.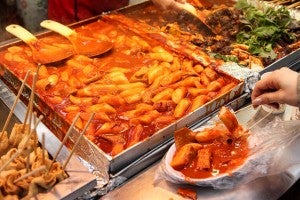 Ddeokbokki and Bibimbap became regular staples in my diet having them at least twice a week. Ddeokbokki is typically a street food made with rice cakes that look kind of like pasta, fried eggs, red chili sauce, and fish cakes (which I picked out). The lady who owned the stand would see us walking up after class and already have plates of ddeokbokki ready to go- as well as a huge jug of water and a box of tissues because of how spicy it was.
The program I chose was an affiliate program meaning it was run by another organization instead of UT. Because of this, I got to have access to unique professors and the program organized trips to places I would not normally be able to go. My favorite course at Yonsei was North Korean Government and Foreign Policy. The professor used to work in the intelligence division of the South Korean government and still has family living in North Korea, so it was a rare opportunity to learn about the inner workings of the regime from someone who is so close to it. We also took a field trip to the DMZ where we got to stand directly facing North Korean soldiers and even in North Korean territory. The orientation we received prior to it made us all a little nervous in the beginning since we had a strict dress code and were told not to make eye contact or make any sudden gestures towards the soldiers. It was so exhilarating being able to experience this while taking a course about it at the same time. The DMZ trip was probably one of the coolest things I've ever gotten to do.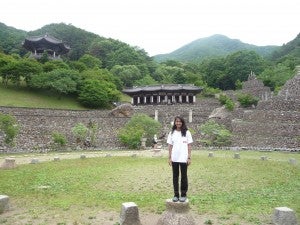 Korea has so many lush trees and mountains and once you start making your way through these mountains, you're bound to see a Buddhist temple or two.  I felt so peaceful and Zen during these treks and it was nice to get away for a bit. Just reminiscing makes me want to go back so badly. Overall, I think it would have been even better to have done a home-stay with a Korean family, but for the most part I didn't spend too much time in my room anyway. I just took advantage of being abroad for such a short period of time in the summer.
---
If you enjoyed hearing about Aparna's experience, check out the program that took her there. For more adventures, check in with us next week to see where our Horns pop up next.