This blog post was contributed by Lucie Zacharova, Assistant Director of Advising on our Education Abroad team. Originally from the Czech Republic, Lucie traveled with her family this summer to her home country during the COVID-19 pandemic. She writes about her experience navigating our new normal. Read Part I of her international travel experience.
I did not know what to expect coming to the Czech Republic, which started hitting record numbers of COVID cases this fall.  I knew people proved disciplined enough in spring to wear masks and cooperate with government safety regulations.  In fact, the Czech Republic was among the first countries to handle the spread well and manage to keep the numbers down.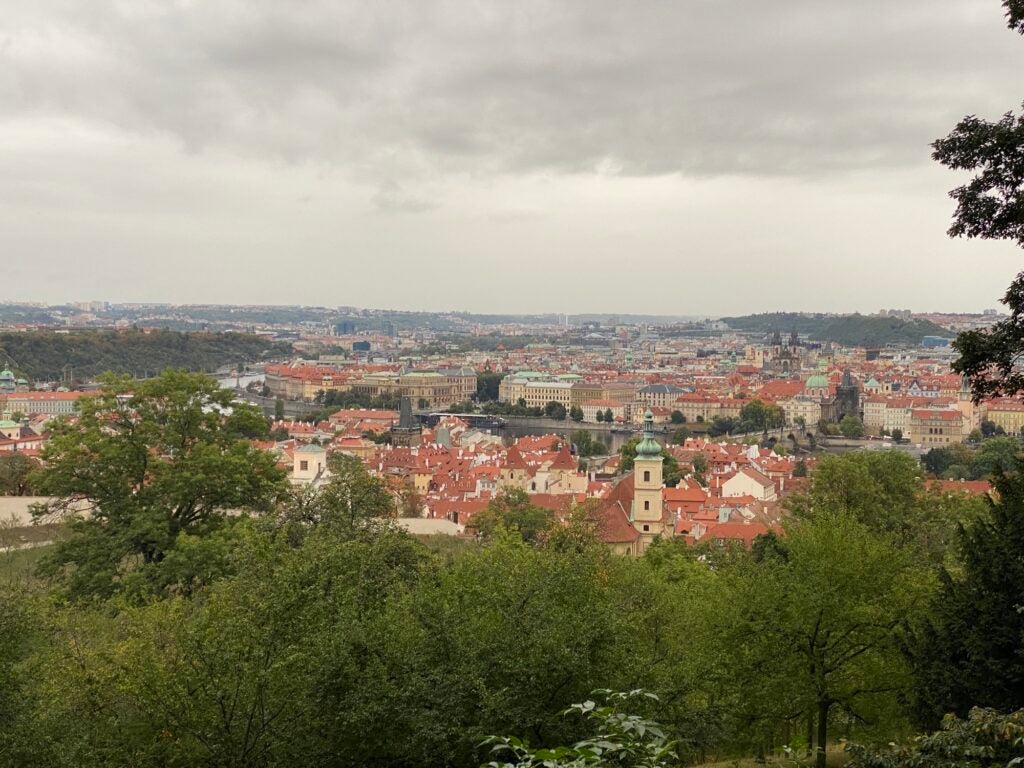 I predicted some people were going to be generally apprehensive about meeting us, Czech-Americans, despite the negative COVID-tests in our hands. I was not wrong. Media in Czech, similarly to other places, focuses on the political blame-game, doom-predictions, and at times almost instilling fear.  Summer in Czech was grand; some may recall the celebration of "the end of COVID" on the Charles Bridge around a mile-long table.  But COVID is back and the spread in Czech is high among European Union countries, logically following the loosening of restrictions on people-gathering limits, cross-country movement and mandatory face coverings, all pretty much abandoned during summer.
Life in general, amid surging numbers of infected, feels very safe, though.  Being in a tourist center, one cannot be isolated here as much as in Texas.  Prague is at 50% of tourist numbers (so conducive to exploring in peace), but the layout of the city and the culture of cafés and restaurants will make one want to be among people anyway.  So, wearing a mask is a given.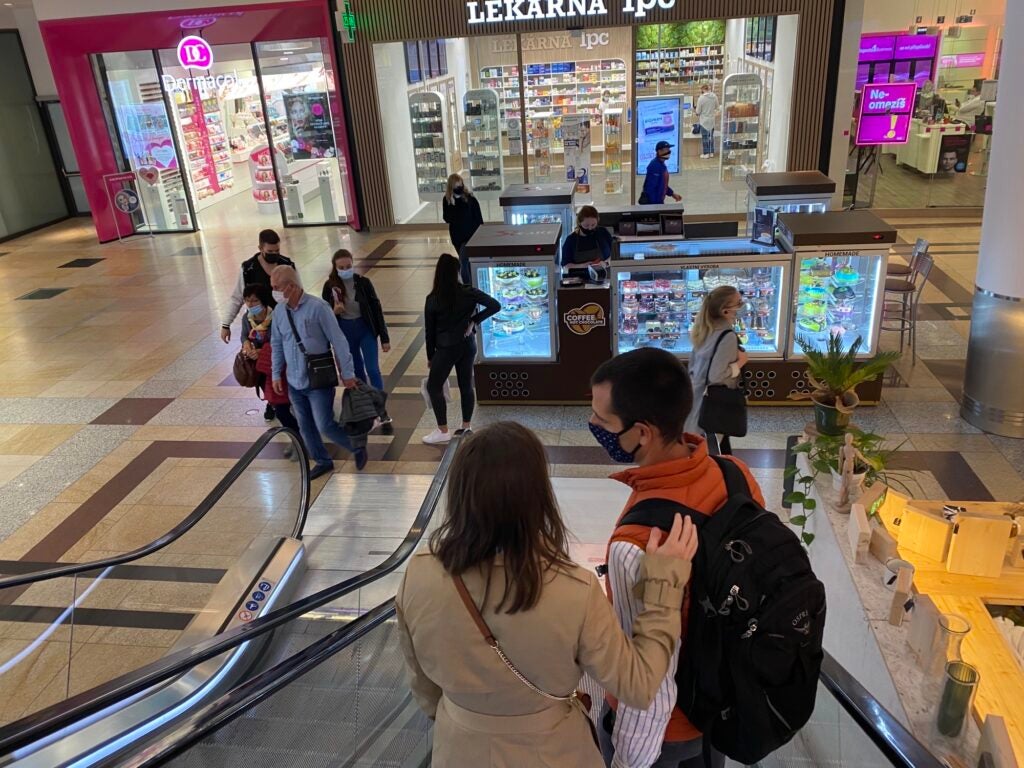 All businesses, however, are prepared to assist in minimizing the spread of the virus.  Every mall, shop, public office and gathering area down to the smallest café makes disinfecting part of their entry and exit procedures. All public places show clear signs in pictograms and multi-language captions that regurgitate the anti-COVID-mantra: wear mask correctly, disinfect, socially distance and wash hands.
The freedoms are impacted by the emergency state regulations installed October 6, 2020, but most people understand why and follow them.  Bars and pubs close earlier at night.  Restaurants have to adapt to social distancing (meaning, limiting seating).  Some gatherings will just not be allowed, and the negative impact on the economy continues.  Arts and culture, which are a strong part of Czech lifestyle, have taken a major hit.
Still, the country tries to not shut down completely.  Some universities and high schools are back to teaching online temporarily.  Face coverings are mandated everywhere again.  Seating arrangements in public cannot be for more than 6 people at one table, and any performances that have to do with singing are temporarily postponed.  Still, people go about their life and try to keep it simple.  Nature is open, and many enjoy open access to hikes in wonderful fall weather.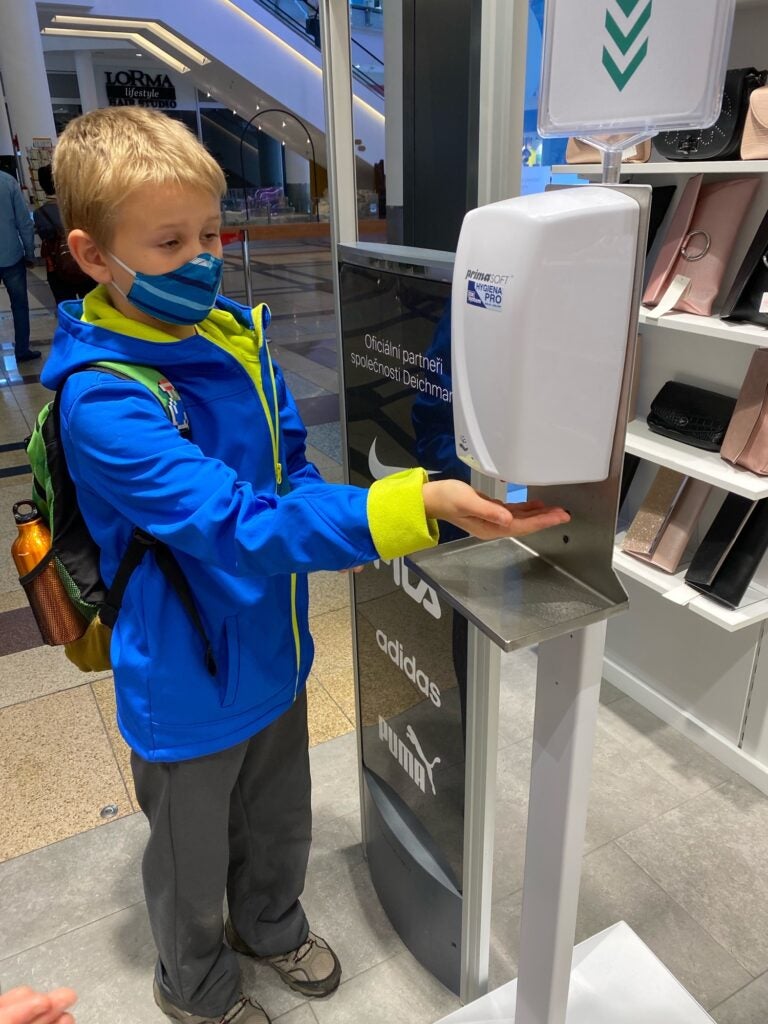 COVID is part of everyone's vocabulary now, and even kids seem to know well what it means and practice the four steps of the worldwide anti-COVID-mantra: mask/distance/disinfect/wash with ease. In fact, my little one makes it a game of being "in charge" of checking that we used the hand disinfectants every time and that is A WHOLE LOT – so I am sure we will keep safe!