Three years ago, I was applying to colleges with the hope of spending a portion of my college career abroad. As a first-generation student, being accepted into my first-choice college was an accomplishment in itself, but as soon as I stepped on campus, I began planning for my ultimate goal–a semester in Costa Rica.
While universities are creating initiatives to make study abroad programs more accessible for all students, programs are still expensive, and the application process was long and exhausting when deadlines started overlapping with my class assignments. A part of me continued to doubt whether I would be able to make my dream a reality, especially as a dual degree student with a very rigid four-year degree plan. But, when I received the First Abroad Scholarship through Texas Global during my first year at UT, I decided that Costa Rica was in my future. Since then, I have applied to 15+ scholarships and have managed to get my entire study abroad costs covered.
However, the application process and the economic barrier were just my first challenges, because six months before my flight was scheduled to bring me to Costa Rica for the Fall 2020 semester, the COVID-19 pandemic took its hold in the U.S. With a heavy heart, I deferred my semester abroad to Spring 2021, and then again to Fall 2021. As a junior at the time, my opportunities to study abroad during undergrad were dwindling.
During the same period of time that I was mourning my program postponement, another door opened for me to work as a remote market research intern at Learn From Travel–a small study abroad company based in Miami. Although it wouldn't be the same as studying abroad myself, I thought conducting secondary research and in-depth interviews with university administrators, faculty and students who have participated in study abroad programs would be the next best thing.
Through this experience, I developed a passion for working within international education with a personal mission to make study abroad and cross-cultural opportunities more accessible for first-generation students. But I still wasn't satisfied with just learning about others' experiences; I needed to experience another culture myself.
So, a year after my program was postponed, I picked up where I left off on my preparations and crossed my fingers that the pandemic would subside enough for me to get to Costa Rica in 2021. Up to the night before my flight, I still felt that the program might be canceled at a moment's notice and obsessively checked my emails for any such updates.
Despite my fears, I arrived at the airport the next day and within four hours had entered a world completely new to me in every way. After a week of exploring San Jose, trying new food, and acclimating to a household that only speaks Spanish, I still feel as if I am in a dream. But the reality is that with a lot of hard work and even more patience, I have finally arrived in Costa Rica and will be spending the next four months immersing myself in the Tico culture.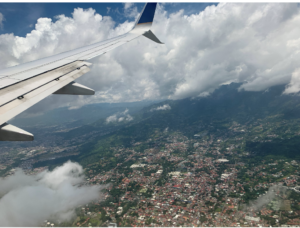 For students undergoing a similar experience or just beginning the study abroad planning process, my greatest piece of advice is to persevere. No part of this process or this experience is easy, but that is what makes it so great. I've grown so much over the past two years even though my in-country experience has just begun. When everything seems to be pushing against you, remember the Costa Rican motto, "pura vida" or pure life, and find a different way to overcome your barriers.
This post was contributed by Makayla Vasek, a Global Ambassador for fall 2021. Makayla is a senior English and Public Relations double major studying abroad in San Jose, Costa Rica.