Living in Paris has been my dream since I was a toddler learning how to read with the "Madeline" picture book. (My mom can still recite the first few lines, and I'm nearly 21 years old—if that gives you an idea of how much I loved it!) 
I can genuinely say that the real thing is even better than the dream. I get chills on my walk to school or to meet friends, crossing the Pont Neuf or having coffee at Le Rotonde, where Hemingway once wrote. 
I feel like I'm a part of something bigger, and in a way, I am. Paris has been here for centuries before me, and it will continue in its big and beautiful way long after I'm gone. I hope I'm not gone too long.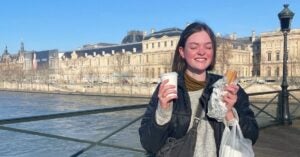 Between visiting museums and improving my French, I found an internship at The Abbey Bookshop, an English-language bookstore only a few minutes from my apartment in the sixth arrondissement.   
I'm excited to learn more about the business of bookselling and the publishing industry, in which I hope to pursue a career after graduation from UT. The best part of this is the fact that I get to stay in Paris this summer, reading, working and exploring a city that has so easily come to feel like home.   
On the subject of museums, however: My favorite so far has been the Musée L'Orangerie, which houses Monet's famous Water Lilies series. But I still haven't made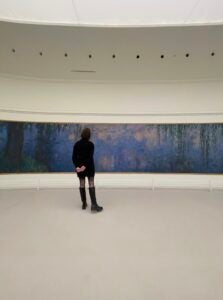 it to the Centre Pompidou or the Fondation Louis Vuitton, which I predict will become some of my favorites.
This is not to say that the past four weeks have come with no challenges. Making friends so far away from home can be intimidating and involves lots of homesickness, but I feel very lucky to have found a group of other students studying abroad from George Washington University who quickly "adopted" me as one of their own.   
I'm also just tired all the time; my brain and body are working so much harder than they would be in a more familiar environment. For example, I live on the seventh floor, without an elevator. This morning, I got all the way to the bottom of the stairs before realizing I had forgotten my mask. 
Besides, the rumors are true: Studying abroad does involve actual studying, and Sciences Po is recognized globally for its rigorous academics. So far, the workload has not been too much of a challenge, simply because I find the material so interesting. I'm especially enjoying my photojournalism class, which allows me a new medium through which to experience the city.  
I chose to take all of my classes in English, and I planned my schedule so that on Mondays, Wednesdays and Thursdays, I'm done with class at 12:15 p.m. I wanted to work out a routine that involves both doing homework and visiting museums or other sites in the afternoons. 
I'm in class for fewer hours per week than I'm used to at UT, so I feel confident that I will find this work-life balance. For now, I've made an effort to find a new place to study every day. I signed up for a library card at the Bibliothèque Sainte-Geneviève, which neighbors Paris' Pantheon. 
The Sciences Po academic evaluations are more similar to what one might expect in graduate school, where there are fewer assessments that are worth more of your grade.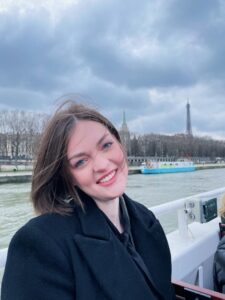 I didn't know before starting classes that there would be such a heavy emphasis on student presentations in the Sciences Po methodology. In three out of my four classes, I had to choose a topic on which to present and lead a discussion. The class sessions are then divided between an hour of lecture from the professor and two half-hour presentations from students. Once I got used to the format, it was really interesting to hear from my peers, and I've successfully done two presentations of my own. 
I also want to be transparent about studying abroad during a pandemic: In Paris, everyone must show a health pass proving they've had a full vaccination and booster shot to get in almost anywhere, from cultural institutions to cafés.   
Nevertheless, after surviving two years of the pandemic unscathed, I tested positive for COVID-19 in my second week of studying abroad. Unfortunately, I had to attend the first week of classes online, and I was quarantined in my 130-square-foot apartment (that was not yet Wi-Fi-equipped, might I add!) for six days. That was the one time I regretted not living with a roommate. 
My symptoms weren't bad at all, but the possibility of catching COVID-19 is a real one. I'm grateful for public health advances like the vaccine that made me feel safer about traveling, and I'm relieved that at least now I have a new boost of immunity. I would encourage everyone to consider studying abroad despite the pandemic, as long as we are all doing the most we can to keep ourselves and each other safe. 
I've already noticed changes in myself that are a huge part of why I advocate for travel so much. I'm more adaptable and spontaneous. I'm more self-confident, especially as my initial self-consciousness about being an ex-pat has started to fade. I'm more resilient when things don't go my way—which is more often than I would like to admit. And I'm more grounded in my mind, body and whole person, and fiercely independent. 
Please feel free to reach out to me if you have any questions about Paris or studying abroad. You can follow along on my French adventures at @elizapillsbury on Instagram, or at @texasglobalabroad for future Global Ambassador takeovers.
<< À la prochaine! >> 
 This post was contributed by Eliza Pillsbury, a Global Ambassador for Spring 2022. Eliza is a journalism & Plan II Honors major studying abroad in Paris, France.