Before I had even landed in Madrid, I'd unconsciously set expectations for myself and my time abroad: My Spanish would progress like never before, I'd meet many new people, travel every weekend, make unforgettable memories, and transform into this worldly person. In some sense, most of that happened—just not in the way I had imagined.   
Coming to Spain as a psychology and Spanish double major, my expectation—and what I imagined the expectation of others would be—was that I'd come back home fluent in Spanish. I would even joke to my friends and family that I'd master the Spanish lisp! However, that has not been the case. My lack of confidence practicing Spanish didn't stay in Texas, but instead came with me across the Atlantic.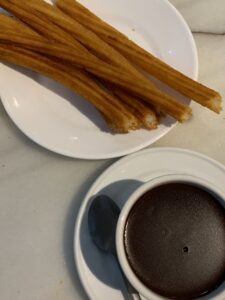 Madrid is a big city in which many people speak English, and would see right through my slow-speaking habits. I found myself submitting to defeat and replying in English or relying on my friends who spoke better Spanish to speak for me. Now I mustn't be too hard on myself because although I don't feel like my Spanish has improved, it probably sounds better than when I had first arrived here, and that has to count for something. Or at least that's what I will continue to tell myself.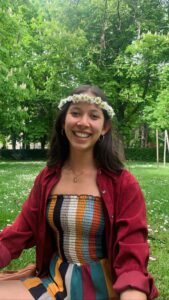 Additionally, with studying in Europe, I assumed that I'd have many opportunities to meet so many incredible and diverse people, as well as make international friendships that would last a lifetime. While I have met many amazing people with interesting backgrounds by being in such a foreign city, I couldn't help but search for people of comfort. More specifically: people from America. Even more specifically: other UT students because of our shared background.   
There are just so many of us! The funny thing is that none of us had ever known or even heard of each other before this study-abroad experience. It wasn't until we traveled to a whole other country that we met our fellow peers. With that being said, yes, the majority of my friends are Americans and/or go to UT, which isn't a bad thing, but not necessarily what I imagined.   
Since being here, it's been interesting coming in contact with Spanish and European culture, which is what I expected. But I didn't expect to be faced with the culture of being an international student. Personally, I found that international student culture is similar to peer pressure. In order to maximize our time here, we need to be traveling to a different country every weekend, uncovering as many cities as possible, and really milking how accessible travel is in Europe.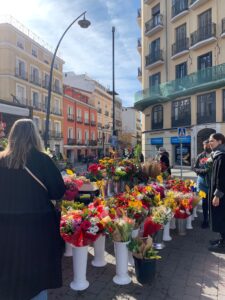 If I'm not on a plane, train or bus going to who-knows-where on a Thursday or Friday afternoon, then I feel guilty that I'm not taking advantage of what's in front of me. And I say this is similar to peer pressure because every time I would come to class Monday morning, the first question I would always hear is: "What'd you do this weekend?" The reply would typically lead with, "Oh I went to…" followed by Denmark or Paris or Italy or Malta, or so on and so forth. If not this, then I would see a glamorous Instagram post reflecting where they have been, seemingly posting to one-up each other.   
That is not to say that I don't participate in this behavior, as well. It can just feel frustrating knowing that some weekends, I stayed in while others went out to explore the rest of Europe. I noticed that it's a topic that not many study-abroad students discussed when promoting the program. I wouldn't have been discouraged to study abroad if I'd heard that beforehand; it just would've been nice to know, so I wouldn't feel this guilt for not traveling as much.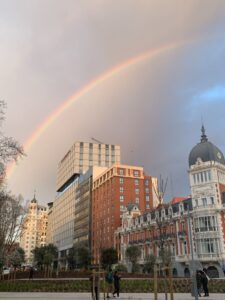 Although most of my expectations didn't turn out the way I had wanted them to, they still happened in one way or another. One thing that helped me get over these hurdles is the Spanish phrase: "No pasa nada," or "No te preocupes," which basically means, "Don't worry."  
 I've had friends and family say this exact phrase to me in English, but the Spanish interpretation just hits differently. It's such a common phrase in America, but in Spain, I've noticed they truly know how to relax and not take things too seriously. So, when I hear my Spanish professors say "No te preocupes," or "No pasa nada," I find it as a light reminder to breathe and not to stress over things that take up so little time in life. 
If I really think about it, my Spanish has improved at least a bit, I have made great friendships that I know will continue after the semester is over, and experienced my own sorts of adventures that I'll fondly look back on–all by living a semester in Madrid.  
Through this experience, I've found that it's best to have no expectations when encountering ANYTHING new, and to not worry about every little detail. Things will work out one way or another, and we should enjoy all that is around us. No pasa nada. 
This post was contributed by Erin Matthews, a Global Ambassador for Spring 2022. Erin is a psychology and Spanish double-major currently studying in Madrid, Spain.