I do not doubt for a second that I was meant to study in Seville, Spain. Spaniards are proud of their culture, which makes it very powerful. They are very friendly, always willing to help each other, and treat everyone like family. I really like how people always greet each other with an "hola" or "buena tarde." It makes the city feel so tight-knit.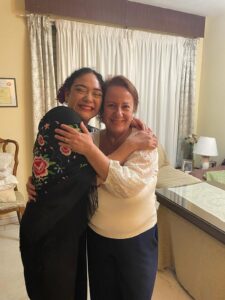 Seville especially has a warm Sevillano culture in itself that makes it feel like the perfect fit for me. I am sure I would have enjoyed studying in any part of Spain, but this location is gorgeous, and the people just make it worthwhile.  
A phrase that is so common here is "No pasa nada," which pretty much means "It doesn't matter." You hear this phrase in Seville so much that you actually realize how true it is. A lot of the time, something we do or don't do doesn't matter, and we hyper-fixate on it, making a huge deal out of nothing. Life is too short to worry about the past, and Spaniards live by not worrying. Their laid-backness corresponds to their contentment in life. 
Seville is a big city but is actually small enough to walk everywhere you need to go on foot. Traveling by foot has allowed me to explore different parts of the city, and I have been able to get lost in the streets of the city and find places like a quiet spot by the river. There are orange blossom trees everywhere and gorgeous flowers paint the town. I have found so much peace and contentment in taking the time to enjoy a walk, and I want to start doing this more in Austin, as well. You never know what you will encounter by roaming around. Though I do not know the city like the back of my hand, I became well acquainted with my neighborhood of Triana and the city center during my semester.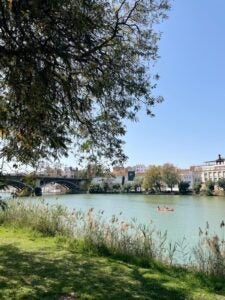 My absolute favorite and most memorable part has been living in a homestay with my señora and her dog. When planning to study abroad, one of the hardest decisions is deciding between a homestay and an apartment. I wanted to do a homestay really badly to be fully immersed in the Spanish culture, but there was one big problem: I did not speak any Spanish! My program assured me that I would be able to get by with what I did know. They encouraged me to do a homestay, and it has been amazing! 
I was intimidated when I first arrived because I was the first of my roommates, and my host mom and I had trouble communicating. However, once my two roommates arrived, it was smooth sailing. They both spoke Spanish and English, which was helpful for translation and practice. I have improved so much in my Spanish, and I know living in a homestay attributed a great deal to this improvement.   
Specifically, hearing common phrases in the house from my host mom and roommates like "Esto me gusta mucho," "a que hora debo estar en casa," "necesitas ayuda" and more helped me learn. If one thing is for sure, I know how to order myself a tinto de verano—so yummy! I have grown close to these two girls as we shared many laughs at mealtimes and especially while playing with our host dog, Freddy. Freddy was an awesome comfort animal when I was missing family from Texas. I am very happy to have been placed in such a loving home.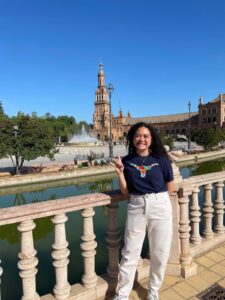 More on my experience in a homestay is my incredible host mom, whom I call Mamma Marisa. Host moms are so nice because they take care of your laundry and meals, but Marisa went above and beyond. She has treated me like her own daughter, and I know she truly cares about my experience here. She always asks me how I am doing and how my day is going and is so good about checking in. Her house became comfortable for me, and she is the reason why Seville became a home away from home for me.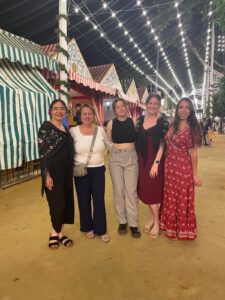 Though we cannot have complete conversations with each other, we share a strong faith, a love for dancing and for singing, which reminded me of how powerful nonverbal communication can be. Marisa and my faith brought us closer together as we had similar morals. She took me to Easter Service at her local church and also explained the significance of Semana Santa or Holy Week. Hearing how significant it was to her allowed me to experience all the processions from a local's perspective, and it was a very powerful experience. 
Seville is the heart of flamenco, which is a highly expressive art of dancing and music very special to Spain. I took a flamenco class at Universidad de Sevilla and was able to dance with Marisa throughout my time in her home. Sevillanos are especially proud of flamenco, and you can see and hear it everywhere! In fact, there is a "Sevillano" dance at the Seville fair called "Feria de Abril." At the fair, there are tents full of families, flamenco dancing, and a carnival! This fair is so colorful and cheerful, which is very different than Semana Santa. My host family had the best day there! 
Above all, I discovered that Marisa is a confident, caring, and beautiful woman who has shown me the importance of being a good person. Through the way she talks about life, she has taught me how to appreciate and experience life to its fullest, which has given me a completely new perspective on how I will live my life. I will miss Marisa so incredibly much, but I know we will keep in touch and I will see her again.   
Studying abroad is truly life-changing. I wish I could tell you the endless number of stories and experiences I have had here, but I will just let you make your own memories! 
This post was contributed by Jazzmyn Hollister, a Global Ambassador for Spring 2022. Jazzmyn is a junior public health major studying abroad in Seville, Spain. Read Jazzmyn's first post here.