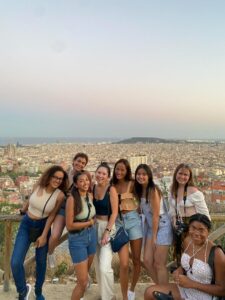 As study abroad programs started picking up again, I knew it was my opportunity to live and learn in a city I'd never experienced before. It has always been my dream to fully immerse myself in a different country, and this was my last chance before I graduate in the fall.  
A month before I left for the beautiful city of Barcelona, fear swooped through me. This was the first time I was studying abroad and I was doing it completely alone – no friends or families to help me over there. I packed my bags, closed my eyes, and hopped on the 12-hour flight. I trusted that everything was going to turn out okay.  
Initially, I had some trouble adjusting to the city. I was homesick, I kept getting lost on the subway, I struggled to learn simple Spanish phrases, and I was going through all of it alone. However, my fears and doubts were short-lived. Within a couple of days, I found myself meeting the group of people I would go on all my Spain adventures with.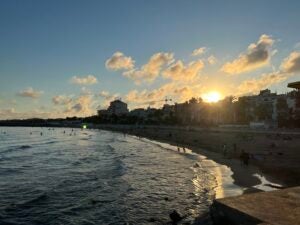 My friends encouraged me to break out of my shell and experience more places than I could have possibly imagined. I've seen the MOCO Museum, Gothic Quarter, Bunker del Carmel, Arc de Triomf, Sagrada Familia, and more, all within the first two weeks. I've also explored places outside Barcelona like Sitges Beach and L'Estartit on the Costa Brava.
I loved being able to swim along the coast and grab some gelato and empanadas afterward. I assumed I'd be able to kayak as an Austinite, but I quickly learned that I'm a mere beginner when it comes to kayaking in the ocean—and I have the bruises to prove it!  
Over the past few weeks, I've settled into a daily routine: take the metro to work, order a sandwich at a nearby café, explore more areas of the city, and enjoy a nice dinner by the plaza. The people I've met around the city have been nothing short of considerate and kind. When I have trouble locating a place or ordering meals in Spanish, they try their best to help despite my being a complete stranger. I've memorized that my favorite lunch meal, sandwiches, are called bocadillos in Spanish!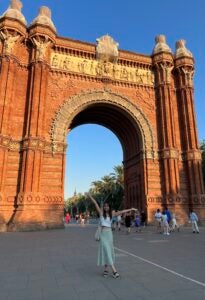 At my internship, I work in my boss' apartment with other co-workers, which makes it feel like home. We work together on all our projects, visit the market downstairs during breaks, and eat around the dining room table for lunch. We are all from different places, so we enjoy learning about the small differences that make our homes unique. I can't count the number of times they've asked if I wear cowboy boots around Texas!  
I am now more than halfway through my program, and I couldn't be happier with my time here in Barcelona. My time here has made me thankful for taking the leap of faith to study abroad. Looking back, I can't believe I was worried about going alone. Instead, it's given me a chance to reach out and meet friends I know I'll feel connected to forever.  
Barcelona is helping me safely step outside of my comfort zone and experience everything study abroad has to offer—culture, people, food, language, places, and more. I can't wait to see what else I'll do here in Barcelona! 
This post was contributed by Vivian Nguyen, a Global Ambassador for Summer 2022. Vivian is a biochemistry major with a minor in health communications interning abroad in Barcelona, Spain.