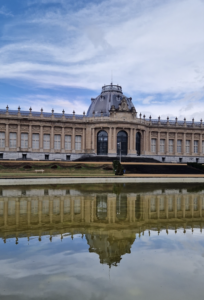 Currently, I'm in my fourth week of classes with the IFE (Institute for Field Education) program in Brussels, Belgium. So far, the classes I've taken regarding the history, culture, and urbanism of Brussels and Belgium have been incredibly interesting. As a class we get to go to museums, day excursions and even a chocolate workshop.
Before coming here, I knew close to nothing about Belgium, apart from its colonialist history and waffles and fries. Within the first couple of days, I hit all the must-see tourist spots. Afterward, I thought, "What more is there to see? I've done it all."
Now I'm thinking that maybe four months is not enough time. The city may be small, but it holds a lot more than I realized. The more I learn, the more I want to experience and discover Belgium, in and outside of the program. It has inspired me to be curious and ask questions.
Here are four of the most-pressing questions that I want answered by the end of this program!
Question 1: Where is Stromae?
Not a single high school French class is safe from the sound of Stromae's Papaoutai or Alors on danse. Rapper Stromae was the only famous Belgian person I knew for a long time and is an icon for students learning French in the U.S. Yet here, it took an entire week for me to hear Stromae in public — and sadly, it was the last time so far.
Instead, restaurants blast 2010s pop music like Katy Perry's "Dark Horse," Eurovision classics and electro-pop EDM (which I learned was a really big music movement here). As much as I love singing ABBA at the top of my lungs, where is the love for Stromae?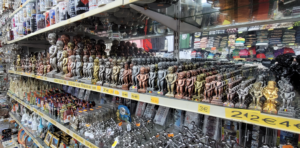 Question 2: Why are people obsessed with a peeing boy?
I wasn't prepared for the Belgian obsession with the Mannekin Pis, a 22-inch bronze fountain sculpture in the center of Brussels.
After my friend's dad learned that I was going to Brussels, the only remark he had was, "Ah, there's the boy who pees." I didn't think too much of it at the time because I had no idea what he was talking about, assuming I must've heard him incorrectly.
Upon seeing the Mannekin Pis, it all clicked. Every souvenir shop has an army of small Mannekin Pis statues, ranging in colors and sizes. Even my favorite restaurant has the Mannekin Pis holding frites as their logo. I scream to the sky above every time I see him, "Why are people so obsessed with you???" I hope to find out soon.
Question 3: Where are the best fries?
I'm not ashamed to admit that McDonald's fries have always been my favorite, above all other fries from fast-food chains. Coming to Belgium, my expectations for fries were extremely high.
As you may know, "French fries" are a misnomer. Actually, the Belgians created frites and have since perfected their craft.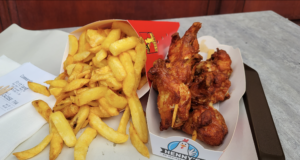 Of course, I made it my mission to find the best fries in Belgium. So far, I've had fries from at least 10 different places (including McDonald's).
I will say that the Belgian technique is excellent. The fries, or frites, are crispy, holding their shape despite how thick they can get, and have a nice buttery taste.
Despite all this, my loyalty still lies with American fries. Part of this has to do with the fact that sauce in Belgium costs money, usually one euro for a packet. No more fast-food employees tossing in 5 packets of ketchup when you only asked for one. One packet of ketchup here usually costs one euro (insane!).
I won't give up, though. The search shall go on.
Question 4: How do people tolerate the language divide?
The most frequent question I've received from friends and family is: What language do they speak in Belgium? Is it Belgian? No, a Belgian language doesn't exist. It's a bit more complicated than that. Let's get into it.
The official languages of Belgium are French, Dutch, and German, although only a small portion of Belgium speaks German. Further, Belgium is split into three regions: Wallonia, Flanders, and Brussels.
Wallonia is the southern region comprised of mostly French-speakers and a community of Germanophones whose capital is a small city called Namur.
Flanders is the northern region where they speak Flemish, a dialect of Dutch. Ironically, the Flemish chose French-speaking Brussels as their capital.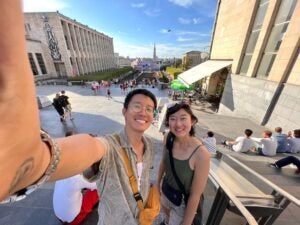 Brussels is the third region and is found within Flanders, but its majority is French-speaking. Brussels is also the capital of the EU.
This is what my society professors refer to as "the surrealism of Belgium." To avoid drama between the Flemish and the Francophones, a lot of things are named in English. The Flemish will not give in to the Francophones and vice versa.
It may take me a while to wrap my head around this phenomenon, but surely with more exposure to the cities in the different regions and their people, I will find the answer.
I have a couple more weeks of class left, a one-week break, and then a three-month internship before the end of my program. That should be enough time to get these questions answered, which I will be excited to share! If you want more details on what I'm up to in Brussels, follow me @crispybrussies on Instagram.
This post was contributed by Carol Zeng, a Global Ambassador for Fall 2022. Carol is a senior with a double major in speech, language and hearing sciences, and French studies studying abroad in Brussels, Belgium.