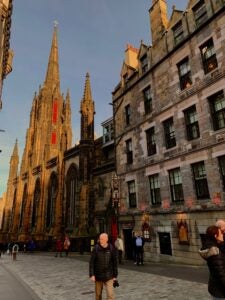 I could lie and tell you that I chose to study abroad in Edinburgh, Scotland, because of some sophisticated, mature reason. But the truth is that when I first looked at pictures of the Scottish capital online, I thought it looked like Hogwarts – and as a huge Harry Potter fan, that was all it took for me to want to come here!
In preparation, I spent a good year and a half watching "My Semester in Edinburgh" videos on YouTube, and my personalized TikTok feed was cluttered with dark academia-esque montages of the city, "Hedwig's Theme" playing in the background.
I finally arrived in Edinburgh three weeks ago, and I can tell you that no amount of research or pictures or videos can ever compare to seeing it all in person.
There are a lot of things I knew to expect: The fall weather is much cooler, something I've been looking forward to after the 100-degree heat in Texas. I can dress exactly how I want to – layers, sweaters, and boots with fuzzy socks – in September! And, I can snuggle up in a nearby coffee shop or bookstore with a cup of chai and embrace the warmth, which my friends at home know is all I need to be happy.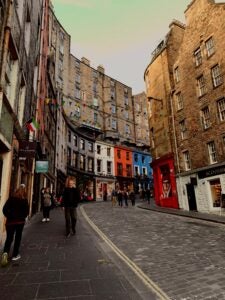 I see Harry Potter everywhere in Edinburgh. Many of the gothic buildings at the University of Edinburgh and all of Old Town are similar to the Hogwarts castle, with their dark brown brick, pillars and clock towers.
During my first few weekends, I explored the city with my friend Andrea, a fellow Longhorn. We walked through colorful Victoria Street, which reminded me of Diagon Alley and even has a Harry Potter-themed shop called "Museum Context."
We also explored Greyfriars Kirkyard and took forever trying to find Tom Riddell's grave (to no success, but we are going to try again!). We even took a day trip to Glasgow, yet another beautiful Scottish city just an hour away by train.
Another great aspect of Edinburgh is that it's so walkable. I've been exploring the city mainly on foot and only ride the bus when I need to. I've memorized my route to get to the main places I need to go: Bristo Square, located on the main campus of the University of Edinburgh; the Royal Mile, which is rich in history and leads up to Edinburgh Castle; and Princes Street, which is right next to Princes Street Gardens.
Despite the dark and dreary gothic architecture, the city is incredibly vibrant. Every time I pass by the Royal Mile on my way home, I can hear the sound of bagpipes ringing through the busy street.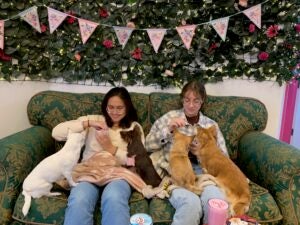 I was most nervous about studying abroad because I wasn't sure whether I'd be able to make friends. Fortunately, I've known Andrea for about a year already; I was so grateful that we could talk to each other about flight information, transferring our credits to UT, and comparing places we wanted to explore (she's also currently sitting across from me at a café as I'm writing this). I also attended one of the Activities Fairs during Welcome Week and got invited to a picnic and dinner/discussion the next day!
In general, I've been impressed with how well I'm able to meet people and form friendships here. However, it could also be that everyone here is unbelievably nice and is more than happy to take a picture of you or give you directions.
Many students at the University of Edinburgh come from different backgrounds. Although there are many American exchange students like me, I've also met students from England, Portugal, Nigeria, and China. This is different from UT, where a majority of the people that I have met are from Texas. I've heard so many stories and had so many great conversations with people who grew up different than me!
Classes began last week, and I'm still adjusting to the learning environment. Most of my classes don't have graded assignments every week because a majority of our grade is a final exam.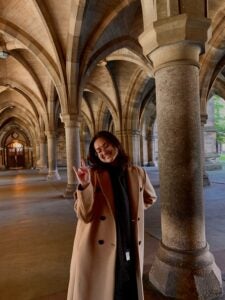 The emphasis on a single test at the end of the semester means I have to be disciplined, staying on top of my work each week without having an immediate deadline to motivate me. I'm currently in the process of testing out study spots around the city and campus, including coffee shops and the main library.
Whether I'm studying, strolling down the cobblestone streets of the Royal Mile, or hiking up Calton Hill with a friend on the weekend, I am always finding ways to explore Edinburgh.
And no, Harry Potter was never actually filmed here—but I think it's beautiful, nonetheless. My seven-year-old self would probably not even know the difference, and I know that she would be so proud of me.
This post was contributed by Gabby Galicinao, a Global Ambassador for Fall 2022. Gabby is a junior studying computer science with plans to add a second major in mathematics, studying abroad in Edinburgh, Scotland.