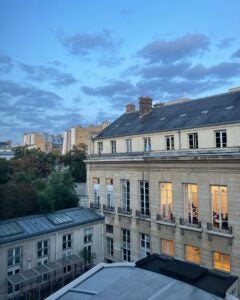 There are many aspects of studying and living abroad in Paris that I feel are directly shifting pieces of me. There are bits, like how I carry myself walking down the street and how much I sense my heightened independence, which I can directly note as having transformed in these months overseas. The directional flow here goes from living abroad back to who I am. Existing, too, are the ways I feel that who I am, independent of Sciences Po and Paris, is affecting these spaces—the bits of myself that I brought into my time here.   
2022 has been my year of gratitude and perspective. Shortly after the new year, I journeyed solo to Seattle, Washington, for a select few precursor days of navigating a city solo. Here, I took up the practice of gratitude. I have spent the last ten months physically documenting, just shy of daily, a list of things for which I am grateful. What makes the list often ends up being the little things.
"Paris," as its own item, makes very frequent appearances. I can almost trace my time abroad through this gratitude log. It is, in its own right, my highlight reel. It is a private affair, and thus shielded from the discernment of other eyes. This, to me, ensures the authenticity of my cataloging. I capture what strikes me on any given day, what has left me reminded of my own joy and privilege.   
Looking back over months of written gratitude, I want to share some of those small, specifically abroad in Paris, slivers of time and of my heart that wound up when I sat down, pen in hand, on the list.
On June 27th, I was grateful for the olive bread from La Grande Épicerie, one of France's largest and most architecturally stunning grocery stores.  
On July 8th, I wrote that I was grateful for "finding places here where I feel comfortable and want to return to, and recognizing this as a marker of my settling in." More recently, on September 23rd, the third point on my five-point list reads, "Paris… going to new and farther away areas that wake up my sense of being here and care for the city."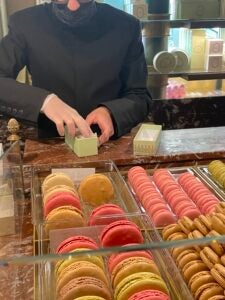 Two days later, after having chatted with some students in my Sciences Po Jewish Modernities course and being invited to a Rosh Hashanah (Jewish New Year) potluck dinner, I put down that I was grateful for "connecting with people and finding community through Judaism in Paris."  
From October 5th: "My apartment here and feeling so relaxed and comfortable coming home to it from weekends away." Five days later, on October 10th, I jotted down that I was grateful for "such a lovely casual evening with cheese and crackers at Tom and Arty's [my Australian friends] new flat on Île de la Cité, just studying and preparing for my presentation on Thursday, and my beautiful, calm 10:30 PM walk home." Most recently, last night I was grateful for "Paris in the rain," one cliché I wholeheartedly stand by.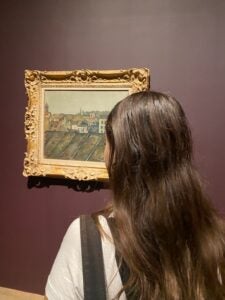 Perspective and gratitude, for me, are remedies to expectations. They are tools of mental and emotional redirection. They allow me to channel my thoughts naturally, and therefore who I am, in this experience and beyond, to the great many joys of getting to be alive and taking in what is beautiful. There are plenty of things I could feel disappointed about. I had, as do most, a myriad of visions of myself during this study abroad experience that have not come to fruition. I knew time would move quickly, but no preparation makes that happening any easier.  
I could spend my days here in waiting— waiting for expectations I harbored at one point or another to realize themselves– but I never did want to spend my present time in search of lost time. There are infinite platitudes and philosophical meditations about the joys of the simple, but marking my days abroad in this way has undeniably transformed my experience. I conclude each evening by reflecting on what makes this city special to me, in the reality of it, not projecting and letting dreams of Parisian grandeur take away the smallest of pleasures. When I look back on my notes of gratitude, it stands out to me that my time here is most magnificently fashioned by genuine conversations with people, beauty in the everyday, and a feeling that this city continues to bring out the most grounded version of myself. 
This post was contributed by Amitai Bernstein, a Global Ambassador for Fall 2022. Amitai is a French studies major studying abroad in Paris, France.