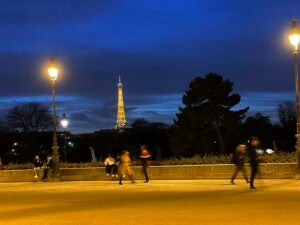 I must admit: My last blog post was written in the thick of my Parisian honeymoon phase. Three months in, I now have a more grounded perspective on living abroad and the challenges associated with it.
One challenge that I've been facing lately is feeling lonely. My boyfriend and I decided to amicably separate last month, and although I know the decision was for the best, the change has left me feeling untethered. No amount of pastries can fill this loneliness, though the praline rose brioche came close.
In Paris, you're constantly surrounded by people and life. You feel like you're attuned to some cosmic human pulse. In these moments of connection—walking down Rue Montmartre, passing buskers, vendors and all the delicious smells—I forget that I am alone. It's only at night, when I return to my silent apartment, that I start to feel antsy.
I'm trying to make friends here, and slowly, I am forming connections with the other students in my classes. However, French people are more reserved than Americans, and I don't want to frighten them with my gregarious American energy.
Sometimes, I overcompensate and slip quietly away into the background, or at least I try to. The trick doesn't really work because my anxiety and cultural cluelessness make me stand out. When people start speaking French quickly, I get this deer-in-the-headlights look, searching for the next acceptable course of action or response.
Each week, I take a fast-paced 3-hour dance class that feels like a bootcamp, and this past Saturday the teacher said that I was the strangest student they've ever had. He's right, I am strange. I am literally L'Étrangère ("the stranger," or, an alternative: "the foreigner").
I'm embracing this label because it's forcing me to be more outgoing. Last night, I met a girl at a party that likes a lot of the same things as me and is teaching me how to be European, since she was born and raised in Rome.
I cut my hair into a bob with a slight fringe, started dressing more androgynously, painting my nails and putting on a little bit of makeup. I've been taking long walks and going to lots of museums. I'm even going to the opera house for the first time this month, thanks to discounted tickets I got through my school!
I love living in such an international city. Every day, I meet people who are different than me, yet we're all connected by the Parisian experience and energy. I feel so blessed to be staying in Paris for a whole year now, thanks to the wonderful support from Texas Global.
This post was contributed by Analia Salomon, a Global Ambassador for Fall 2022. Analia is a Plan II Honors and French studies major with a history minor, studying abroad in Paris, France. Read her first blog post here.