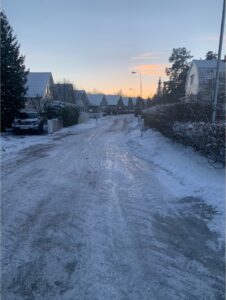 The application process for studying abroad may seem daunting. Selecting programs, finding courses and responding to writing prompts can feel like a lot. But for exchange and faculty-led applications, one way you can prepare is by building relationships with your professors so that you're prepared when the time comes to request reference letters.
You can start to build relationships with your professors early on. That way, even if they're not teaching you during the semester for which you plan to apply, they still know you well enough to provide a great reference.
In a university as large as The University of Texas at Austin, it can feel easy to get lost in the crowd, and it may seem like your professors are unreachable. Building a relationship with your professors does require more effort than just showing up to class, but these connections can be helpful even beyond the study abroad process.
Whether you plan to pursue higher education or enter the workforce, or you simply want a mentor to talk through your career path, professors can be a great resource. Building relationships early on will be beneficial for so many aspects of your academic and personal life.
Sending an email at the beginning of the year can be a smart way to introduce yourself at the start of the semester. This way, your professor can see you are making the effort to engage with them and get to know them at the beginning of class.
Another of the best ways to build a relationship is to attend a professor's office hours. While this is something you always hear, it really works! Professors want to get to know their students, but many students don't take advantage of this opportunity. Just as we may want to be understood by our professors, they also want to know us and for us to know them.
After COVID-19, many professors still conduct office hours via Zoom, so it can work with your schedule even if you can't show up to their office. However, we recommend you go in person if you can. If you already feel comfortable with the class content, then set up office hours to get to know your professor.
Ask questions about their research, how they got into their field or some of their best tips for success in their class. If it's a class that seems confusing and you do have questions about the content, then it's a win-win scenario. By getting help with concepts you're confused about, your professor is going to learn how you approach situations, see that you're proactive about your education and get to know you better.
Beyond going to office hours, another way to build relationships with your professors is by participating in class discussions. It can be intimidating to share your thoughts in front of the class, but it can also be discouraging for professors to pose questions to a class where no one answers. By participating, you encourage other students to contribute as well as show the professor you're paying attention to the material and appreciate the questions they are asking. Even if you don't think you fully know the answer or you may not sound as smart as you want to, it's the effort that counts — and your professor will see that.
If none of these methods seems like it's for you, then making the effort to do well in class is always a great approach. Submitting work that is thoughtful and clear can be among the most solid ways your professor may get to know you as a student. This can also provide them with insight into how you work.
Once you have established working relationships with your professors, it becomes much easier to ask for a reference for studying abroad. When reaching out to faculty, visit them in person or send an email describing what you have enjoyed about their course or what you've learned after speaking with them.
Explain to your professors how your interactions with them and your experiences in their class would make them an ideal reference for you. Give information about the program and host country you are applying to, and what you plan to study. The more context you share, the stronger and more personal your reference will be.
Talking to professors can seem daunting at times, but they're people just like the rest of us. If you take the time to get to know them, it will be easier for them to write a reference about all the work you put into their class and how great a study abroad candidate you'll be.
Anjali Senthilnathan is an Education Abroad Peer Mentor providing support to students interested in studying abroad. Learn about this program at Peer Mentor Programs.