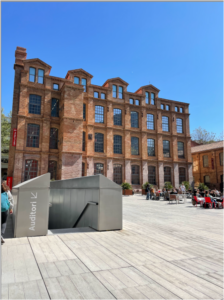 Throughout high school, studying abroad was always something that interested me. My mom instilled a love for traveling in me at a young age, so the thought of going out and exploring Europe felt like a clear decision. There is so much to see,  and studying abroad is a unique opportunity that I might never get to do again.
… At least, I felt that way until I actually got to college. I fell in love with Austin, my friends and my sorority. Picking up and leaving for a whole semester didn't seem as easy anymore. The unknowns started getting to me, and I thought, "Will I make friends? Will I like them as much as my friends in Austin? Will I get homesick? What will I do if I don't like it?" For a while, those unknowns left me believing that I wouldn't apply for a study abroad program and stay in Austin instead.
Up until the summer before my junior year, I was pretty set that I wasn't going abroad. I was going to stay in my bubble in Austin with everything familiar to me. That was, until my mom brought up all the reasons from high school why I'd wanted to go abroad: Traveling around Europe, immersing myself in a different culture, meeting new people and eating delicious food.
After my interest peaked again, my decision was solidified through exploring some of the amazing programs The University of Texas at Austin offers. It was almost too overwhelming to pick the right one because they all sounded amazing.
After careful consideration and research, I landed at Pompeu Fabra University (UPF) in Barcelona, Spain. The mix of Spanish and Catalonian cultures, languages, architecture and access to the sea has already been amazing to experience in my first few days here.
Although I had minimal anxiety before I left, it caught up with me when I arrived. I realized I'd never taken a risk like this before. I've always tended to play it safe. But although it's scary living in a place that I'm unfamiliar with, I know my future self will be proud that I took this step.
I've already met people from many different backgrounds each with their own unique experiences. That's something much harder to come by in the United States. I even get to practice my Spanish and learn a bit of Catalan.
If you're like me, and you're sitting on the fence, I urge you to take a leap of faith. Although I'm nervous to be going through my first week of classes, I know it will pay off in the end. I'll make amazing memories with many people, and I know I wouldn't get this opportunity with any other experience.
So be brave and take a chance on a once-in-a-lifetime opportunity. You won't regret it!
This post was contributed by Ellen Clark, a Global Ambassador for Spring 2023. Ellen is a junior communications and leadership studies major studying abroad in Barcelona, Spain.