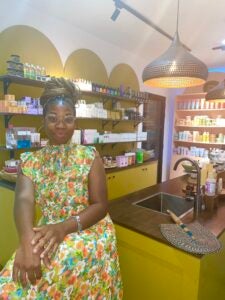 For the duration of the summer, I've been blessed with an opportunity to intern with House of Bacoro, a cosmetic store in the center of Dakar, the capital of Senegal. On the surface, House of Bacoro is a mere beauty supply store, but if you dig a little deeper into the company's purpose and mission, you'll find that this store is transforming history.
Moussa Bathily, the chief executive officer of House of Bacoro and a Senegal native, has referred to his store as a bridging point between women of Africa and all women of African descent. After working for more than two decades of his professional career in beauty markets in New York City, Mr. Bathily has chosen to curate a sanctuary for Black women in his own country. His desire to return home is truly inspiring.
As Americans, we are often fed an image of Africa through biased media and popular cultural representations. For Africans, in turn, Black Americans are seen through the same lens, which often reinforces negative stereotypes. As a result, pan-Africanist ideals are widely rejected, and many people from both sides see the comparison as insulting rather than liberating.
House of Bacoro, if persistent, could potentially eliminate the imaginary gap across Black cultures globally. The store houses both outsourced products from the U.S. and others that can be found locally, with aspirations to expand their local collections. The intentionality behind mixing the products is to express that House of Bacoro is a proud supporter of Pan-Africanism, an ideology that unites all people of African descent.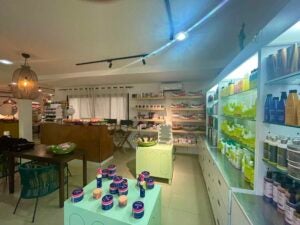 As I continue my professional career I would like to incorporate similar Pan-Africanist ideals in my own books and blogs, and in the classroom. After graduation, I will be publishing a memoir detailing my experience abroad. Initially, I wanted to detail my travels as a first-generation college student, but during my trip, I've found that traveling to Africa as an African American woman is a more impactful story to tell.
As an intern working alongside the CEO, I've witnessed the beauty of this Senegalese gem firsthand. Unlike regular beauty supply stores, the space is intended to build a growing network of women. There are multiple seating areas, so visitors feel welcome to come in without making a purchase. Together, the team at House of Bacoro plans communal events that heal festering wounds in Senegal, such as exposing youth to funded opportunities abroad or gathering grandmothers to reignite their sense of beauty. It is so much more than a cosmetic store.
As a result of the close collaboration with the brand and store owner, I've been able to navigate the entrepreneurship industry and understand the dedication and perseverance necessary for building a business. There are many days when our to-do list is completely trashed and filled with things we simply cannot accomplish that day. Still, we show up the next day and look forward to another to-do list.
The hustle and bustle never stops for Mr. Bathily and the team because his business is tied to a much bigger purpose. I'm acquiring the grit needed to pursue graduate school, start my own business and take on everyday obstacles in my personal life. I'm learning that as long as there is a bigger purpose behind what you are doing and a bigger dream behind your baby steps, then the work feels more like a calling instead of chasing a check.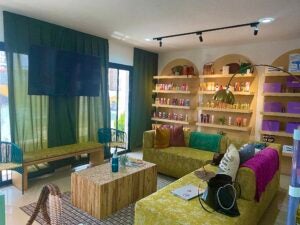 Aside from promoting pan-Africanism, Mr. Bathily offers products that are usually extremely difficult for Senegalese women to obtain. He has made products readily available right in the middle of their community, with delivery options for African countries outside of Senegal. Women have been seen as the imaginary string holding together their families and communities, yet are often not equipped with the necessary resources to do so. Women buy products for themselves, the males in their lives and their children.
Mr. Bathily has created a safe space for women and given them one less anxiety to ponder. When I see the faces of customers who come to the store for the first time, they often react with a sigh of relief. As an intern, I feel proud of the work we are doing and privileged to play a small part in Mr. Bathily's vision. It may not happen within my lifetime, but somewhere down my bloodline, the empowerment of Africa and reconnecting of all people within the African diaspora will become a reality.
Since the transatlantic slave trade began in 1526, generations of Africans have been displaced from the home of their ancestors, leaving them with a sense of estrangement as they grow up in societies built for white people. For those who are part of the African diaspora, with unknown ancestral roots, returning to Africa is either a seemingly unattainable dream or an irrational ideal.
As I intern in Senegal and return to the continent of my great ancestors, I know that change is imminent. House of Bacoro is actively crumbling an outdated narrative and providing the African diaspora with a home in Senegal.
Moussa Bathily says he wants his store to become the "Sephora of Africa," but I believe it will become the global meeting place for Black people, a distinct network of Afro-entrepreneurs, a safe haven for women of color and a turning point in Black history.
This post was contributed by Trinity A. Dow, a Global Ambassador for Summer 2023. Trinity is a junior rhetoric and writing and UTeach Access program studies major studying abroad in Dakar, Senegal.