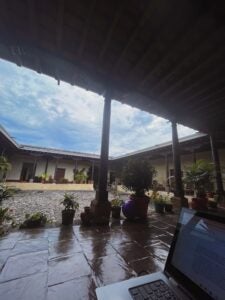 "¡Buen provecho!" exclaimed Doña Dilia, my homestay mom, as she served us a steaming bowl of vegetable soup and a plate of tamales. The genuine warmth in her voice and the twinkle in her eyes encapsulated the essence of Guatemalan hospitality.
"Buen provecho," I replied, grateful for the delicious meal and the heartfelt sentiment that accompanied it. This simple phrase, the Guatemalan version of "bon appétit," served as a gateway to a beautiful cultural tradition.
During my third week in Antigua, I have come to appreciate the significance of "buen provecho" beyond its literal meaning. It embodies a profound sense of community, bonding and genuine care for the well-being of others.
Whether sitting around the dinner table with my host family in Antigua, exploring the cobbled streets with newfound friends or immersing myself in the local markets, I've carried this same sentiment into every experience and memory I've made thus far.  
Upon my arrival, I was met with stagnant traffic and torrential rain. During this rainy season in Guatemala, daily weather is characterized by either a gentle drizzle or a heavy downpour, depending on your luck. Nevertheless, amidst the intermittent showers, mornings often unveil a breathtaking sight, which includes the triumphant presence of three volcanoes referred to as Agua, Fuego, and Acatenango. The volcanoes stand together on the horizon, and this captivating view has become a cherished part of my daily walk to class. 
Attending classes at Casa Herrera has proven to be an immensely rewarding and immersive experience. Positioned in the heart of the town, the institute sits at the crossroads of artistry, religion and vibrant street life. As we engage in our lessons, the sounds of the outside world reverberate through the classroom. This is because of the building's central design, which features an open courtyard that embraces the city's energy.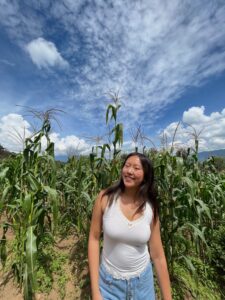 As part of our efforts to enhance our understanding of the intricacies and consequences of diversity in education, we volunteer at a primary public school in the neighboring town of Santa María de Jesús. The students at this school predominantly come from an Indigenous community, where they are fluent in both Spanish and the Mayan language, Kaqchikel.
With my limited experience in managing a classroom or teaching English as a second language, the first day of volunteering presented me with emotional and mental challenges. Balancing communication in Spanish while introducing new English words to my sixth-grade students demanded every ounce of energy and required me to exercise patience with both myself and the class. Despite these hurdles, support from my peers and the program staff encouraged me to embrace this newfound discomfort with an open mind and heart. I am confident this experience will lead to a rewarding experience in the end.  
One of the most memorable excursions during this program was the hike up Volcán de Pacaya, which has truly been a highlight for me. On a Sunday morning, we boarded a bus at 6 a.m. and journeyed an hour and a half from the city. As we approached the drop-off point, my nerves intensified. I was aware of the physically demanding trek that lay ahead, and the anticipation of the challenging 3½ mile ascent weighed on my stomach. With my classmates beside me, we persevered, pushing ourselves with determination and resolve. The arduous climb required numerous breaks for water and catching our breath, but eventually, we made it. Our tour guide, who had been climbing the volcano since he was a young child, now did it twice a day effortlessly at 28 years old, humbling us all.  
Reaching the summit made all the exhaustion worthwhile. Seeing the Guatemalan flag flying proudly atop a pile of volcanic rock filled me with immense pride as we reached our destination.  Surrounded by a vast expanse of volcanic rock, the landscape unfolded before us in a breathtaking panorama of lush greenery and impressive mountains stretching across the horizon. As if to add to the magic of the moment, our guide offered us roasted marshmallows to satisfy the ravenous appetites we had built up during the hike. The experience was nothing short of enchanting, and the memory of that spectacular view will forever be etched in my mind.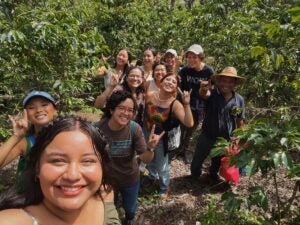 What have truly enriched my study abroad experiences are the authentic cultural encounters and grassroots experiences that have been an integral part of the program. Just recently, my fellow students and I journeyed to San Miguel Escobar to visit a coffee farm in partnership with the nonprofit organization De La Gente. In the span of a morning, we had the privilege of witnessing the entire journey that coffee takes from bean to cup. Eduardo, the farm's remarkably knowledgeable and hospitable coffee producer, guided us through each step. He demonstrated how he picks the coffee beans from the branches while his daughter skillfully roasts and grinds them with a slate made of volcanic rock.  
We were even given the chance to try our hand at grinding the beans ourselves, quickly realizing the time and effort it takes to master this craft. Being in Eduardo's home felt like an honor as we not only shared the coffee that we collectively helped pick, grind and brew, but also enjoyed a delicious bowl of "pepián," Guatemala's national dish, which was prepared by his wife. As we shared this meal, we reminisced about our cherished moments from the trip so far, which brought a sense of home away from home for me. It is a rare and precious feeling to find such a connection when you are far from your own home, and I consider myself incredibly fortunate to have discovered this sense of belonging here in Antigua.  
With only three weeks remaining in the program, I find myself caught in a struggle between my longing to return home and never wanting to say goodbye. In just three weeks, I have undergone significant personal growth. I adapted swiftly to the new environment and embraced a daily routine that made me feel at home. From walking to class to sharing meals with my roommates, I have carved out a unique and special place for myself in Antigua. Communicating in Spanish, which once instilled a fear of failure, has now become second nature to me.
Overcoming all my initial apprehension has been a transformative experience. Although it wasn't without its challenges. I've learned that I can flourish in new and unfamiliar settings, and this newfound self-assurance has been empowering.  
Teaching my students and participating in thought-provoking class discussions has left me feeling fulfilled. These moments of connection and knowledge exchange have enriched my understanding of the varied perspectives of education beyond standardized approaches. Moreover, my explorations of different regions in Guatemala have strengthened my bond with the country's vibrant culture and honored traditions, a connection I cherish. 
As I continue my journey in Antigua, I carry with me the spirit of "buen provecho" as a reminder to approach each new adventure with an open heart and a generous spirit. Just like the flavorful tamales and hearty soup that Doña Dilia prepared for us, I want to savor every experience, appreciate every encounter and share the joys of life with the people I meet along the way. In doing so, I hope to honor the rich tapestry of Guatemala's culture and the wonderful gift it has bestowed upon me — the understanding that a warm greeting and a simple wish for a good meal can forge connections that last a lifetime. 
This post was contributed by Emily Vo, a Global Ambassador for Summer 2023. Emily is a senior government and international relations and global studies major studying abroad in Antigua, Guatemala.