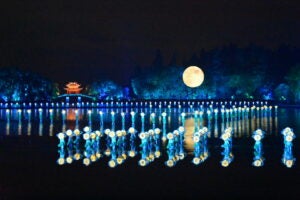 After six long years and a global pandemic, I was back in China. I arrived in Shanghai two days before my academic program began to get adjusted to the city that I would call home for the summer. East China Normal University is in the Putou District of Shanghai, so I decided to stay in a hotel in Pudong, which is west of the "bund," or waterfront. During my first day in Shanghai, I learned how to navigate the subway, including how most people pay. They use Alipay or WeChat, which highlights just how necessary a VPN is to access anything remotely non-Chinese.
After connecting to the hotel Wi-Fi and using my American SIM card, I thought I would have no problem using Safari to look up things to do in Pudong. I learned that Safari, Firefox and Google wouldn't work if I wasn't using Baidu.com, so I called the hotel front desk to ensure my Wi-Fi was working. It turns out, if you don't have a VPN, your best bet is to use Bing.com or Baidu.com.
Next, I discovered how obsolete cash has become in China. Six years ago, when I attended another study abroad program in China, I vividly remember using cash for all my purchases. Now a decent number of shops won't even accept cash. Instead, China has shifted its payment methods to be completely virtual. To use Alipay or WeChat, one must connect either their debit card, credit card or bank account to an app, and it is required to have a Chinese credit card and bank account. While Alipay offers an English version of the app to register an account and use the app successfully, you must be proficient in Mandarin or have someone help you.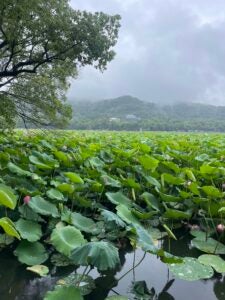 During my early days in Shanghai, I discovered what China's plum rain, "梅雨," or rainy season, was truly like. Shanghai can go from sunny to pouring rain within minutes, and it has rained in Shanghai at least three of the seven days since I've arrived in the city. However, Shanghai is beginning to enter its summer season, where every day is expected to have temperatures that feel like 110 degrees Fahrenheit and 70 percent humidity.
The day my program began, I arrived on campus with an overwhelming sense of excitement. After receiving my student ID and orientation schedule, I was greeted by my host family. My host family consists of three people, including "叔叔," or uncle; "阿姨," or auntie; and "姐姐," or big sister, who prefers to be called Helen. While most of my classmates decided to live in the dorms with a Chinese roommate, I am very fortunate to have a host family.
During the five weeks I've lived here, my host family has taught me more conversational Chinese vocabulary than half a semester at The University of Texas at Austin (UT Austin). Furthermore, my host uncle has taught me how to cook classic Chinese dishes even though he loves to complain and describe Chinese cooking as "麻烦," or troublesome, because of how often one must stir or shake the wok and how hot the kitchen gets.
I have also become an avid fan of the Shanghai Shenhua Football Club and often find myself screaming at the TV in Mandarin with my host uncle. My host sister has taught me about the experiences of different generations and the pressure younger people face from their parents and grandparents to get married and have kids. She also teaches me about the current trends in China, including what to wear and what is cool.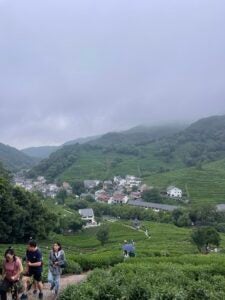 As for my academic life, I am taking accelerated advanced Chinese language classes levels I and II. My classes are taught completely in Mandarin, with a few exceptions. So far, during my time abroad, I have learned to discuss topics such as electronic applications, environmental pollution and electronic trash in Mandarin. I have also learned about multinational companies, fast-food localization strategies in China and educational differences and trends between China and the U.S.
Because I am the only student in my level, my daily schedule consists of three hours of one-on-one classes in the morning with an occasional afternoon section where I go out and interview local people regarding their opinions on our weekly topic. The other students also attend class for three hours in the morning, with an hour of one-on-one time in the afternoon, where they go out into the city and conduct interviews and various projects.
Because of the pandemic, many students were hesitant about traveling to China, and few companies were offering programs to the region during the summer of 2023. Despite this, I and seven other students choose to attend the Council on International Educational Exchange (CIEE) Shanghai Summer Accelerated Mandarin program. Despite having a record small number of students, my program has gone above and beyond in providing us with the best possible education in Shanghai, as well as many cultural experiences.
Being in one of the largest cities in China, I have easy access to almost anywhere in the country, with a vast network of bullet trains and two airports. During the weekend, when I'm not in Shanghai exploring the K11 Art Mall or learning how to play Mahjong and practice tai chi, I am off exploring China. So far, I have spent a weekend in Hangzhou, where I visited a local village and hiked the tea estates. I was able to watch the Westlake Impressions show during my visit. Last Friday, I spent the day in Suzhou on a class field trip, where we visited Tiger Hill, the Suzhou Silk Factory, the Humble Administrator's Garden and walked the Pingjiang historical district. This weekend my classmates and I are taking the bullet train to Nanjing.
My return to China this summer has reminded me why I love learning Mandarin and why travel is so important. Looking back on my time in Shanghai while writing this blog, I am shocked at how much I have grown and how quickly time has flown by. I believe the world is only unfamiliar if it is not traveled.
This post was contributed by Alexa, a Global Ambassador for Summer 2023. Alexa is a junior Asian cultures and language studies major studying abroad in Shanghai, China.