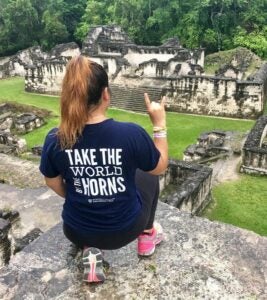 Living and working near a UNESCO World Heritage Site, learning the Mayan history through first-hand experience with stunning archaeological sites, understanding colonial influence through renowned museums and traveling throughout two of Central America's most culturally and environmentally rich nations. All of these opportunities await you in our Guatemala and Belize May Term, "Ancient and Colonial Heritage in Latin America: Cultural Treasures of the Maya." 
Under the instruction of art and art history's Dr. Astrid Runggaldier, who is also assistant director at the Mesoamerican Center at the University of Texas at Austin (UT Austin), students learn about the heritage of Guatemala and Belize through research while being immersed in the culture of Antigua, Guatemala. 
There's an opportunity to stay with host families to fully acclimate to the Guatemalan culture. While the program might be geared towards art history students on the surface, it is actually an incredibly interdisciplinary program with aspects of study that are applicable to everyone, so much so that it is cross listed across art history, geography, Latin American studies and anthropology degrees. The course also carries global cultures and independent inquiry flags, fulfills a visual and performing arts (VAPA) requirement and counts towards the culture, media and the arts track under the international relations degree and global studies degree at UT Austin. 
By focusing on individual research projects, the program allows students to gain a deeper understanding of the region on a more intimate and personal level. With knowledgeable faculty and first-hand access to historical sites, you have the freedom to pursue whatever avenue of research you want in the realm of Mayan and colonial heritage.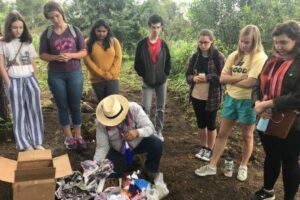 Speaking with Barbara Barstow, the Education Abroad program coordinator for this program, it is clear to see why this program is so appealing to students. For starters, Barbara mentioned, "While both countries are in Latin America, their heritages are very different due to different colonization." This allows you to explore different experiences of Central American culture across the two nations. Additionally, a key element of the program that draws students in is the host organization, Casa Herrera. Casa Herrera has a history of excellent partnership with students abroad and is an extension of the Mesoamerican Center that Dr. Runggaldier runs here at UT Austin.
One of the unique aspects of the program, Barbara says, is the structure of the course. Unlike most other May Terms that are strictly classes, this one focuses on students' individual research projects. There is no 'typical day' because each day is for students to work on their research projects in any way they see fit, mixed in with visits to historical sites and museums.  
Continuing on, Barbara outlined the overall structure of the month. She explained that the program is based at Casa Herrera in Antigua, Guatemala for the first three weeks. While at Casa Herrera, students have classroom time to work on their research projects as well as exploring cultural sites and activities in Antigua.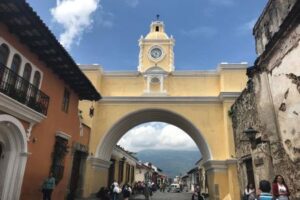 After the third week, the program travels northwest from Antigua to Flores, Guatemala. This starts the traveling portion of the program, where students will make their way across the border of Guatemala to Belize, stopping at cultural and heritage sites along the way. The program ends in Belize on Caye Caulker. This program ultimately travels from the Pacific coast of Guatemala all the way to the Caribbean Sea across Latin America. 
If you have ever been interested in ancient history, architecture, colonial history, Central American history or wanted to explore another culture and environment in general, then this Guatemala and Belize program is a great fit for you. For more information, visit the program page.  
Remember that the Peer Mentors at Education Abroad are always happy to answer questions. You can email us at educationabroad@austin.utexas.edu, or book an advising appointment. Hope to see you in Guatemala! 
Nathaniel Cook Heffron is an Education Abroad Peer Mentor providing support to students interested in studying abroad. Learn about this position and its services on the Peer Mentor Programs webpage.