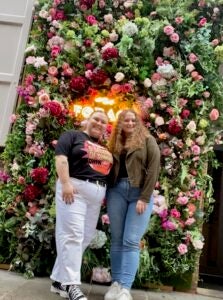 One month into classes in a new country and I've never been in a more different school environment. Classes are almost every day, but I only have one or two daily. Instead of weekly homework assignments, I do a few readings and take notes during class. I have more free time to rewatch lectures and make sure I absorb the material, and I don't spend all of my time worrying about classes.
Studying in England has helped me develop a better school-life balance. On a normal day, I work on assignments from 9 a.m. to 3 p.m, which is enough to leave me without feeling guilty about not doing enough. It's been a refreshing semester academically, and it helps that my courses are interesting. I'm taking "Genes, Genomes and Chromosomes," where I get to learn about biological assays for mapping genomes. I'm also taking "Evolution," which is building on my knowledge from previous classes. Plus, there's something so cool about studying Darwin's evolution in England. I went to Shrewsbury last week and stood in the same church that Charles Darwin went to as a child. It's insane that I visited the town that the father of evolution grew up in.
The last class I'm taking is "Free Speech and Censorship," which is a journalism course that has been very interesting. During our class discussions, I've learned about free speech laws in England and the EU and how those rights are protected. As the only American in my discussion section, I provide background knowledge and context about American free speech laws and protections. Additionally, I'm learning a lot about how free speech is handled in other countries. The readings are dense, but I'm learning about the rest of the world in a way that I never would have in the U.S.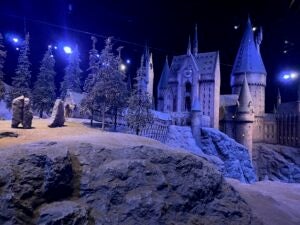 Though I've been working hard in classes, I've also been traveling a bit. The student union at Sheffield is amazing, and they host two weekly day trips for students. A few weeks ago, I went to the Harry Potter Studios in London. There, I toured the studios and sets that were used in all of the Harry Potter movies. I went with two of my friends and we spent almost four hours exploring the different sets. I had delicious Butterbeer and was able to walk through the Hogwarts Express. I even saw the actual dress Emma Watson wore to the Yule Ball in Goblet of Fire! Best. Costume. Ever. 
Living in a different country has been such a surreal experience. I mostly feel like I'm having the time of my life, though sometimes I get lonely and miss my friends and family back home. I don't normally get homesick for my physical home, but I do begin to miss the people I care about and most importantly, the food in Texas. When I start to miss home or the cuisine, I usually send my friends a text or make my favorite Texas meals here in England. One of my favorite "comfort meals" has been breakfast tacos. I can make them with whatever I have in my fridge and with the salsa my dad sent me. After a few bites, I feel like I'm in Texas again.
On the other hand, I really am having the best time of my life. The friends that I've made here are some of the kindest people I've ever met. I've gone to Taylor Swift dance nights, the Eras Tour movie and traveled to different English cities with people I never would have imagined meeting. I'm planning trips with people I met a month and a half ago and making memories with new friends that I'll remember for years. It's a beautiful thing, meeting people that you would have never crossed paths with otherwise. I feel lucky to experience a different country with people from all over the world who are also trying to explore and learn a new place and culture. 
This post was contributed by Lexi Briley, a Global Ambassador for Fall 2023. Lexi is a senior biology studies major studying abroad in Sheffield, England.