Study Abroad at the University of Texas has a variety of programs that differ in what they offer and what they provide to students who attend them. However, between the over 400 programs available to students, it can be hard to discern the differences in certain programs. In this blog post we will examine the options of Exchange and Affiliate programs, highlighting their similarities and differences.
Exchange programs are where the University of Texas has a reciprocal exchange agreement with a foreign university that allows our students to attend that university as if it were their home institution, and allows their students to do the same here. When you go on an exchange program you are paying UT tuition, but you must make housing arrangements on your own. The only real expenses that differ for an exchange program are the cost of living for wherever you go abroad. Exchange programs also count directly on your GPA where as affiliate programs do not.
Affiliate programs are where students study abroad through a third party the University of Texas has an agreement with. These programs tend to be more expensive, but it is because the program includes costs for special excursions you would not normally have access to if you were to go abroad on your own. Everything is typically arranged for you from living situation, to employment (if you were to do a an internship abroad program). If you go to a place with cheaper standards of living than more expensive locations like Europe your trip will probably be cheaper than exchange programs. Your courses will not count towards your GPA, but you will get credit for them. If you are a student planning on continuing to some form of graduate school, they will check your grades from study abroad even if they did not directly effect your GPA.
Both types of programs are offered throughout every portion of the year, and your financial aid travels with you towards both programs, even though you pay a program fee instead of UT tuition for affiliate programs. There are also a few basic requirements for studying abroad in general. Aside from having to first submit your application through the University of Texas Study Abroad office, you must have a minimum 2.0 GPA and a sophomore standing (which can sometimes be held even by freshmen).
Here's a handy diagram that demonstrating the functional differences and similarities between the two program types: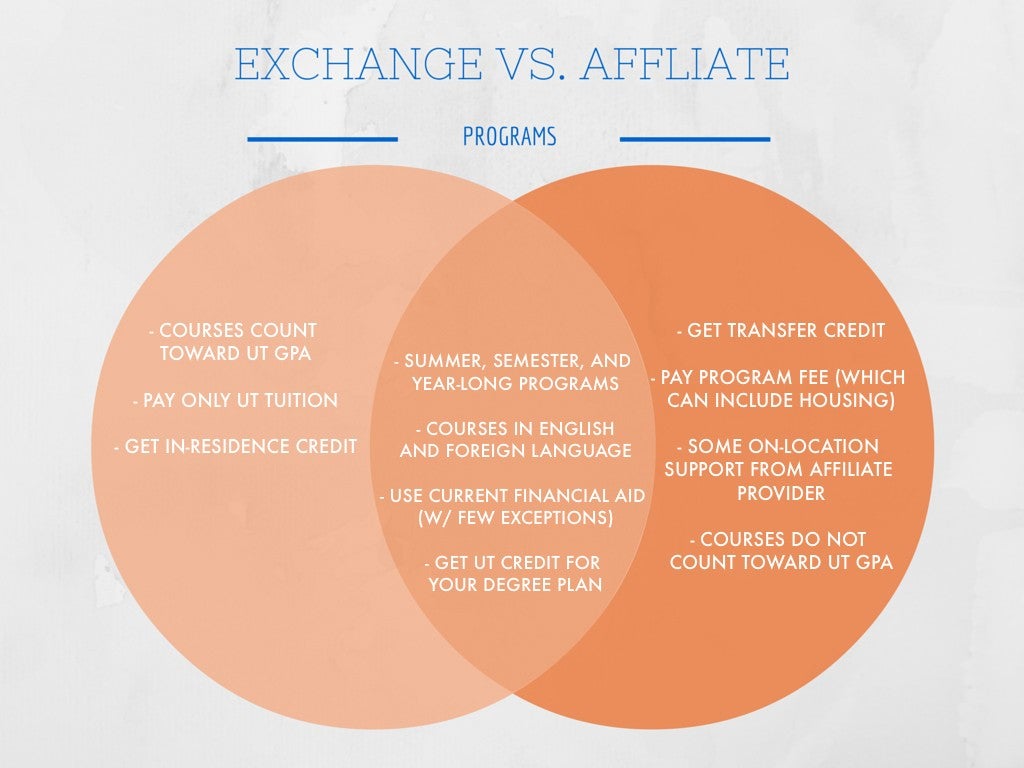 This article can only cover basic differences and similarities in the two kinds of programs. whether you choose and exchange or an affiliate program, each specific one has its own unique requirements that must be met to apply for that specific one. Often times these requirements can come in the form of a higher GPA level, or a level of language proficiency. You should always read the specific details about a program you are considering and go to that programs website for more information if they have one.
If you want more information about the details of different programs each, you can come in and talk with a peer advisor during our walk-in hours.