First Impressions
Within an hour of my arrival in San José, I had been dropped off at a papaya-colored house 75 meters east of the Palí supermarket, which I soon learned was as close to an official address as you can get in Costa Rica. As my host mom, or mamatica, and I sat at opposite ends of the dining room table sipping café and eating galletas, I learned that she has been hosting foreign exchange students for 14 years…and she knows no English.
Prior to my arrival date, I had met my mamatica briefly on a group video call. Although she only spoke in Spanish on the call, a subconscious part of me just assumed she also had some basic English knowledge. (I guess this was the ingrained U.S. ethnocentric worldview showing its colors.) Despite my lack of confidence in my own Spanish-speaking skills, we had a productive, hour-long conversation…and no, I did not use spanishdict.com even once! 
I was feeling relatively welcome and comfortable in my new environment as I retired to my room to begin unpacking. Little did I know that our afternoon social hour was the calm before the storm of family dinner. 
Family Life: U.S. versus Costa Rica
Family dinner in the U.S. involves my parents, sister, and I scarfing down my mom´s cooking at disparate times of the night, whenever we have a chance to look up from the day´s work or school responsibilities. Now that I spend most of the year in my own apartment near the university, I am accustomed to eating in front of the TV around 9pm after finally convincing myself to cook dinner. 
When my mamatica knocked on my bedroom door at 6pm to announce dinner was ready, I could still feel the galletas digesting in my stomach. Based on the number of voices I heard coming from the kitchen, however, I gathered that family dinner in Costa Rica was not an on-your-own-time event. 
So, I sat at my seat at the dinner table as my mamatica rambled off introductions of her two daughters, one daughter´s son, the other daughter´s boyfriend, and his son. Together, we represented three generations, with ages ranging from 2 to 52 years old. This is a perfect depiction of the collectivist nature of Costa Rican culture. Children generally live with their parents for as long as possible to save money and consolidate resources. 
Since that night, I ran into many other unexpected cultural differences such as having my clothes cleaned for me each week, something I have been accustomed to doing myself since I was probably 10 years old. 
Understanding My Role in the Family
Going from living on my own with a couple roommates to living with an entire extended family was quite the adjustment. Although the first two weeks introduced me to the Latin American family structure, understanding how I fit into the family dynamic took more time. 
When my mamatica´s mom started experiencing unbearable back and hip pain and moved into the house to be better cared for, I started coming home from school to find groups of family members discussing surgery options and financial challenges. I felt like an intruder all over again. 
Of course, the family members were always very welcoming. But as my mamatica continued to cook me meals and clean my room every week, I could not help but feel like I was becoming anextra burden on an already strained family. 
Once I started making conversation with the new family members, however, I began to break through the discomfort and build connections. I was able to relate my own experiences with family health issues to the situation and provide relieving conversations for my mamatica. 
I learned that my initial instinct to stay out of the way was wrong. Even if I do not understand the full story or complex family relations, I can continue to check in on my host family and provide support even if it is just in the form of conversation. 
Building a Bond
I have been living with my host family for six weeks now, and the awkward phase has certainly passed. Now, I am beginning to find commonalities and have moved beyond small talk to share my interests and inquire about my mamatica´s life experiences. 
This weekend, my mamatica brought me to her mountain house, which she just casually mentioned having one day over breakfast. We had lunch with friends and enjoyed the tranquility of being away from the city. 
I briefly mentioned before about how I loved plants, so she took me to every plant and tree on the property to tell me the name, use, and story behind the plant. It was a simple gesture, but it was the first time I felt like we had really established a connection. We already have plans to return to the house to spend an entire weekend together, and I plan to buy her a plant that we can add to her garden.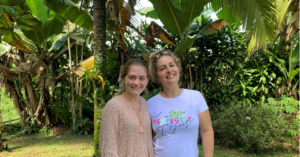 Similar to living with my family in the U.S., sometimes I have little frustrations with my host family, such as when 2-year-old Mathias wakes me up before my alarm every morning. But I have also found that the support system, the sense of belonging, and the incredible meals that come with living with a host family has been one of the most enriching aspects of my experience in Costa Rica. 
This post was contributed by Makayla Vasek, a Global Ambassador for fall 2021. Makayla is a senior English and Public Relations double major studying abroad in San Jose, Costa Rica. Read her first post here.