Spanish Frustrations
Between my mediocre high school Spanish program and the intense 6-hour courses at UT, I had taken 7 years of Spanish classes in the United States before arriving in Costa Rica. Despite my good grades, I had little to show for it in the conversation department. As someone who loves to learn, I was frustrated when it came to Spanish. I could ace every exam, but I still was not truly learning how to speak the language. When some of my Spanish-speaking friends would suggest practicing together, the anxiety of being bad at speaking Spanish would overwhelm me to the point of not being able to communicate at all. 
Therefore, one of the driving forces for me to study abroad in Costa Rica was my insatiable desire to perfect the Spanish language. I thought if I immersed myself in the language for months on end, I would return to the U.S. as a fluent Spanish speaker. So, when I arrived in Costa Rica, I made that my primary goal. 
Classroom Language Learning
As part of an early-start program, I spent my first month here taking 15 hours of advanced Spanish classes per week, in a conventional classroom setting. I was also solely speaking Spanish in the house because I am living with a host family. I thought these two components combined would propel me toward Spanish fluency, but instead, the hours of Spanish class normally left me too mentally exhausted to speak much during my meals with the family. I was not seeing fast results and began to think I was simply incapable of learning another language, regardless of my environment. 
As someone who aspires to be multilingual, who wants to travel extensively, and who plans to teach English as a Second Language to Spanish speakers, this was a devastating realization for me. How could I ever expect to motivate others to learn a new language if I could not do the same? 
When the first month of Spanish classes came to an end, I started my regular semester schedule, which is composed entirely of English-taught courses (since I had already completed my Spanish certificate requirements). I was sure that now I would have an even harder time progressing in the language. A friend of mine shared the same fear, so we decided to start spending one morning a week at a local café to practice speaking in Spanish. 
These mornings were an enjoyable way for us to catch up and talk about our weekends, but I was still thinking of Spanish as a subject to be mastered. I started to realize that I was putting pressure on myself to learn Spanish by constantly surrounding myself with it in the form of books, music, movies, etc.; I was making language learning a chore. When I finally exhausted myself with this form of classroom-style learning and allowed Spanish to be a casual part of my day, I removed the stress of perfecting the language. 
Real-World Language Learning
To my surprise, I then began to see my Spanish improve exponentially in unconventional ways. My conversations with my host mom grew longer, more animated and more complex. I noticed myself being able to keep pace with her and initiate discussions rather than just respond to her questions. When she told me a few weeks ago that my Spanish had improved tremendously since I first arrived and that I had even adopted a Costa Rican accent, I was overjoyed. 
My monthly trips to Claro, the store where I purchase my local phone plan, have become a telltale sign of my Spanish improvement. From my previous visits, the lady at the store now recognizes me and always offers to help me recharge my prepaid plan. She ends our meetings by commenting on how my Spanish is improving rapidly, and all my stress from walking the busy downtown streets to the store immediately washes away. 
Finally, as I am the best Spanish speaker in my entrepreneurship class, I have become the informal class translator. When we take trips to interview local business owners, my professor often asks me to act as the translator for the class (even though he is perfectly capable of doing it himself). At first, I was annoyed that he was relying on me so much. But I soon realized I was being exposed to a completely new understanding of language. By rapidly switching between listening to Spanish, translating in English, then translating my classmates' questions back to Spanish, I was training my mind to think of language itself as a fluid communicative art.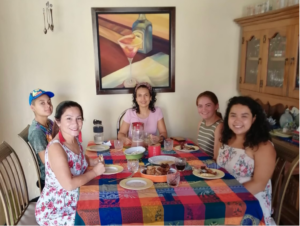 A Lifelong Process
During my experiences communicating with locals and other international students here in Costa Rica, I have come to understand that switching between languages frequently is actually a more progressive way of understanding what language is and how it functions. 
Now, instead of putting unnecessary pressure on myself to spend every waking moment communicating in Spanish, I allow myself to switch between the two languages as needed and learn as I go. Even in the English language, I am regularly learning new words to add to my vocabulary. So why should Spanish be any different? 
By accepting that fluency is not the goal and that there is no time limit on learning a language, I have finally begun to fall in love with learning Spanish. In other words, Costa Rica has taught me what most university classes leave out of the curriculum: Language learning is a lifelong process that does not need to be rushed. 
This post was contributed by Makayla Vasek, a Global Ambassador for fall 2021. Makayla is a senior English and Public Relations double major studying abroad in San Jose, Costa Rica. Read her first post here.