Panoramic view of Guanajuato, Mexico

The golden light from the setting sun illuminated the city built on the mountains, and I fell in love.  
I have to admit, even though it was a short flight from Texas to Mexico, I was nervous about traveling alone for the first time in my life. The thought of starting all over in a foreign country reminded me of my freshman year at UT and having to make new friends, understand the culture on campus, and learn how to use public transport. I knew I would need as much support as I could get during this transition, which is why I decided to do the homestay program.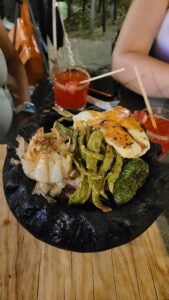 My host mom, Lety, is one of the kindest and most caring women I know. From the first day I arrived, she welcomed me with open arms, and I immediately felt at home. However, I can't say that those warm feelings extend from Chewy, her two-year-old schnauzer, who still barks at me every time I come home, even after two months of knowing me.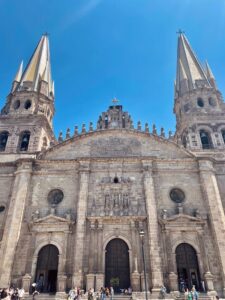 The head of the house is, of course, Luna, a chihuahua. Every morning I find her guarding my bedroom door, waiting for me to welcome her in. She patrols my room, ensuring that everything is in order before making her way to sunbathe on the patio. 
I also live with Lili, an international student from Belgium, and through this process, we have become great friends. I have the honorary job of teaching her Spanish while she teaches me French. Living with a host family has allowed me to learn more about the history of Mexico and improve my Spanish, which has come in handy as all of my classes this semester are in Spanish.  
My international program coordinator has been an important person in my transition to in-person learning in a new school. Tec de Monterrey is a private, nonprofit, independent institution located in Santiago de Querétaro. Compared to the Forty Acres, Tec is a small campus, but it has its own charm. Every department has its own building and courtyard at its center. The exterior walls and hallways facing the courtyard are exposed to the elements.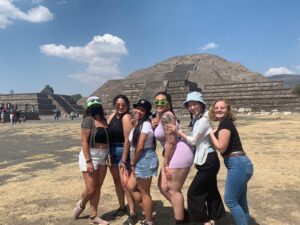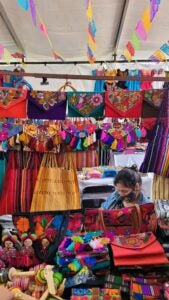 In Queretaro, there are 4 major modes of transportation. They include Uber, biking, riding the bus and walking. Every day I walk 40 minutes to and from school. My favorite part is getting to see the view from the pedestrian bridge where city meets mountain.   
During the past two months, I have taken the opportunity to explore and travel within Mexico. Our first trip was visiting the archeological site of Teotihuacan in the state of Mexico. We began with a show of "Los Voladores de Papantla," and then we walked the Avenue of the Dead to see the Pyramid of the Sun and the Pyramid of the Moon. We ended the night with an interactive Aztec dance show and cleansing ritual. 
The second state on our list was Jalisco. Visiting the state of Jalisco was important to me because it's my dad's home state. I grew up with his stories of mariachi playing on the streets, and cuisine only found in Jalisco,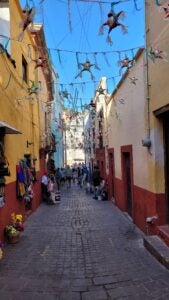 "Charreria" or Mexican rodeo, and the weekend markets. Weekend markets, better known as "tianguis" in Latin America, are open-air markets that are held on market days or weekends, depending on the town or city. There you will find everything from traditional candies to handbags and toys.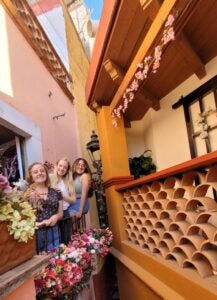 Lastly, the third state we visited was Guanajuato. We visited the Museum of the Mummies, which aren't your typically wrapped mummies but the partially preserved bodies of people whose families didn't pay a local tax for "perpetual" burial.
During our free time, we walked through the streets of the colonial city of Guanajuato and stopped by el Callejón del Beso (the Alley of the Kiss). The streets are so narrow that two people standing on their respective balconies could kiss each other. We ended the night with a "Callejoneada" tour, a cheerful musical show accompanied by the "estudiantina" (a student music group) through the streets, squares and alleys of Guanajuato. 
Time has passed so quickly here, and I can't impossibly imagine leaving the country at the end of the semester. For the first time, I feel a connection to the land my parents came from, and I couldn't be more grateful for this experience.  
This post was contributed by Jessica Mares, a Global Ambassador for Spring 2022. Jessica is a senior sociology and government double-major studying in Queretaro, Mexico.