A few months ago, I finished reading Gabriel García Márquez's novel "One Hundred Years of Solitude." A recurring theme throughout the book is the idea that time is a circle. The events and actions that happen throughout an individual's life happen over and over again. Not just the individual, but families, nations, and humanity as a whole seem to be unable to escape from the past.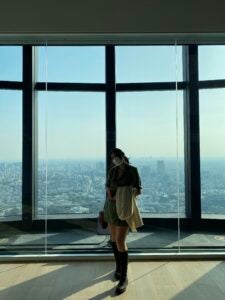 A year ago, I had just moved to Kyoto, Japan, to study abroad at Kyoto University for one year. After finishing my two-week quarantine, I was greeted by the opening of the cherry blossoms. I walked around the city, not knowing anyone yet, getting lost in the winding, narrow streets with the budding trees as my tour guides. A year later, unexpectedly, I find myself again, in a city all alone, this time in Tokyo, wandering around looking at the cherry blossoms' delicate petals dance in the wind. 
The Japanese college calendar is different than in the U.S., with the fall semester ending in early February and the spring semester starting in April. Because of this, I was unable to return to UT for the current spring semester. With seven months to spare until the fall, I decided to apply for one more study abroad program and was accepted at Waseda.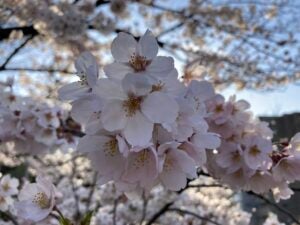 I brought up "One Hundred Years of Solitude" because, with this unexpected second exchange program, I find myself experiencing the same things once more. The cherry blossoms are again a rather lonely, introspective time of new beginnings – a new city, a new living space, new people. Adjusting is always difficult, yet with all new things, they quickly become old. I know that in a few weeks, this strange, daunting city will feel like home. 
Tokyo is so vastly different than Kyoto. Kyoto is a charming, quiet city nestled in a mountainous valley. Considered the cultural capital of Japan, Kyoto has numerous Shinto shrines, Buddhist temples, Zen gardens and palaces. Kyoto is a place to wander around narrow streets or lay by the lazy river that flows through the city. 
Tokyo, on the other hand, is the largest city in the world, with more than 13 million people within the city and 30 million in the greater metropolitan area. When I'm riding the subway, looking at all the people rushing around, I feel so small and insignificant. This could be really demoralizing, but there is a sort of freedom in the anonymity; I can be anyone I want to be here.  
This week I went to the Mori Art Museum in the Roppongi area of Tokyo. The current exhibition called "Happy Spring" by Chim Pom focused on social issues within Japan. One part was an experimental short film where the artists drove around Tokyo on a motorcycle holding a fake black crow while blasting recorded cries of real crows. That triggered the crows within the city to follow the motorcycle, apparently in pursuit to help the crow they thought was captured.   
Crows in Tokyo are a sort of public nuisance. They rip into trash bags and make a mess in the otherwise meticulous city. However, the short film was conveying that just as people are trying to live and survive in Tokyo, so are the crows. There really is no difference.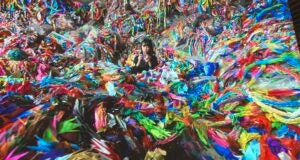 Another piece of the exhibit focused on Hiroshima and the atomic bomb. One video was of a woman folding and unfolding origami paper cranes while sitting in a giant pile of hundreds of paper cranes. I think this was trying to represent the inability of humans to learn from past acts of violence and the inevitability of human destruction. The idea of time being a circle immediately popped up in my head when I saw this video.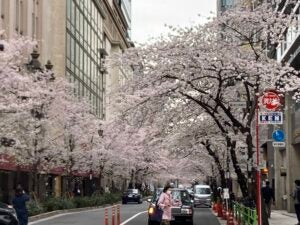 I think that because Japanese society places so much importance on social homogeny, with the Japanese proverb, "the nail that sticks out gets hammered down" being quite popular, this pressure and rigidity inspires very powerful modern art as a sort of resistance. I will definitely be back to the Mori Art Museum for their upcoming exhibits and am really excited to explore the art scene within Tokyo.  
Overall, even though it is difficult to not compare my past year in Kyoto with my current situation, Tokyo is already starting to warm up to me. As I write this post at the very beginning of the semester, with the cherry blossoms having already peaked, I can distinctly feel that time is passing, yet I am so excited for all that is to unfold.  
This post was contributed by Mika Woollett-Chiba, a Global Ambassador for Spring 2022. Mika is a senior anthropology and Asian cultures and languages major studying abroad in Kyoto, Japan.