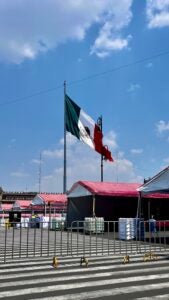 I'm going to be honest: the closer I got to my flight date to leave Texas and go to Mexico, the more I doubted I would board the plane. The summer was two months full of obstacles with registration, health clearances and personal things coming up a week before take-off.  
My biggest stress factor was housing in Mexico. I was placed with two separate families in the homestay program who were either incompatible with me or with whom I had an allergy to their pet. I felt completely defeated and was constantly talked out of going by family members. After a while, I felt like maybe I was forcing this entire thing and should just stay in Austin for the fall, but I would still be with housing problems so late in the summer if I couldn't get my RA job back.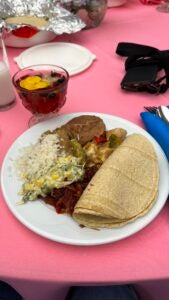 I changed my flight twice, and even 12 hours before leaving, I wasn't even sure I'd actually board the plane. But on August 1, I did. And I'm happy I stuck with my plans, no matter how much uncertainty I felt in the days leading up. A day or two before, I found accommodation with a Mexican mother, Lilia, and her daughter, Alexa, who also goes to Tec de Monterrey with me.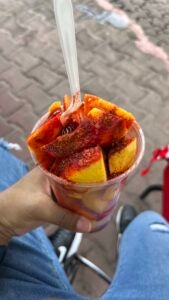 When the daughter Alexa picked me up from the airport in Mexico City, I knew this is where I was supposed to be. We instantly clicked on the ride home, talking about music, family, and our knowledge of each other's native tongue. I felt overwhelmed riding through the streets of Mexico's capital, taking everything in: the colorfulness of the homes, the mountains in the distance, the many family-owned restaurants and stores all alongside the streets. It was a new city with new people and its own socially acceptable behavior.
It's been about five weeks here, and living with a Mexican family has been the best part so far. I was granted a community as soon as I arrived, and they welcomed me so kindly into their beautiful home. They always include me in family activities: birthday parties for Abuelita and the nephews and siblings, ice cream shop gatherings, and family dinners with the three of us almost every night.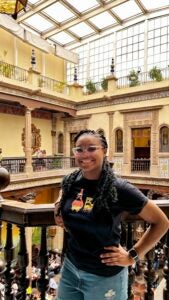 I didn't get to do an "official" homestay program, but the reason it was so important to me was that back home, most of my family lives very far away. I have a new mother figure who takes care of me as her own by pushing me to eat more (I never eat enough), making sure I am always safe, and supporting me in being more extroverted to make new friends. And Alexa, who makes me feel included with her friends and siblings, with whom I can watch You on Netflix when we're not too busy with schoolwork.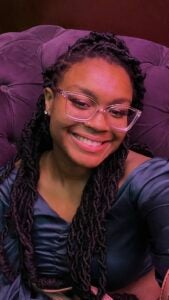 My Spanish is slowly progressing. It is a bit difficult to learn, since a great number of Mexican locals speak English here. Most of them are better at English than I am at Spanish. Some even say to just speak English because my Spanish is very rough! But of course, it all boils down to having confidence in my own abilities.
Four out of five of my classes are online, which is not what I expected, and I feel like it takes a huge part of the "education" part away from my Education Abroad experience, since I have limited ability to interact with Mexican students. Nonetheless, I have enjoyed my time here, the good and the not-so-great.  
It was a very difficult decision to come here and leave home when so many people told me not. But the hardest decisions create the greatest outcomes, and I'm beyond grateful for trusting myself and experiencing a new atmosphere I wouldn't have had the chance to, had I stayed in Texas. 
This post was contributed by Chassity Jenkins, a Global Ambassador for Fall 2022. Chassity is a senior radio-television-film and Spanish double-major studying abroad in Mexico City, Mexico.