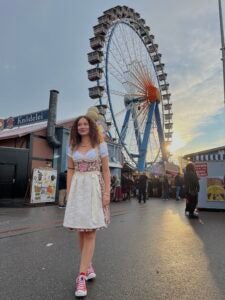 If there's one thing you should know about me, it's that I appreciate a good metaphor. I find it easier and more enticing to tell a story when you have a key idea — like a life lesson — to center it around. To that end, I've been racking my brain, pondering over my experiences in Würzburg thus far to pinpoint a single moment that encapsulates my short time here.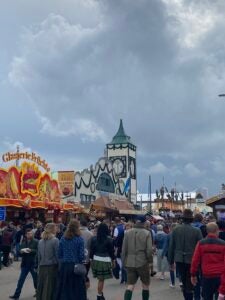 But sitting here writing this, I've come to the realization that I can't pinpoint a moment or lesson that has defined my study abroad experience here to date because it has been an amalgamation of many experiences: Sunday mornings spent by the river reading a book, baking a brownie cake for a birthday for a guy we had met four days prior, or spontaneously booking a train ticket to Munich to experience Oktoberfest. 
This spring, when I was notified that my program at the University of Freiburg had been canceled, I wasn't sure if it was a sign that I shouldn't be studying abroad, period. I grappled with this dilemma for several days, until I realized that I had been thinking about things in negative terms, rather than asking myself if this was a sign that I SHOULD be studying at the University of Würzburg. This small alteration in perspective changed the course of my future.  
Würzburg is described as small by most who encounter it. I see it as cozy, with coffee shops filling every street corner, farmers markets near the Marienkapelle (the red church) and the Marienberg Fortress watching the city from the hillside.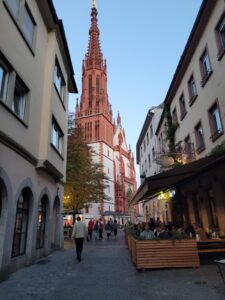 It's comforting that the residents of this town find enjoyment in the little things, like grabbing a pizza and sitting by the Main River or sipping white wine on the Alte Mainbrucke. All of these otherwise mundane activities take on a new light in a charming European city like Würzburg.  
However, don't mistake the city's simplicity for dullness: Würzburg is very lively. The average age in this university town is 41 years old.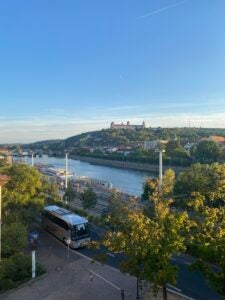 Coming here with a set of goals makes it 10 times easier to navigate the people you surround yourself with and the activities you involve yourself in. Being successful abroad requires you to be comfortable with the idea of being alone. In the beginning, you will be alone.  
If you aren't accustomed to a solo lifestyle, I would recommend starting now. Go grab lunch at a restaurant alone or go for a swim at the local pool by yourself!  
Though I will admit that I spent the Sunday night before the first day of my German intensive course sobbing to my sister and cousin, my emotions reversed less than 24 hours later. In the span of one day, I met some amazing people, people whom I would spend four hours with every weekday for the next three weeks.  
I can't say when or how my current friend group established itself. All I know is that our friendship progressed at a speed I hadn't known was possible. We often joke that it feels like we've known each other for years, even though it's only been a month.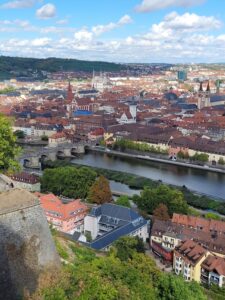 At the University of Würzburg, I've met people with different backgrounds and stories from Turkey, Spain, South Korea, Italy, Poland and Portugal, to name a few.  
I've learned that everyone is born at the age of 1 in South Korea, and birthdays are celebrated on New Year's Day in addition to the person's actual birthday.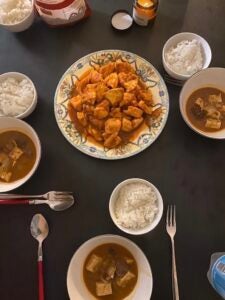 I've learned that in Turkey, you blow a kiss to say, "you're welcome," and it's apparently possible to rent an apartment there for just 34 euros!  
Studying abroad is a lot of things. It's a chance to progress your language skills, travel and, obviously, advance your studies.
Whatever is motivating you to study abroad, know that the greatest part will be the people you meet along the way.  You'll encounter people with whom you share many similarities, and you'll also encounter people vastly different from you.  
I wasn't expecting to stay friends with the people I met that first day of class. Now here we are, planning future trips abroad together! Life is funny that way.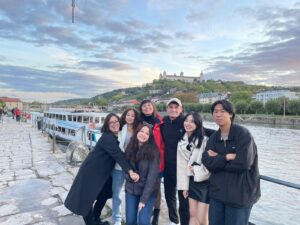 As I sit on the train coming back from France, I imagine what life would have been like in Freiburg — but quickly shut down the thought. Instead, I think about my amazing friends waiting for me once I get off the train.  
I'm in the -burg where I'm meant to be.  
This post was contributed by Vanessa Mathis, a Global Ambassador for Fall 2022. Vanessa is a sophomore majoring in anthropology with a minor in history, studying abroad in Würzburg, Germany.