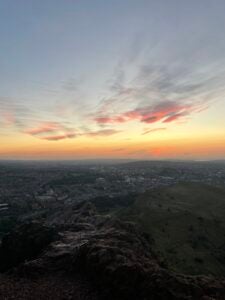 One of my favorite things to do is to put the current moment into context with past memories. Two years ago, I was most likely crying on my floor under the weight of the pandemic, starting college and change. One year ago, I moved for the first time and was fresh in my new apartment in Austin.
A little under seven months ago, I sat with my roommate on stools in our kitchen as we talked about life, our futures, our pasts, and our traumas. That night we talked about everything regarding our futures, from our dream houses to going storm-chasing on bikes to wanting to move to a farm in Italy and pick grapes, and lastly, to studying abroad. 
Impulsive excitement washed over us as our plan to move out of the country took shape, and we moved forward to apply and solidify this idea into reality. Throughout the process, I kept waiting for myself to wake up one day and think, "That was a cool idea, but let's go back to real life." Most people plan far in advance before studying abroad, and this idea's foundation was the flimsiest of whims. I never expected this plan to sustain me, but something continued to drive me forward.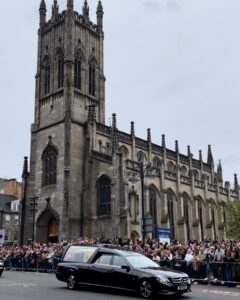 Now, in the present, I have been in Scotland for two and a half weeks. Moving here was a lot different from what I anticipated. Two days before I left Texas, the unexpected happened: Her Majesty Queen Elizabeth II passed away in Scotland.
The day I arrived in Edinburgh was the same day that Her Majesty's coffin also arrived in Edinburgh. Just an hour or so after I arrived, my father and I were pulling our suitcases across the city when we came across the procession and were able to witness her arrival. There was such a heavy feeling of experiencing firsthand a kingdom's grief at the death of their longest-reigning monarch.   
I was able to attend a few of the processions over the next few days, and there was something incomprehensible when the streets were packed to the brim with thousands of people of all ages, yet no one made a single sound as the procession passed. It's a situation you see in movies, but you never expect to actually experience something of that magnitude in real life. There's a shared understanding between all the people, and you can feel the respect and the loss they feel in the silence.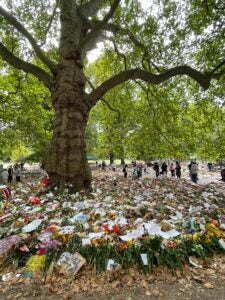 One of the most eye-opening parts of this tragic situation was viewing the floral tributes. It's easy to group everyone together when there's a crowd, but with the tributes, you see each individual for who they are and read the stories about how the Queen affected each person.
The extent of people impacted by her from all over the world was astonishing and so special to see, and there were even drawings from little kids and notes in their own handwriting about how much they loved her. Reading the love these people had for the Queen, you could feel their sadness through their words, and it was impossible not to feel heartbroken for them. I am so humbled to have had this experience, and my heart is with all who were saddened by her passing.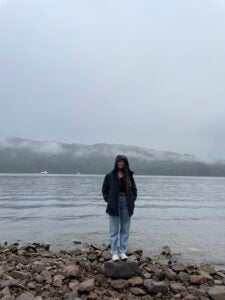 On a much different note, Scotland has been beautiful, both literally and metaphorically. Change is always a terrifying concept before you know whether it'll happen with ease or with pain, but my transition into living here was much smoother than I anticipated.
I've learned so much about the history of Scotland. I've visited several castles; I've already seen two of the iconic, fluffy Highland cows; and I've met so many incredible people from all over the world. I even had the chance to hike Arthur's Seat with over 50 other international students, and it was so enlightening to hear their stories and all the ways in which their daily lives differed from mine. 
Although my time here has been short, I've already met people I can't imagine never having met. There's something so magical about the way lives from so far apart can cross at just the right place and time. I have so much more to see and so much to learn, and my impulsivity will probably continue to lead me to places I can't currently fathom, but I am so grateful for the opportunity to be here at this moment.
This post was contributed by Ashley Langston, a Global Ambassador for Fall 2022. Ashley is a junior biology major with a minor in geography currently studying abroad in Edinburgh, Scotland.