Still life has been my favorite genre of art since childhood. I'd like to think it was the first time I deeply resonated with the power of metaphor in art. However, at the time, I hadn't entirely pieced together why I was so fascinated by an unassuming, gilded-framed depiction of an hourglass, snuffed candle and bowl of unripened figs. This curious collection of objects was frozen in time, yet there was a kinetic movement to the work that felt completely contradictory to the stillness that the genre implies.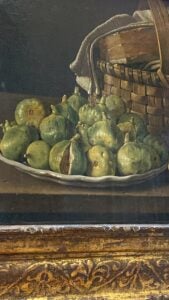 The French translation of still life, "nature morte" or "dead nature," also evokes this oxymoron in that the very essence of nature lies in its lack of death, just as the very essence of life lies in its lack of stillness. Perhaps mini-me was likewise perplexed with this inherent contradiction, how this genre of art captured the inertia and fleetingness of life through an otherwise still image. The grains of sand would eventually nestle at the bottom of the hourglass. The talons of smoke from the snuffed candle would lazily spiral and eventually disappear. And the figs would eventually ripen, spoil and wither. Even as a child, I knew there was nothing still about this genre of art.  
This past week, I visited the Louvre to see a recently opened exhibition titled "Les Choses: Une Histoire de la Nature Morte Depuis la Préhistoire." It was a history of still life, the rendering of objects, and their silent symbolism of the world's lives, beliefs and desires at the time. I was surprised to learn that the creator and author of the exhibition, Laurence Bertrand Dorléac, happens to be a professor at Sciences Po, the exchange university where I am studying. 
I spotted a painting depicting figs: a Spanish 18th-century work by Luis Melendez. I was reminded of the first still-life scenes I fell in love with as a child, particularly those featuring figs. Something about the rendering of the texture of the figs particularly captivated me, perhaps the way that Melendez captured the dimples and nicks in the skin or the subtle variations in tone indicating which parts of the fig would ripen into purple hues first. 
Upon returning to my apartment from the Louvre exhibition, I journaled these scattered thoughts and wondered how still life, figs and my experience in Paris somehow all connected. There was a thread woven between these seemingly unrelated ideas, but I couldn't seem to untangle the fibers to settle on one uniting analogy or parallel.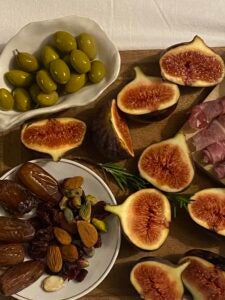 That is, until I re-read my notes from my favorite class this semester, "Health, Happiness, and Wellbeing: Practical Philosophy—Ancient and Modern." During our readings on stoicism, I came across a quote from "The Discourses by Epictetus" that shook me to my core: 
"What you love … has been given to you for the present, not that it should not be taken from you, nor has it been given to you for all time, but as a fig is given to you or a bunch of grapes at the appointed season of the year. But if you wish for these things in winter, you are a fool. So if you wish for your son or friend when it is not allowed to you, you must know that you are wishing for a fig in winter."  
I highlighted this passage when I first came across it, but it did not fully resonate with me until after my visit to the Louvre still life exhibition. All of a sudden, a constellation of thoughts took shape. Figs have remained one of my favorite fruits since childhood, evoking memories of summer days sprawled in my backyard nursing a bowl of figs as my mother read aloud from "From the Mixed-Up Files of Mrs. Basil E. Frankweiler" by E.L. Konigsburg. I still can barely contain a squeal of joy when figs first appear in stores every summer.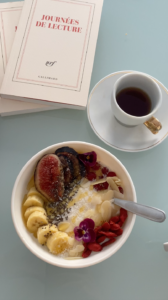 During my time here in Paris, I have enjoyed figs in various ways: wine-poached, dried, emulsified into jam, atop salads, yogurt bowls and porridge, or paired with prosciutto and cheese. However, as November approaches, my beloved fruit is no longer in season and has become harder to come by. I realized that this bitter reality symbolized a much larger realization: My time abroad is passing and will eventually end. Summer has bled into fall, just as fall will soon bleed into winter.  
The gradual disappearance of figs from the market reminds me of the temporality of my time here, as difficult as it is to contemplate. Upon revisiting this quote from Epictetus, it seemed as if he was directly talking to me. I might wish that I could pause time, as countless still-life artists have attempted. However, transience is inherent to my time here, just as it is to the season of figs. By wishing to pause time, I am wishing for a fig in winter. Not only is it a fruitless endeavor (pun intended), but it is contradictory to the natural forces of time. My time here will inevitably end, but its value and splendor lie in its brevity. 
Entering this new season of my journey abroad, I endeavor to carry the words of Epictetus with me. As the leaves of the linden and chestnut trees throughout the city erupt into warm shades of yellow and orange, the passage of time feels like a wondrous thing to behold. And the next time I notice the signs at the market that once read "Profitez de la Saison des figues fraîches" ("Take advantage of fresh fig season"), I hope to smile with bittersweet understanding.   
This post was contributed by Elissa Angelow, a Global Ambassador for Fall 2022. Elissa is a senior psychology and French double-major, studying abroad in Paris, France. Read Elissa's first post here.