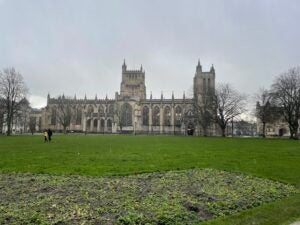 For my very first blog post, I've decided to share my experience in Bristol, ringing in both the new year and the 20th year of my life. Embarking on a journey across the pond already feels like a massive change; being alone on your birthday in a foreign country will shock you to the core.
After a successful day of travel with minimal issues, I reached the beautiful city of Bristol, which is about 90 miles west of London. It's an amazing city to take in. Oddly enough, I walked around and felt as though it were a bitterly cold Austin. I bundled up at my hotel and went to bed to recover from an absurd amount of traveling.  
The next morning, I rolled over, gave myself a big hug, and said happy birthday. Naturally, I did not have any set-in-stone plans, so I researched major landmarks I wanted to see and made a list. I knew I was in the right place when I turned over and saw a French press in the hotel room. "Only in Europe" was a common phrase I repeated to myself that day.
Luckily, I am an avid coffee fan, so I made a delicious cup and took in the view of drizzling rain from my bed. Starting off the morning on such a blissful note, I was then thoroughly shocked again. To my right, complimentary shortbreads caught my eye. Obviously, I had to make another cup to enjoy one of my favorite treats.  
After my euphoric morning, I braved the cold and headed to the Bristol Cathedral. The cathedral had an impressive record of figureheads in the church dating back to the 12th century. I rather enjoyed my visit here, and I had a wonderful encounter with an elderly woman, as we discussed Janani Luwum, an Anglican church leader who is recognized and celebrated in Uganda on February 16 every year.  
With a smile on my face bigger than before, I headed to the Bristol Museum and Art Gallery, which was one of my favorite stops of the day. Victorian art hung on the third floor and several exhibits showcased the history of fine china in the city. It was an exquisite experience and an absolutely perfect fit for my birthday, as I am a fan of Victorian literature.  
I was especially entranced by a painting I saw by the French painter James Tissot, called "Les Adieux." Meaning "The Farewell," I thought it was well-suited to my circumstances — after all, every farewell marks the beginning of a new chapter of life. The painting depicts a woman leaning over a gate that divides her from her lover, who firmly grips her hand. She looks as though she's mourning, and the painting evokes a feeling of sadness and despair at their inevitable parting.
Although the photo fails to show it, the trees in the painting are decorated with ivy and holly, which symbolize renewal and an eventual happy ending. Having just left behind my loved ones for the coming months, I felt ever-so-connected to this painting. It was already an emotional day for me, and naturally, the work moved me to tears.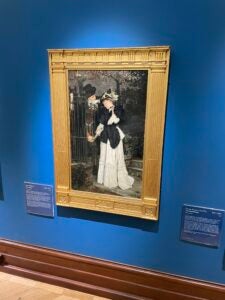 Next, I headed to Cabot Tower, which is the highest point in Bristol and boasts its most beautiful view. I spent a good amount of time just staring at the landscape before I heard the boardwalk calling my name. I then made my way down the tower and to the water, where I was humbled by the beauty of the city. The boardwalk was breathtaking, with historical plaques and tidbits demanding attention at every corner.
After stopping and reading things here and there for a few hours, I decided to head to the inner city and check out Queen's Square and other must-see spots in Bristol. Trying not to use maps and look like a lost American, I accidentally stumbled upon my favorite place of the day.
In the city of Old Bristol, the St. Nicholas markets seem to sell almost anything you could think of. From amazing and diverse food options to knitted mittens, I was in retail heaven. Since I was coming from Austin, my trek around the city had been painfully cold, so I opted to buy a pair of mittens. It took me a solid minute and a half to pull out my credit card because of my frozen fingers, but I was rewarded with immediate relief when I put on my new purchases.  
At this point, I felt a collapse coming on, so I headed to the hotel. I checked my mileage for the day and gasped when I saw I had walked more than 12 miles! Beaten down from such a taxing day of tourism — an oxymoron if there ever was one — I ordered myself some room service and took a bath. As I sat alone, I felt a stream of contentment flow through me. I ended the day with the same big smile I started it with, as I watched "A Brief Encounter." 
With a day as blissful as my birthday, I hoped the days to come would offer the same excitement and enjoyment. The next morning brought a whole rush of news as I arrived bright and early at my orientation. Oddly enough, I felt rather calm, and I walked in with peaceful anticipation. As the room filled up, I could not help but smile. I sat next to an Aussie, and we immediately hit it off. Our group of two gradually grew to 12, and as odd a combination of personalities as it is, the group just works.
Throughout my few short weeks here, I have been blessed with adventurous friends and a community exceeding any expectations I had. We have traveled to Bath and Cardiff — both amazing cities. With plans to continue traveling and an amazing first few days of school, all my anxieties and fears prior to coming have dissipated.
Before studying abroad, I think, most people worry about making friends in a new environment, but I urge pushing those fears aside and embracing this experience because it surpasses all presupposed fantasies of what I thought my time abroad would consist of. While being alone on my birthday was fun, my first few weeks have shown me the power of good friends, slowly making Bristol feel like home to me.
This post was contributed by Katherine Link, a Global Ambassador for Spring 2023. Katherine is a sophomore English and religious studies major studying abroad in Bristol, England.