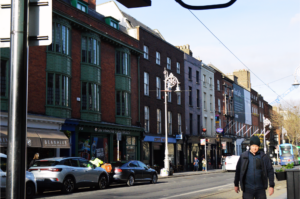 Before I left for Dublin, I had more fears than I could count. I'd tell anyone who would listen that I was sure I'd be deported, kicked out of school, or get lost on my first day. Surprisingly, I wasn't deported, I wasn't kicked out of school, and the kind taxi driver ensured that I wasn't lost. Still, this huge life change has inevitably come with challenges, and with those challenges came the opportunity to learn how to manage them.
The main difficulty I've faced is just how unfamiliar my environment is. Not only are the accents different, but everything is new. This includes things I hadn't really thought about before, such as power outlets, paying for the bus, and the shopping carts, which left me constantly aware of how different life is here. During the first couple of weeks, I was thrilled to socialize and experience all that Dublin has to offer. But I'll admit, after that initial spectacle wore off, I found myself exhausted by how many of these daily novelties I had to tackle. At home, I didn't have to dedicate mental energy to navigating every little thing. Soon, though, I found a way to manage that effort.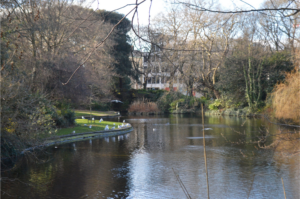 When overwhelmed with new experiences, establishing points of familiarity has proven to be beneficial. In Dublin's city centre (their term for downtown), there is a lush garden named after St. Stephen that I visited during my first couple of days here. After visiting St. Stephen's Green Garden a few times, I found myself feeling more and more comfortable. Aside from my room, it became my home away from home. I was enchanted by the countless seagulls meandering across the grass. The ancient bridge arching over the frozen lake caught my gaze. I found myself wandering down the footpath with no destination in mind. I was happy to just exist among the natural surroundings.
Near the garden is the beautiful Stephen's Green Shopping Centre. When I first saw it, my jaw dropped at the number of people strolling about, compared to the suburbs in Texas. Standing at the street corner just outside the shopping center, I heard countless languages and the sound of musicians performing. A man is almost always feeding pigeons in the median, and his flock grows larger every time I see him. Here, I find a different kind of peace — the kind found amongst the bustle of a city, where I am free to sit and observe the society around me.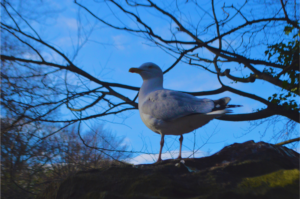 As I maintained this peaceful corner of my life, previously stressful choices became second nature. I now know to flip a switch to make an outlet work. Taking the bus has also become a normal part of my day. I find myself far less daunted by the cultural and environmental differences around me, and I'm only four weeks into my experience abroad.
That adjustment period is no doubt a part of every exchange student's journey, and we all deal with it differently. Carving out a familiar space in the city allowed me to escape every so often, just enough to give my mind time to rest from the constant new experiences. As I check in with myself down the line, I predict more of the city will have become familiar to me, but for now, I'm happy to take my time with what Dublin has to offer.
This post was contributed by Sophia Boyd, a Global Ambassador for Spring 2023. Sophia is a junior linguistics studies major studying abroad in Dublin, Ireland.