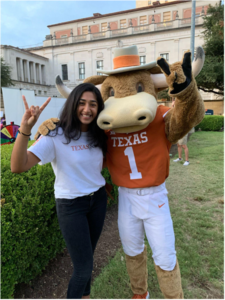 Coming to The University of Texas at Austin, I had a lot of expectations for what the next four years would hold, including the classes I'd take, the friends I would make and the experiences I would have. Some experiences were more realistic than others, but the one that hung above all the others in expectation was study abroad.
It was always something I knew I wanted to do, but I had a feeling it wasn't going to work. Neuroscience is not the most flexible degree plan, and I didn't think studying abroad would be something that I could work into my schedule without taking an extra semester of school and spending even more money.
As pessimistic as I was about my chances of going abroad, it was something I really wanted to do, so I looked into the options to see if it was possible. I met with my advisor to see if it could fit into my schedule — and luckily for me, it was! We went through my degree plan and sorted out the courses that were flexible to take abroad. When I went to the website and searched for programs by major, I saw there was a whole section of programs that the College of Natural Sciences (CNS) recommends for students interested in studying abroad.
From there, I consulted the My Credit Abroad database and viewed courses that UT Austin students had previously taken at Uppsala University. That gave me insight into which classes were already approved, and from there I was able to figure out what other courses I still needed to get approval for. To get approval for new courses, all I had to do was get a class syllabus from the host university's website and submit it through the Course Evaluation Request form.
After all my research, I decided to study abroad in Uppsala, Sweden. Uppsala University offered everything I wanted out of a university and everything I wanted in a new country for my study abroad experience.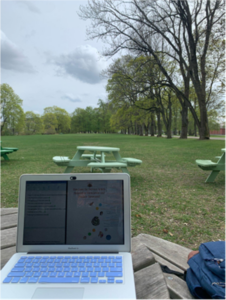 As soon as the stars seemed to align for my study abroad experience, COVID-19 hit, and everything seemed to crumble in front of me. All the plans I'd made and the situations I'd let myself dream about came crashing down, and I soon started to realize that maybe it wasn't going to work out after all.
All the "I told you so's" came to mind, and I started to feel stupid for thinking this could actually work out. There was so much uncertainty during that time that I went ahead and crossed off any expectation that studying abroad would happen for me. After some time, I accepted that the rest of my time in college would be at UT Austin, and I slowly became okay with that.
Fast forward to Fall 2021, when things started to slowly return to "normal." The idea of studying abroad had popped back into my mind for a split second — and thankfully, I decided to indulge the thought and check the website, fully expecting to see the same program suspension that I had seen for the last year.
To my surprise, I saw there were updated dates, and my mind started going a million miles an hour. I scrambled to make an appointment with my advisor to see if this would work with my schedule, with only three semesters left rather than the five I had initially planned with. I hoped for the best but expected the worst, knowing how this went the first time.
It was a whirlwind month of appointments, applications and course requests, but by the end of it, I had an acceptance to my exchange program and was picking my courses and booking flights to Sweden! With the fear of COVID-19 slowly dissipating and lingering uncertainty remaining, I didn't allow myself to get truly excited until the plane landed and I saw the pine trees covered in snow.
I couldn't believe that I had gotten there and it actually worked out. That I was breathing new air and seeing a sky that looked completely different from the one I was used to seeing (and believe me, I know how odd that sounds). It was not a painless task, and it came with many ups and downs, but the five months I spent there and the experiences I had would make me do it again in a heartbeat.
While this was a very personalized experience, we all have our own roadblocks when it comes to studying abroad, whether it's academics, finances or the idea that we don't feel worthy of this experience. There will always be something that makes us think we can never have this opportunity, and they might seem like completely valid and legitimate reasons. There's a lot that goes into the process and from the outside looking in, it can feel impossible.
But if it's something you want enough, and you know there's no way you can leave UT Austin without doing everything you can to study abroad, then look into it. Plan ahead, make the meetings to talk through it and put in the work. It may mean not going to the exact country you had in mind, submitting lots of scholarship applications, or doing a shorter program than you initially wanted, but any program can be the experience you want if you make the most out of it. It just takes pushing the roadblocks out of the way, one at a time.
Anjali Senthilnathan is an Education Abroad Peer Mentor providing support to students interested in studying abroad. Learn about this program at Peer Mentor Programs.