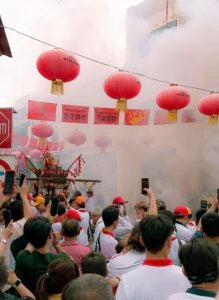 I think it's safe to say that I'm in the thick of things now. The excitement that was lost in translation and manifested as anxiety — anxiety that I would not be liked, that culture shock would electrify me to my bones — has dissipated, giving way to my being able to breathe. Now, I have entered quite the routine:
I hit the snooze button 10 times before finally waking up.
I have "kaya" toast and "teh tarik" for brunch, which I've eaten every day for a couple of weeks now. My arteries might need to be looked at.
I go bouldering downtown, a hobby I've begun to enjoy now that I don't feel like the eyes of serious "granola" Austinites might pierce me.
I study by reading a few articles about Singaporean society and attempt to review my MCAT material, although this is often interrupted by a nap.
For dinner, I visit the university food court, which emulates the classic Singaporean hawker center: A poster outside the food court urges students to avoid deep-fried food. Ironically, the most popular dishes here are deep-fried, including the salted-egg chicken, which is another Singaporean staple and my favorite meal.
I browse the internet until I've run out of content (Breaking news: It's impossible to exhaust the internet) or I read a book. The great thing about having a light schedule while abroad is that I actually have time to read books other than molecular biology or my UT Austin professor's organic chemistry textbook.
You might have noticed that "going to class" isn't part of my daily schedule. This is because classes at the National University of Singapore (NUS) only hold lectures once a week and discussion sections every two weeks. This structure gives local students plenty of time to load up on five to eight classes, or the equivalent of 15 to 24 credit hours at UT Austin. Yes, that is normal here.
The structure also gives exchange students time to adjust to different teaching styles and perhaps just enough time to take a weekend trip to Malaysia, Vietnam or Australia, if their Google calendars don't look like a double rainbow.
During my most recent trips, I came to the realization that I was directly experiencing what I had learned in my Emerging Relations: Singapore and India course when I visited Malaysia.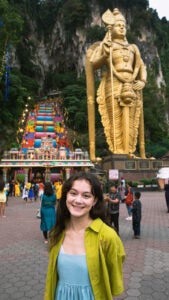 A couple of weeks into the semester, when we exchange students were beginning to make new friends, we all experienced a mass-hysterical urge to travel to neighboring countries. Some loitered in WhatsApp and Instagram group chats looking for a travel buddy, while others flew off by themselves. Shortly after my return from Vietnam for the Lunar New Year, I found myself in the middle of Kuala Lumpur's very own Times Square with friends I had just met.
After our first day crawling about the city, my boyfriend and I took a taxi back to the hotel. Energy was oozing from our skin as we melted into the taxi seat and engaged in casual conversation with the driver. When I mentioned our plans to visit the famous Batu Caves, the driver let out a baritone guffaw.
I soon learned that this weekend was also "Thaipusam," the Tamil Hindu celebration of the goddess Parvati and her son, Murugan. It is one of the biggest holidays celebrated in Malaysia due to its large Tamil population. At that moment, I realized that Malaysian highways were experiencing their equivalent of the great "Red River Showdown" migration along I-35 highway. In Malaysia, 2 million people were expected to pray and celebrate at Batu Caves, and, this being a Friday, I realized the landmark would only get busier as the weekend progressed.
My discovery meant that our plans to nap at the hotel were immediately scrapped. The mission to get to Batu Caves before sundown was dire if we didn't want to navigate the sea of festival-goers among closed, unfamiliar roads the next day. After an hour of panicked chats with taxi drivers and scurrying about the metro, we finally arrived at the base of the cave. Though the full moon on which Thaipusam falls had not yet emerged, hundreds of devotees dressed in ochre linens proceeded to climb the 272 steps, carrying the heavy weight of "kavadi," an offering for Murugan, whose image towered 140 feet above us in gilded concrete.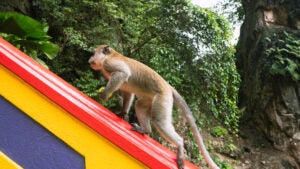 Experiencing Batu Caves during the weekend of Thaipusam brought my lessons at NUS outside the classroom, as I experienced the effects of Tamil migration throughout British Malaya in the 19th and 20th centuries. During this time, hundreds of Tamil men sought work outside of India to send remittances home. South Asian culture made its foothold in the peninsula of Malaysia, creating a rich history of perseverance through struggle that festered in colonialism.
I looked at the men and women with extravagant piercings, people laughing at monkeys who had stolen their fruit, devotees walking up 272 steps barefoot with "kavadi" upon their shoulders, and remembered how colonialism had once driven elite Tamil man to denounce this beautiful holiday in order to set themselves apart from the lower class. Throughout my journey in Malaysia, I passed through the Portuguese street names of Melaka, reflecting on the effects of colonialism and the immense strength the people of Malaysia possessed to separate themselves from it.
Speaking of which, I can't end this blog post without mentioning Chap Goh Mei, the 15th day of the Chinese New Year, and the other holiday that fell on a full moon. Once again, I visited the city without knowing a large procession would flood the streets. Men played a cadence on drums, dragons shimmied and pranced and girls threw oranges bearing their names and phone numbers into the river for lucky boys to peel.
The procession continued into the famous area of Chinatown known as Jonker Walk, where hundreds of Chinese Malaysians waited along the street adorned with an endless ribbon of firecrackers. As the procession made its way inward, chanting, dancing and drumming, the streets erupted with smoke and bright flashes of light, launching the incinerated firecracker boxes into the air. Although the danger of blinding others did exist, people still laughed as they ran from the firecrackers.
It felt like the stars had aligned to provide me with the most celebrated weekend in Malaysia. However, I made a mental note to research customs, history and special events the next time I travel. After all, I can't remember the last time I felt this much unexpected and unadulterated joy!
This post was contributed by Cassidy Edwards, a Global Ambassador for Spring 2023. Cassidy is a junior biochemistry studies major studying abroad in Singapore.