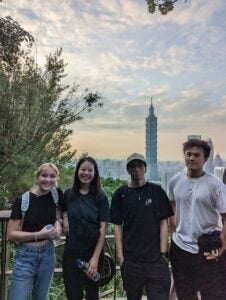 As an undergraduate student in my third year, studying linguistics and Chinese, I chose to attend National Taiwan University (NTU) to learn more about my family's cultural heritage and to master the Chinese language. My early childhood in Gongguan, "公館," the same district as NTU, inspired my decision to return to Taiwan. While I've lived in and visited Taiwan many times, I quickly learned that it is still a new and unfamiliar place that requires adjustment.
The first month has flown by faster than my 16-hour direct flight to Taoyuan Airport from Houston, and there's familiarity and unfamiliarity around every corner. Some days, I'm confident that I've adjusted to daily life such as new traffic norms, dietary changes, a 45-minute commute from my dorm to campus, garbage disposal regulations, the politeness and hospitality of Taiwanese people, and the linguistic and cultural differences.
But other days, I struggle to adapt to those same differences. During my time, I have experienced a range of emotions from excitement, warmth, happiness and delight to nostalgia, anticipation, stress, anxiety and exhaustion. I have also experienced gratitude, loneliness, peace, hope and confidence. However, I know that it is normal to face these challenges when living in a new country and culture.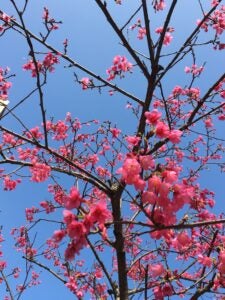 When I accidentally broke my phone, and in the same week my dorm had an issue that forced me to move to a different room, I was overwhelmed and stressed while being in an unfamiliar place where I lacked fluency in the language and culture. But after each "storm had passed," as I learned in my Chinese idioms class, "the sky was blue" and all was well.
I wouldn't change any part of my journey so far because these experiences have strengthened my personal faith and perseverance, and have reshaped my perspective on unexpected — and even unwelcome — events. I've even found more time to do the things I never give myself time to do. I got back into journaling, drawing, taking walks, sitting outside and reading. I'm currently reading "The Lord of the Rings" and "The Ruthless Elimination of Hurry."
To my surprise, I've quickly and easily made new friends. Outside of family connections and a few childhood friends whom I haven't connected with in more than 13 years, I've met people through mutual friends, my dorm, events for international students and my classes. I've learned a lot about cultures from all over the world through interacting with other international students. It is a special opportunity to get to know people from different cultural and linguistic backgrounds because we connect over common struggles as well as new and exciting experiences as international students.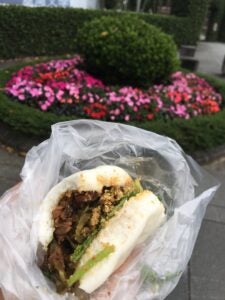 So far, I have explored Ximen, "西門," a popular shopping district, Tamsui, "淡水," a northern seaside district, and Taipei City, "台北市," which is where I attended the Lunar New Year Lantern Festival. I reunited with relatives, and visited my childhood home and familiar night markets. I also went to an arcade, sang karaoke and climbed the Elephant Mountain, "象山," to see Taipei 101 with a few new friends. Thankfully, I've found my go-to coffee shop near campus with the best black sugar lattes I've ever tried.
One of the most memorable experiences so far was getting into an hour-long conversation with a local Taiwanese woman outside of the main library on campus. Not long after we began talking, another lady joined us and we stayed talking for another hour. We crossed linguistic, cultural and generational differences. Seeing how our conversation mutually filled us with so much joy and warmth reminded me of our common need for human connection. At that moment, I was reminded of the importance of slowing down and being present (instead of scrolling through my phone, for example).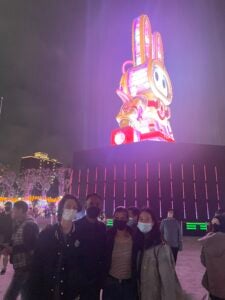 We also began classes this week. Although there are options for English-taught classes, I like that all my classes are taught in Chinese because it challenges me to learn Chinese faster. The class structure is not too different from my classes back at UT Austin. For example, there are papers, weekly assignments, semester-long projects and exams. I appreciate that the professors are passionate about what they teach and that they make classes interactive.
All my previous concerns about my visa, housing, roommates, friends, class registration, adjustment to living in a new country and unexpected issues have gone away. I must admit, all those thoughts were worth the opportunities I have had to learn about Taiwan, international cultures, myself and life while studying abroad.
I'm excited for the upcoming months as I learn from my professors, improve my Mandarin and Taiwanese, make new friends, explore different cities, and learn more about myself and my heritage. Thank you for reading and joining me on this journey. I hope you are inspired to begin your own journey abroad, too.
This post was contributed by Grace Huang, a Global Ambassador for Spring 2023. Grace is a junior linguistics studies major studying abroad in Taipei, Taiwan.