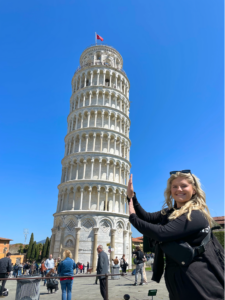 Throughout my life, I've always been a planner. I've always had every detail to the second written down, organized and filed. I rarely make plans at the last second or embark on something when I don't know all the details. It's just how I'm wired.
However, my way of organizing completely changed when I went abroad. I stopped getting caught up in the tiny details and didn't let myself spiral when everything didn't go my way. I started embracing what it feels like to just live in the moment.
I embraced going off to explore for the day without a plan, and packing my bags and hopping on a flight that I'd booked only three days earlier. I introduced myself to strangers in my class of European students, and it has been pretty amazing.
For example, last month, I planned an entire weeklong trip to Italy just two weeks before we left. By planning, I mean, I bought my plane ticket and booked a few hotels, but other than that, I didn't have a plan. I wanted to live in the moment and go wherever I was feeling that day. While in Italy, one day I woke up and decided to take a day trip to a city 90 minutes away. So, I booked the next train ticket and took off. I guess I felt like seeing the Leaning Tower of Pisa that day!
Or we could talk about the time I booked a flight to London three days beforehand — again, with no itinerary or even a general plan. I am embracing the opportunities I've had here, including being able to book a flight to another country only a few days ahead.
That's something that makes studying abroad so special: There is so much opportunity. Whether you're interested in learning a new language, traveling the world or making incredible new international friends, there is something for everyone to discover.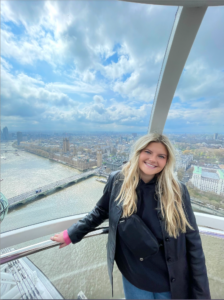 I suppose my thinking changed because this experience didn't match the expectations I'd set while at home. As much as you read about the culture, language and lifestyle in another country, it's hard to truly understand until you're here. That was an obstacle I'm not sure I was prepared for.
Although it took a bit of adjusting, as any move would, immersing myself in a completely new culture has been a fascinating experience. I didn't know what I was walking into, but it surprised me in the best way.
That's why I am embracing this new sense of spontaneity. The things I didn't plan have brought me the most joy, such as frolicking around the town, jumping from city to city and meeting new people.
So say yes! If you're considering studying abroad: Say yes. If you're going abroad: Say yes. Say yes to every opportunity you get. You only have this experience for a short time, so make the most of it!
This post was contributed by Ellen Clark, a Global Ambassador for Spring 2023. Ellen is a junior communications and leadership studies major studying abroad in Barcelona, Spain. You can read her first blog post here.