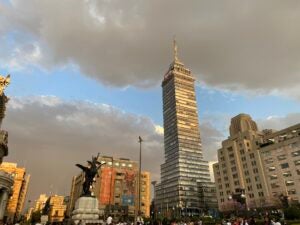 Last December, I had a scare that almost prevented me from going abroad: In order to get acceptance from my international university, I had to send a copy of my passport. I had applied for renewal a couple months before, but it still hadn't come in the mail. I received an email from the international university abroad that said if I didn't send my passport by the next day, they wouldn't be able to accept me for the Spring 2023 semester.
Long story short, I had to travel from Austin to Houston in the middle of the night to visit the passport agency early in the morning to get my passport expedited and given to me that same day. To think, something as little as that could have prevented me from experiencing such a grand opportunity in my life!
I have two months left here in Mexico City. I can confidently say that my time here has greatly affected my life, and I won't be the same when I return. I've met people from many countries. I've explored things I never thought I would have explored (see pictures throughout this blog). In my mind lie memories of experiences that will never be forgotten. Most importantly, I can say with confidence that I am conversationally fluent in the Spanish language.
I've made friends with a plethora of Mexican students here and have gained a ton of vocabulary words from these interactions, including how to use "filler words." I've forced myself to interact with strangers and converse with them to eliminate my fear of speaking in Spanish. This has developed my confidence in the language. My fluidity in the language has progressed and I no longer have to think "How do I say this in Spanish?" Now, I only need to pause before thinking about what I want to say. These interactions have made my brain accustomed to the language, that my brain no longer thinks in English when speaking in Spanish. In fact, I even had to look up a certain Spanish word in English for this blog post because I forgot what it was.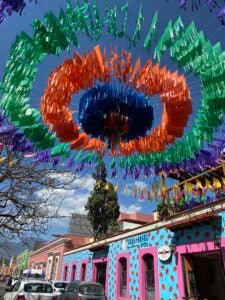 The truth is I could talk about my experiences all day and how they've helped me, but I have already explained the benefits in my last post titled, "What Immersion Does To Your Brain." I would like to use this post to talk about something I think is often forgotten or not talked about enough while abroad: our mental health and habits.
I wouldn't change these first two months for anything because the experiences are worth more to me than any materialistic thing. However, one of my goals for this study abroad experience was to develop the one thing to which I could attribute my failures during my previous two years at The University of Texas at Austin, which is discipline and my lack of it.
Because COVID-19 turned freshman year into an extension of high school, I didn't have that shocking moment when I realized "what it meant to be an adult" until my sophomore year. From apartment issues to challenging courses at UT Austin, I'd never experienced anything like that before in my life.
I suffered both academically and mentally, seeing that I wasn't getting the grades I normally received. I was struggling to do simple things like maintain a healthy sleep schedule. I wanted to use my junior year to establish boundaries and create discipline in my life. I knew this was something that would help me tremendously with my future endeavors.
Last semester was a step forward toward that intention, but it was far from being complete. I saw this opportunity to study abroad as a way to experience a new culture and strengthen my skill set, but also to construct this discipline that I desperately needed. If I could do that in a different country, then there's no way I'd have issues once I returned to Austin.
As mentioned, I had insane amounts of fun these first two months, but I hadn't advanced on my goal of building that discipline. I was sleeping irregularly, procrastinating on completing tasks, prioritizing the less important tasks over the more important ones, disregarding habits such as meditation and regular exercise, and the list goes on.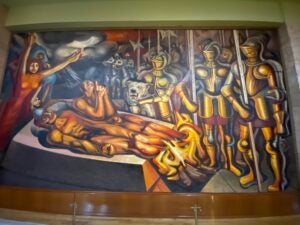 To be sincere, I could continue to have the most fun here in Mexico but still feel unsatisfied with my life, like something is missing. But these past couple of weeks have been a shift of focus for me. I'm focusing more on my personal health rather than thinking of only having fun in a new country, and my mind has been much clearer since making that change.
It's obvious that not everybody is like me when it comes to this type of situation — although what I do know is that some people struggle to have the best study abroad experience because they lack a balance between exploration and personal health due to an unfamiliar environment. Oftentimes, people may think about returning to their home country too early. What I would advise to anyone who is currently studying abroad and having issues mentally, or anyone who is planning to go abroad and is afraid they'll lose themselves mentally, is to define your boundaries.
What are the things that you need in order to be mentally happy? How much sleep do you need on average? If you're more introverted at heart, you don't need to go out every day or weekend. If you know you need time by yourself in the house for a day or two, go ahead and take that time. Perhaps you can even combine the two, meaning you can go relax alone in the city center where you are.
Meditate and journal about your experiences and thoughts. You don't have to copy everyone else. Figure out and do what's best for you to have the best experience of your adolescent life. Special thanks to the Gilman Scholarship Program for making this experience possible!
This post was contributed by Adrian Ogunbunmi, a Global Ambassador for Spring 2023. Adrian is a junior biology studies major studying abroad in Mexico City, Mexico. Read his first blog post here.