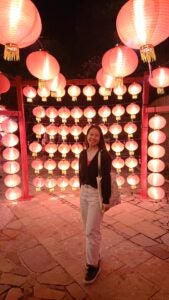 I have been in Taiwan for three months now. As I reflect on the past two months, I realized they have taught me a lot about endurance and joy. Through the overwhelming and stressful moments, I learned to not let them determine my outlook on my circumstances or my life here in Taiwan.
Instead, I want to focus on cherishing the short time I have left and appreciate every moment, whether good or bad. For example, the rain and humid weather makes me enjoy the brightness of the sun and the coolness of the breeze so much more.
March did, indeed, come with several stressful events that reminded me of my need to prioritize my mental and emotional health. I'm extremely grateful for the friends I've made because they noticed when I wasn't doing great, checked on me, and reminded me to take care of myself.
Despite how overwhelmed and stressed I was due to challenges, including visa extension issues and a near-traffic accident, I learned to ask for help. I managed my stress and took time for myself — and, in the end, I grew more endurance and resilience.
I took a break from the city and the stress when I visited Alishan with my friend. Alishan is a mountain known for its misty forests, sea of clouds during sunrise, cherry blossoms, forest railway and famous Alishan tea. It was a surreal and serene experience walking through the forests and witnessing the sunrise over the mountains. It reminded me of a scene from the "Lord of the Rings" movie series.
This trip was extra special because I traveled with my friend Victoria before she went back home to Germany. I was pleasantly surprised at how safe and comfortable we felt hiking alone, two young women, at 4 a.m. to see the sunrise. I wouldn't have felt comfortable doing this back home, so that feeling of freedom, alongside the beautiful views, was truly liberating. My trip to Alishan was one of the highlights of my month.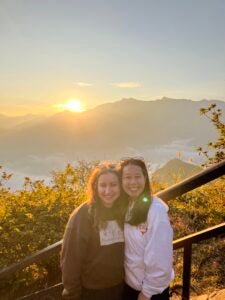 Another place I had the opportunity to visit was Jiufen, a small mountain town located in the northeastern part of Taiwan near the sea. Its small staircases, lanterns, teahouses and old streets attract tourists from around the globe.
Some people travel to Jiufen's Old Street & Teahouse because it resembles scenes in the movie "Spirited Away" by Studio Ghibli. In spite of Jiufen's touristic nature, I was able to learn from the locals about their gold mining history.
Before coming to Taiwan, I was worried about spending my birthday alone. However, my birthday was far from that. Although I was sad to not spend time with my friends and family from back home, I was blessed to be with my friends. They celebrated with me and made my birthday abroad feel special.
I celebrated my birthday with a friend who shares the same birthday week. We ate sushi together and went ice skating. I'm extremely grateful for the friendships I've formed here, and it's been sweet seeing them develop into deeper friendships.
One of the other things I've enjoyed is connecting with local Taiwanese students through a Taiwanese cultural exchange program called "International Companions for Learning" (ICL). Every week, I join a video call with two small groups of students from elementary and middle schools. I share my experience living in the United States, and they share about their culture and hometown in Taiwan. I also practice speaking Chinese with my Taiwanese partner, who helps translate during our sessions.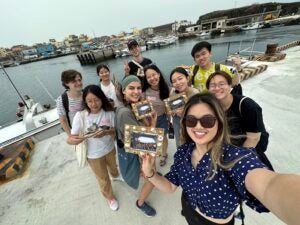 My favorite part is meeting students in person when we visit their schools. Recently, I met elementary school students from my ICL group in Penghu Islands, an archipelago of 90 islands, located west of Taiwan. It was a cool experience to visit my students' hometown and try the foods they highlighted during our weekly video sessions. I tried delicious fried dough with cuttlefish and refreshing cactus-flavored ice cream.
During the trip, we took a dip in the clear ocean water and watched the sun set over the famous Xiying Rainbow Bridge, which lights up at night with colorful LED lights. The best part of the trip was seeing the students eagerly share their favorite stickers, toys and pastimes with me. This program has provided me with valuable learning experiences that I will remember for a long time.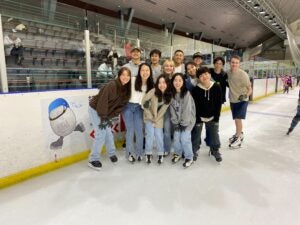 While I have enjoyed the traveling and spontaneous adventures, it's the little things that I have also grown to appreciate, such as the routines I have created with my friends. For example, between our morning and evening Chinese language classes, we study together at the Social Science Building.
Creating and maintaining routine and structure in my life here have given me more peace and stability while living away from home. Plus, having friends to share it with makes things much more enjoyable.
Additionally, I have enjoyed the content I'm learning in my classes. I especially enjoy learning practical Chinese idioms and poetry from the Tang and Song Dynasties. One of the idioms that stood out to me was "塞翁失馬," which roughly means that an unfortunate event may turn out to be something fortunate. This idiom resonated with me because it helped me realize the stress and overwhelming challenges I faced in the last two months were a way of building my endurance and outlook on life and strengthening my friendships.
Through the obstacles I've faced, I've learned to respond positively, even when circumstances are not ideal. I have also learned to treasure the great moments and not lose time or waste energy thinking about difficult things in the past.
This post was contributed by Grace Huang, a Global Ambassador for Spring 2023. Grace is a junior linguistics studies major studying abroad in Taipei, Taiwan. Read her first blog post here.