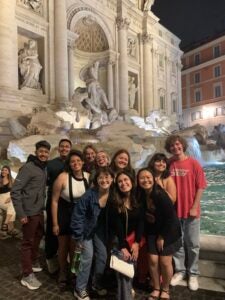 I arrived in Rome on May 31 after a 15-hour flight. It was 8 a.m. in Rome, and I had been awake since 5 a.m. Mountain Time. Additionally, I needed to stay awake through the Institute for the International Education of Students (IES) orientation to avoid further jet lag. I do recall that I've never slept better in my entire life than after those 24 hours of being awake.
Italy, so far, has been a dream. Taking a faculty-led study abroad art history and studio class has been one of the best experiences of my college career. It's nice knowing my classmates all have the shared experience of going to The University of Texas at Austin. Knowing other students are from UT Austin made me feel less alone when experiencing culture shock. It's only been two weeks, and I already feel like I've known them for a lifetime.
Our first and only week in Rome was full of chaos and adrenaline. We woke up at 6 a.m. every day and were out until nearly 6 p.m. on excursions. My favorite thing about the "Learning Tuscany" program is that classes don't take place inside a traditional classroom. Instead, we go to museums, churches or famous architectural structures, and our professor lectures there. Not many people can say their class was at the Colosseum.
It was wonderful to explore Rome through the lens of a historian. As a chemistry major, I struggled with the many new pieces of information from an unfamiliar field. Although I have learned a lot, it's easy to feel behind when most of my classmates have spent the past few years studying this subject. Luckily, I have learned to ask them when there is a word or topic that I'm unfamiliar with. All my classmates have always been happy to explain. I now have a new favorite sculptor, Bernini, whose works are all over Rome.
After a week in Rome, we took a bus to Siena and settled into our apartments. Siena is the exact opposite of Rome. While Rome is loud and full of people, Siena is calm and peaceful. My favorite thing is the number of birds; you can always hear them chirping. Siena is a United Nations Educational, Scientific and Cultural Organization (UNESCO) World Heritage Site known for its medieval architecture. It is quite charming, despite its steep hills, which always leave us gasping for air.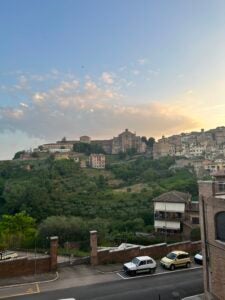 Our days are much slower in Siena, and we have settled into the routine of having art history class in the morning and studio in the afternoon. I have been to more churches these past two weeks than in the last 22 years of my life, and they have all been marvelous. For our studio classes, we are only inside a classroom on Thursdays, and the rest of the days we spend outside. My classmates and I wanted to tear our hair out this past Tuesday as our professor had us practice perspective drawing in the streets of Siena.
During our studio classes, we are usually gawked at by strangers, some of which even take photos. But no matter how frustrating drawing can be, there are moments when I step back and take in the fact that I'm taking an art class in Siena, one of the most picturesque places. It is simply unreal.
My class also takes day trips to Florence on Fridays. We wake up at 5 a.m. to catch the 7 a.m. train. Last Friday, we took a walking tour of Florence, and tomorrow we will be going to the Duomo, Florence's cathedral, and hiking over 400 stairs to the very top. I will be exhausted, but I know the view will be worth it.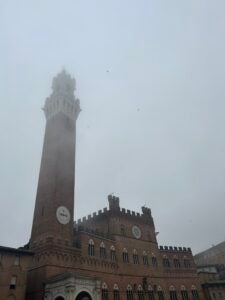 The biggest culture shock is how close the cars are when passing pedestrians on the street. Once, when we were eating in Rome, a truck passed by with no more than a few centimeters behind our chairs. We were all laughing with shock. The language has also been a barrier at stores and restaurants, but I've been able to get by, especially since most Italians speak English. It's been wonderful being able to get where I need to be in less than 15 minutes, and having a grocery store a minute away is convenient. We have also already found our favorite gelato shop. We made friends with the worker there, whose name is Ale. She is bright and full of energy and has been teaching us how to order gelato in Italian.
As I sit in the kitchen of my cottage-style apartment, I know this is an experience that will and has already changed me forever. It's not a dramatic change, but there are views and emotions I've witnessed and felt here that I could have never imagined. As I sat in the Piazza del Campo, the main square of Siena, I looked up at the moon in awe that it is the same moon I see back home. The world is so vast, with so much to see, and I feel incredibly grateful to be a part of this small city in Tuscany for a month of my life.
This post was contributed by Dina Orozco, a Global Ambassador for Summer 2023. Dina is a senior chemistry studies major studying abroad in Tuscany, Italy.