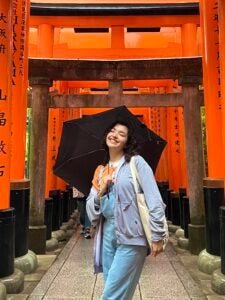 I have about two months left in my exchange program in Japan, and I've already been here for two months. Coming from immigrant parents and growing up in a small border town, I would have never thought I'd be studying abroad in a country more than 6,000 miles away. Before leaving for this trip, I had several worries. The main one was how I would do everything I wanted in four months.
I want to make the most of my trip because I know my parents, aunts, uncles and their parents have never had the opportunity to do anything like this. Maybe this is a shared thought among children of immigrants, but I'm proud to be Latina because, ever since I was little, I was taught to make the best of every opportunity, and that's exactly what I intend to do while I'm here!
I'm very family-oriented, so the first month in Japan was difficult for me. Although, when I started my program in April, I was fortunate to catch a couple of cherry blossom trees in bloom before their baby pink leaves fell. I couldn't be homesick because I had to settle into my dorm, fill out paperwork, make payments and start classes. I tried to go into my experience by making new friends, traveling a lot and getting to know the culture.
In my program, I'm required to take at least seven classes. I know that sounds tough, but it's not as bad as it seems. Students only attend class once a week, and surprisingly, the coursework is much lighter here in Japan. I've had so much free time on my hands that I didn't know what to do with it.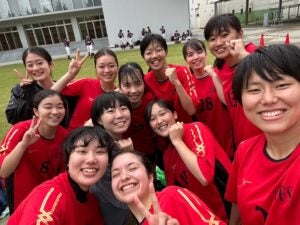 However, I noticed that the more time I had, the more I felt homesick and missed my family and friends. I knew I had to change that, so I kept myself busy traveling around Tokyo and even joined the women's soccer club. I also go to church on Sunday mornings at a church connected to my church in Texas. I'm grateful to have some familiarity, and the members there have been helpful and caring towards me.
As the days went by, my social and communication skills have improved and I'm meeting new people left and right. My time management and multitasking skills have also gotten stronger due to the number of things I'm juggling in my life right now. It's almost the same as my life back in Austin, but the one difference is that I'm constantly traveling.
I just finished my second month abroad in May, and as I'm writing this blog, the tiredness has been creeping up on me little by little. It's as if my body is saying, "Slow down, Tamara." I've been traveling nonstop, always doing something, and then feeling burnt out. I'm realizing now that it's okay to take a breather. It's okay not to do and see everything I had planned in these four months. I was worried about needing to do everything during my time here instead of taking it all in and simply living in these moments.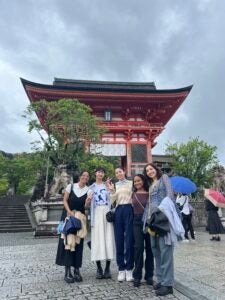 I'm happy I got to write this blog because it made me sit down and reflect on my time in Japan so far. Being able to study abroad and live internationally has made me realize that even though I'm having so much fun over here, I need to stop carrying this weight of pressure around and just enjoy each moment to the fullest. Longhorns, please consider going abroad. The people you'll meet, the culture you'll learn about, and the memories you'll make will truly be one of a kind.
This post was contributed by Tamara Rodriguez, a Global Ambassador for Summer 2023. Tamara is a junior journalism studies major studying abroad in Tokyo, Japan.