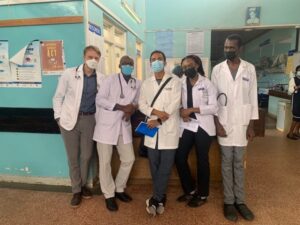 Eldoret, Kenya is known as "The City of Champions" because its consistent production of world-class runners and Olympians is well-known throughout the city and globally. Upon arrival, my first 20 minutes were spent discussing running, the culture of mobility and the expectation of excellence.
I have always believed that time spent abroad offers the potential to accelerate innovation, augment personal and professional growth, and help build unique partnerships to address difficult challenges.
When looking at how I wanted to structure my career in medicine, I wasn't sure about which path I would take or what field to pursue, considering private practice or an academic position. One thing I was certain of was my desire to understand global health and seek ways to apply global learning to improve healthcare access locally.
My experience working at Moi Teaching and Referral Hospital reaffirmed my belief that global experiences shape the way we think, learn and address problems, and I was excited to spend the month among my colleagues pursuing an understanding of global healthcare.
Contextually, the Academic Model Providing Access to Healthcare (AMPATH) consortium is an academic partnership between North American academic health centers led by Indiana University School of Medicine in partnership with the Moi University School of Medicine in Eldoret, Kenya. As members of the consortium, Dell Medical students at The University of Texas at Austin are provided the opportunity to live in Eldoret and work in their teaching hospital as a member of the healthcare team.
After participating in patient rounds (where we go from patient to patient, discussing their diagnosis and treatment), the standard of excellence upheld by our Kenyan colleagues and their understanding of disease and management was clear. At the same time, I started recognizing some of the differences between our healthcare systems, resource availability and community-building methods.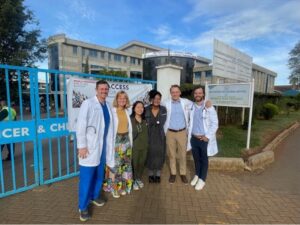 As we saw our patients, the idealistic view we often have of providing healthcare was contrasted with the reality we typically face in healthcare — for many, sources of funding, familial support, distance to care and ability to provide out-of-hospital services were common barriers. Nonetheless, our Kenyan colleagues persisted by contacting hospital leaders, rallying the community to donate blood products and holding educational conferences for family members daily. The Moi Hospital stood as a champion of community health more broadly.
Besides doing everything possible to help our patients, our colleagues often went above and beyond to provide us an educational experience that would change the way we view global health. With lectures on pharmaceutical fraud, women's health abroad and the need for improved outpatient services surrounding community hospitals, among many other topics, we were shown how the country and local communities are trying to address health disparities and access. Beyond championing public health, the Moi University Medical School was training us to be champions of ethical, culturally sensitive global health — and how to apply these principles to our local communities.
While my initial impression of Eldoret was the city of running champions, my view has been expanded and shifted. Eldoret is also the city of healthcare champions, with many of our colleagues striving to provide excellent care in often difficult circumstances. Not only providing local care, they take in hundreds of students from around the world and teach global responsibility and community building so we can return home to our cities and communities to heal with a new perspective.
When we participate in global experiences, it is easy to believe we are giving of ourselves through time, effort and knowledge, but this trip was the exact opposite. Our Kenyan colleagues invited us into their healthcare system to learn, to their tables to enjoy meals together and into their community to engage in and understand population health and community healing.
I am forever grateful to the Moi Teaching and Referral Hospital and Medical School as well as Dell Medical School for providing this opportunity to work and study in Kenya. It has forever shifted the way I view global health and global responsibility as a future physician.
To my colleagues abroad and at home, "asante sana," or thank you very much for such a unique experience. I look forward to continuing our friendship and working together.
This blog was written by Cody Cowley. Cody is representing Dell Medical School through the global health program with AMPATH in Eldoret, Kenya.