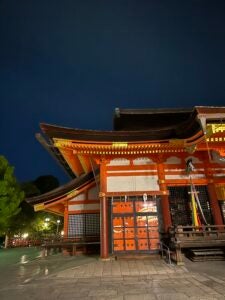 High on mountain peaks, I gazed and longed to linger,
     admiring cherry
     blossoms. How the ceaseless winds
     must be caressing them now.
This poem, written in the Heian period by an anonymous poet in waka style, perfectly captures the emotions I've experienced while studying abroad at Kyoto University in Kyoto, Japan. The part that truly resonates with me is the line "longed to linger" because it makes me think of holding onto a precious moment for a second longer, before the chaos of life whisks me away again.
I find these precious moments everywhere, including on my morning walk along the river to the university — also, in the small jazz café located on a crooked side street and again while admiring the intricate Shinto shrines dotting Kyoto's landscape.
My dorm is located at the foot of Mount Hiei and its neighboring valleys, and I wake up to the flow of the Kamogawa River every morning. I take two steps out of my dorm and onto a street filled with restaurants, cafés and shops. Each time, I've had lovely conversations with Japanese store owners.
Because I finish university in the morning, my whole day opens up as a blank slate, waiting to be written upon. My weekdays consist of daily visits to shrines and cafés. My weekends allow me to hike the footpath of mountains, take the Shinkansen (bullet train) to a city 100 miles away, read a book by the lakeside and more.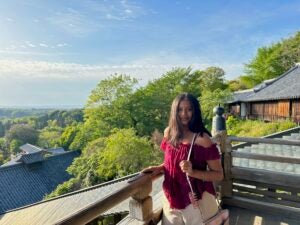 One of my favorite moments was atop Mount Wakakusa while visiting the city of Nara. After a full day of chasing after, feeding and admiring the Sika deer of Nara, my friends and I hiked the mountain to reach Nigatsu-dō, a prominent Buddhist temple and special hall. This was one of the only places where there wasn't a single tourist in sight, except my friends and I, of course.
We stared out from the mountain, and the whole city of Nara was visible. There was a deep green landscape with specks of buildings here and there. As I experienced the pin-drop silence of the mountaintop coupled with the spectacular view, it all clicked: I was actually in Japan, studying, living and sightseeing! I must have lingered at the top of that mountain for at least an hour, soaking it all in.
The first two weeks here were hectic — settling in, making new friends and getting the logistics sorted. The pressure of moving to a new city had me moving at such a fast pace and taught me to maintain an active presence in each of my future interactions. I affirmed my habits of constantly spending time outside without a moment to waste.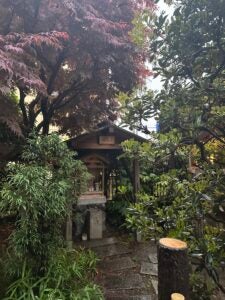 Studying abroad has taught me the beauty of being outside. Existing in the world around you rather than in the confines of your own home can lead to so many wonderful experiences and memories.
One of the most important aspects of life, to me, is learning as much about the world around me as possible. While reading books, attending university and taking classes are active ways to learn, this exchange program has taught me that conversing with new people, touring new parts of the city and simply existing outside are equally crucial.
So my message to you is: linger. Take the extra time to visit the shop hidden behind the big shopping center. Read a few more pages of the book than you planned to. Keep up the conversation with the new friend you made.
Kyoto, with its cozy streets, crowded districts, and welcoming culture has taught me that true learning is hidden in the smaller moments in life. This is a lesson I will carry with me wherever I go.
This post was contributed by Nehaarika Shridhar, a Global Ambassador for Summer 2023. Nehaarika is a junior international relations and global studies major studying abroad in Kyoto, Japan.