Getting acclimated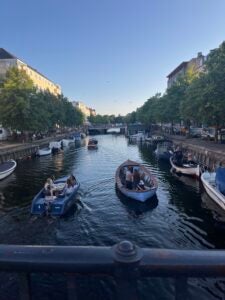 It took a while to get comfortable in Denmark because it was so different from what I experienced in the U.S. Firstly, I rented a bike for my commute to class and around the city. The biking culture in Denmark is intense. Everyone seemed to be a professional cyclist compared to me. There is hardly any car traffic, but there is heavy bike traffic. It was a bit overwhelming at times, but I am so proud to say that by the end of my trip, I felt as confident as the locals on my bike.
Secondly, it took a while to get used to the sunrises and sunsets. The sun rises very early in the morning and doesn't set completely until at least 10 p.m. This was a great attribute that Denmark had to offer because it allowed for longer days of exploration.
Lastly, I must mention the people, especially the people who are close in age to us university students. They were very welcoming and interested in learning about our lives in the U.S. The students I met were so inviting and wanted to share their lives with us as well. I am immensely grateful for the friends I've made who will soon be thousands of miles away.
Studies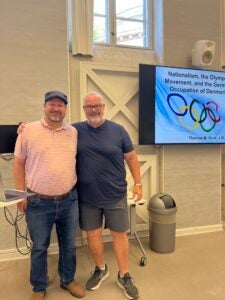 Over the past month, I've had the pleasure of studying abroad in Copenhagen. My studies revolved around sports psychology, behavioral science and other attributes of sports as they relate to Danish culture.
My professors, Dr. Bart and Dr. Tommy, were both very knowledgeable on the different topics they taught and provided great insight into Danish sports in comparison to the sports culture in the U.S. We were also able to hear from a few Danish educators who were familiar with Danish sports and the challenges that arise within them.
During my time in Copenhagen, I visited the Anti-Doping Denmark (ADD) agency for Danish sports and was intrigued by everything their job entailed. The visit left me eager to learn more. I would love to do something similar in my future career, whether working with doping enforcement or as an enforcement officer for the National Collegiate Athletic Association and the Big 12 athletic conference in Texas. Learning about something you truly enjoy is refreshing, and I was excited to go to class each day and learn with my professors and classmates.
Location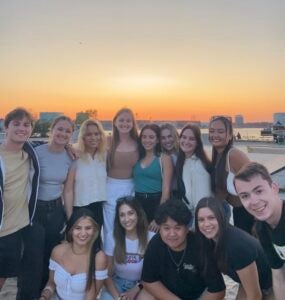 I personally cannot have imagined a better city than Denmark to study abroad in. Denmark has been everything I've imagined and more. I seriously didn't expect to fall in love with it as much as I have. As a girl in my twenties studying far from home and away from everything I am familiar with, Denmark was the perfect place to settle for a month. I never felt unsafe. The weather was perfect. The people were welcoming. The city was always calm and cozy, and there was always something worth seeing and doing.
Even during my last weeks in Denmark, I explored new places and found additional sights to see that were so beautiful. I would've never imagined myself having enough courage to do something like this, but I am forever grateful that I did. I will never let go of the time I spent in Denmark. It is very special to me, and I will hold these memories I made close to my heart.
This post was contributed by Alyssa Herrera, a Global Ambassador for Summer 2023. Alyssa is a junior physical culture in sports studies major studying abroad in Copenhagen, Denmark.