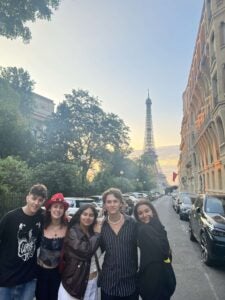 A fear of leaving home, of language barriers, of making new friends and of meeting new people. Every single day. These are a few fears that would overtake me before I moved abroad. When I arrived in Paris, I had never been more eager and scared at the same time. I'd feel my stomach twist at any inconvenience. As part of a Mexican-American family growing up in Texas, I grew accustomed to cultural change and societal differences. Therefore, when I landed in Paris, I felt prepared to take culture shock head-on and say "Yes!" to everything.  
The program I picked, Mission Interuniversitaire de Coordination des Echanges Franco-Américains (MICEFA), made it easy to say yes. They held daily activities for us and urged us to delve into the culture in every which way. The first day we arrived, everyone in the program went to a welcome picnic that MICEFA organized. This made it easy to make new friends who were in the same situation as me. We were all far from home and undeniably nervous. However, the picnic made us feel like we weren't alone in this grand adventure. Everyone would smile and ask, "Where are you from?" to spark conversation.  
These first days were crucial to me because I knew I wanted to find a group of girlfriends to navigate this big city with. And that's exactly what happened. I quickly met an amazing group of girls who became my close friends. There is Roxanne, from Louisiana who is fluent in French and teaches us as much of the language that we can handle. And Sophie, a Miami local who bonded with me over the fact that we both spoke Spanish. And then there is Hayley, an incredibly smart girl studying art history and teaching us everything about the paintings we'd see in the many museums around Paris.  
The initial days of my program were packed with tips and tricks to help us navigate the city. We learned about different transportation modes and student life opportunities within Paris. MICEFA explained to us what to wear and what not to wear, since dressing in Paris is very different than in the United States. They helped us with questions we had and quickly turned our nervousness into excitement.  
The first week of classes went by fast. We'd go to class every day and then everyone would take the metro together back to the hostel where were staying. Then we'd either go to a museum or walk around and learn more about Paris. We'd buy freshly baked baguettes and carry them to the Seine in our tote bags. Then we'd sit and laugh for hours, talking about how incredible it is that we finally made it to the "City of Love."
Taking the leap and deciding to move to Paris for a year has forced me to do things I never thought I'd be doing and talk to people from all around the world. I'm meeting and learning things I could have only dreamed of back home in Texas. The opportunities that MICEFA and studying abroad have provided for me will leave me eternally grateful for taking the risk. Hook 'em! 
This post was contributed by Lola Moreno, a Global Ambassador for Fall 2023. Lola is a junior journalism studies major studying abroad in Paris, France.