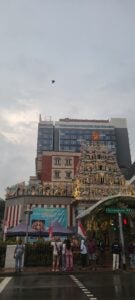 If you told me freshman year that I would be living in Singapore for a semester during my senior year, I wouldn't have believed it. Picture my freshman year starting amidst the swirling chaos of the COVID-19 pandemic, Zoom calls echoing through the walls of my home in the Rio Grande Valley. Back then, the idea of studying abroad felt like a distant and unreachable dream. Especially as a Latina, because I didn't hear of other Latinas studying abroad.
My determination to explore the world, a desire that had been kindling since my freshman year, propelled me towards this extraordinary opportunity. I not only uncovered the existence of diverse study abroad programs, but I also unveiled scholarships that would ultimately transform my dream into a tangible reality.  
Now you might ask, "Why Singapore?", and my response might sound simple, "Just for the vibes." But what vibes, you ask? The truth is, even today, I'm on an exhilarating journey of self-discovery as I ponder my career path after graduation. I'm brimming with interests and grand aspirations, yet I lack a precise answer to the question, "What do you want to do?" It felt liberating to momentarily step away from the relentless pursuit of careers that society often deems as "successful." 
This study abroad opportunity wasn't just a chance to explore a new land; it was my ticket to break free from my comfort zone and dive headfirst into uncharted territory. I longed to embrace the unfamiliar, to welcome experiences where I might feel like an outsider, all while creating avenues for individuals who, like me, hailed similar backgrounds.
Singapore, with its kaleidoscope of cultures, beckoned me irresistibly. It was a place where I could effortlessly immerse myself in a rich tapestry of traditions, whether I was strolling through the vibrant streets of Chinatown, experiencing the sensory overload of Little India, or delving into the enchanting ambiance of Arab Street. The diverse student body at the university became my global family, a gateway to countless friendships and a wealth of experiences waiting to be uncovered. 
Attempting to encapsulate my first month in Singapore is nearly impossible, but here's a glimpse. 
Personal Growth 
Studying abroad is a journey of self-discovery and growth. It's not confined to textbooks; it's about mastering the art of adaptation, conquering your fears and surrendering to the beauty of the unknown.  
Cultural Immersion
In this dynamic haven, I've not only explored the depths of Singapore's culture but also discovered new layers of my own heritage. As I mingle with friends from every corner of the globe, I marvel at the shared humanity that binds us all.  
Global Connections
The diverse student body at the National University of Singapore (NUS) has woven a web of global connections in my life. I now have friends and acquaintances scattered across the world, each with their unique story and perspective. 
Meeting New People 
Being an exchange student opened doors to countless new friendships. Local students in particular were genuinely curious about my background, and our conversations transcended borders and stereotypes.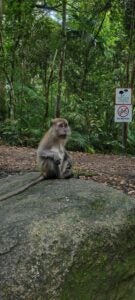 Diverse Activities 
Singapore introduced me to a variety of activities, from unique sports organizations to inclusive communities that welcomed me with open arms, even if I had no prior experience. 
Dorm Life
Staying in a hall or dormitory provided me with an instant sense of community. Events organized by senior students allowed me to connect with fresh faces and forge friendships that would last a lifetime.  
Embracing Mistakes
I quickly learned that making mistakes is part of the journey. Like the time I ended up with three different metro cards before finally figuring out the right one — embarrassing, but all part of the adventure! 
Singlish
Much like how Texas has "Spanglish," Singapore boasts its own linguistic marvel — Singlish. It may initially baffle you, but once you decode its unique charm, you'll find it endearing, especially when ordering mouthwatering delights from the hawkers.  
Delicious and Unique Food
Every meal in Singapore is a culinary adventure. I've delighted in sending daily snapshots of my food to family and friends back home. The diversity of dishes available at hawkers and food courts is astonishing. 
Efficient Public Transportation
Navigating the country is a breeze thanks to the efficient public transportation system. It's not only budget-friendly but also unlocks countless opportunities for exploration. 
Studying abroad during my senior year has been nothing short of transformative. It has allowed me to hit the pause button on life's uncertainties and embark on an incredible journey of self-discovery. It's a reminder that success isn't confined to a singular path, and it's perfectly okay not to have all the answers right away. As I reflect on my adventure, I'm reminded of the Spanish saying, "Apenas voy empezando a descubrir todo lo que soy capaz," which means I'm barely beginning to discover everything I am capable of.  
This is just the opening chapter of a much greater journey, one that continues to unfold with each new opportunity. I encourage you to create your own possibilities, forge your path and dare to explore the world. The adventure awaits and there's a world of discovery out there for those who take that first step into the unknown.  
This post was contributed by Kiara Itzel Vasquez, a Global Ambassador for Fall 2023. Kiara is a senior radio, television, film studies major studying abroad in Singapore.