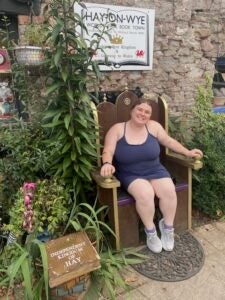 I have always been a person who is up for adventure. I'm the type of person who says, "Yes!" to everything and fully believes that life gets exciting the moment you leave your comfort zone.
The past month has held a lot of agreements and adventures for me, both with family and alone. As my first month abroad in England is coming to a close, I have lots of memories to be grateful for and so many experiences I have yet to see. 
England is somewhere I've always wanted to visit. As a kid, I loved medieval stories and anything to do with castles. In high school, I was absolutely obsessed with my British Literature class. And, as an adult, I am now obsessed with Harry Potter. Choosing to study abroad in England was the easiest decision I ever made.
Now, it's like I get to live all of my childhood fantasies; instead of looking at pictures of castles, I'm walking through the remnants of them. I get to see the streets in Edinburgh and York that inspired Diagon Alley, and I get to see and buy books that were printed before the Declaration of Independence was signed. This past month has been a whirlwind of history, literature and nature so vast that it's hard to wrap my head around it.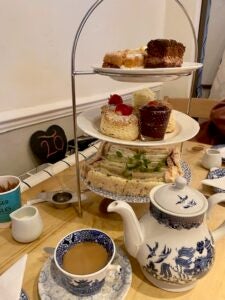 My classes don't start until next week, but in the short time I've been away from home, I've visited three countries, experienced train rides and afternoon tea, and set foot in places built in 1200 AD. I am still in awe of everything I see daily, and it feels as though that feeling will never go away.
On my first train ride, I sat and looked out the window the whole time — but I did the same thing coming back from Sheffield just the other day on probably my 10 th train ride. The first time I had bangers and mash, I thought it was the best thing ever, even for just a simple dish, but now it's a dish that I've had three or four times and will never complain to have again.  
I think one of the things I love the most about England is how everything feels so different from home but also still comfortable and cozy. I have met so many kind, wonderful people since being in England. Though not everyone has that southern hospitality mindset as they do in Texas, so many people I've met have asked me about myself and my studies. Even with the culture shock of different slang terms, different customs in everyday situations and navigating a new country, everyone is kind and patient overall.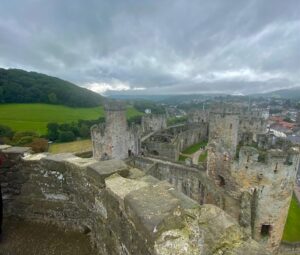 I was quite nervous that I wouldn't find friends easily while abroad. I was unsure if my personality might be too loud or not as cool as people from Europe. But on my first day in Sheffield for orientation, I met a group of five girls by chance and ended up having dinner with them, when I had originally planned on just going back to my hotel and relaxing.
Meeting 80 other exchange students, all worried about the same things and whether they would make friends, made me feel much less nervous about the whole thing. I met a girl from Germany named Franzi that day, and we've already had dinner together again. We've made plans to do things throughout our intro week before classes start — and just like that, the idea of "not having any friends abroad" is no longer on my mind. 
I cannot believe that I get to call this place home until December. I am in shock that I will get to experience Christmas in a new country. I am in awe that I get to live in a city that is only minutes from a national park but still modern enough that its campus feels a bit like home. Most importantly, I am grateful to get to experience an opportunity of a lifetime that I will never forget. With classes starting in just under a week, I want to spend these last few days sitting in gratitude and then continuing to explore my new home in Sheffield. Hook ' em! 
This post was contributed by Lexi Briley, a Global Ambassador for Fall 2023. Lexi is a senior biology studies major studying abroad in Sheffield, England.