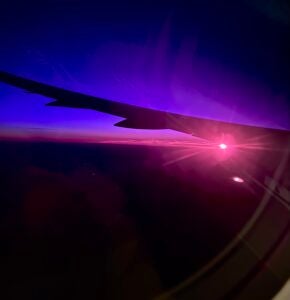 Five years ago, during one life-changing month, I fell completely in love with this country. It was particularly transformative because it was my first time flying on a plane, solo traveling and traveling outside the country. I discovered a place where I could improve my Arabic, French and even Spanish language skills. 
For these reasons alone, my decision to come back was a given. Seeing Morocco a second time has been a dream. After working tirelessly through my six-hour Arabic classes since my freshman year at The University of Texas at Austin, I finally made it. Additionally, I chose to take two semesters of French in order to prepare for my experience in Rabat, Morocco.
As I flew into Morocco, the beautiful sunrise left me awestruck at the vibrant colors that the sun produced as I sailed through the sky. It gave me a sense of hope that this new journey I was embarking upon would be nothing short of magical and fulfilling. I arrived in Morocco a couple of days before the program started, and was able to explore a different city, Casablanca, on my own in preparation for the various amounts of independent travel I'd do throughout the semester.
I encountered a city that felt like a slice of France, yet was distinctively Moroccan. It intrigued me that, regardless of my choice of language (Arabic or otherwise), most Moroccans readily engaged with me in French or even English. This would be my experience in Meknes as well as Rabat, where I would spend most of my semester completing my studies.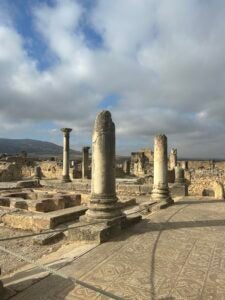 The first part of my study abroad program unfolded in Meknes, a city situated right next to Fes. I initially met up with the rest of the students in Rabat, where we toured the city and then left the next day for Meknes. Meknes presented a striking contrast to both Rabat and Casablanca. It exuded an aura of age and antiquity, evident in its somewhat weathered buildings. However, my program counselors assured us that Meknes was the best city to experience authentic Moroccan culture without major European (particularly French) influence.  
We had class for four hours every day in order to familiarize ourselves with the Moroccan-Arabic dialect called "Darija," so we could communicate with our host families and other Moroccans. We also explored the old city and saw the mausoleum, where former members of the royal family are buried. It was within this mausoleum that I saw the final resting place of former Sultan Moulay Ismail, a figure who established Meknes as the capital of Morocco during the 17th and 18th centuries.
Due to its close proximity to Meknes, we were able to visit Fes and Volubilis as well. Volubilis left a profound impression on me because I didn't know that Roman ruins existed in Morocco. Additionally, in Fes I visited the oldest university in the world– Al Qarawiynn University, which was established by a woman named Fatima al-Fihri. It was shocking to learn about the ancient history of Morocco, because even having taken AP World History, the rich and diverse history of Morocco was new to me.
After ten days in Meknes, we returned to Rabat with newly gained knowledge about Moroccan culture and language. I was pleasantly shocked during my stay in Meknes because my host mom mainly spoke to me in Arabic, even though I told her I also knew French. I was fully prepared to speak French with her, but to my surprise, she mainly spoke in Arabic.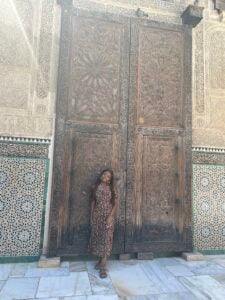 This experience served as a testament to the amount of progress I've gained in my Arabic language skills. Five years ago, I was translating French for my roommate and now, I am translating Arabic for my roommate and speaking Arabic to my host mom. This renewed confidence and progress awakened my motivation to power through this semester.  
I've experienced moments of discouragement while studying and practicing my Arabic language skills throughout my college years, especially during the challenging period of the COVID-19 pandemic. However, I made sure to remind myself that my goal was to eventually go to Morocco and become fluent in both Arabic and French. As my new semester in Rabat unfolds, I cannot wait to see how my Arabic and French language skills will improve for my next blog post.
This post was contributed by Arleana Mweyola, a Global Ambassador for Fall 2023. Arleana is a senior international relations and global studies major studying abroad in Rabat, Morocco.