This week's pro tip from your favorite team of peer advisors: get involved while you're abroad! Odds are that at UT, you have several interests and friend groups outside of class… and there's no reason why you can't be the same thing abroad. Whether you like to volunteer at home with local charities, play with a music ensemble or a theater troupe, or have a passion for underwater basket weaving, odds are that similar opportunities exist abroad. It's up to you to search within your university or city for similar organizations in order to maintain your interest or pick up a new one.
For example, here is a list of some activities that I participated in during my year abroad in Chile. I kept my inner musician entertained, got better acquainted with the city of Santiago and the Central Region as a whole, and even accidentally got paid twice (for a concert and an internship)!
Hiking group
Through a fellow study abroad student at my host university, I learned about this small hiking group that met every other week. We carpooled to the mountains surrounding the city and discovered less accessible areas. Since the Spanish built the city at the foot of the mountains, I literally gained a new perspective on Santiago as I observed the sea of buildings from above. This group allowed me to discover a new hobby and spurred my desire to spend more time in nature in the future.
Try something new! Take advantage of the differences in your new environment like the geography, the size of the city, or the cultural traditions to try a new hobby.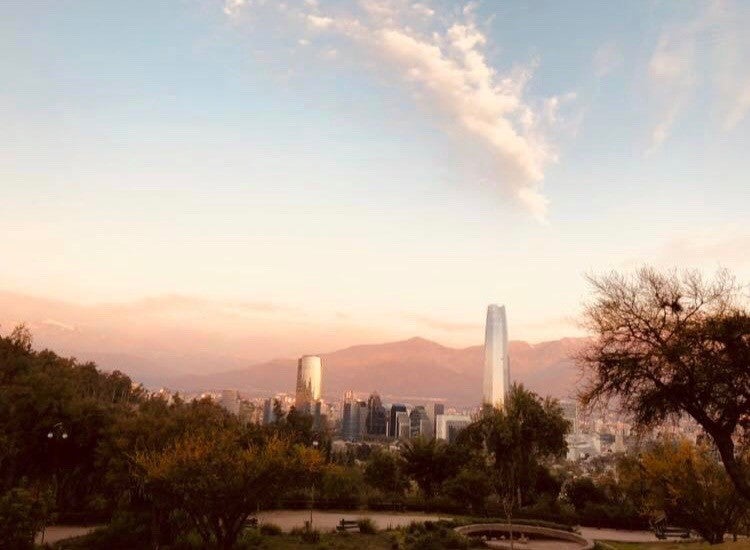 Student Symphonic Orchestra of the University of Chile
While it was a challenge at first to follow the rehearsals in Spanish and learn the musical vocabulary, it became second nature over time. I had rehearsal twice a week, until the student strike that shutdown the university at the end of my second semester. I participated in two concerts during my year abroad. While we included the traditional pieces by Haydn and Brahms, I also discovered lesser known works of Argentinian, Chilean, and Mexican artists.
If you are a musically or artistically oriented person, look up concerts and shows happening in your city or neighborhood, and don't be afraid to ask how you can participate. Odds are that they would love for you to give a hand.
Musical Production of "Les Miserables"
From the previous contacts that I had made in the musical community in Santiago, I learned that my university was searching for trumpet players for the annual musical. I showed up to rehearsal a couple of weeks before the show, and learned my part to the Broadway hit Les Miserables (in Spanish of course)! It was a full blown musical production, complete with the outside stage, the professional sound and lighting, an acting cast, a choir, and a full orchestra. It was an exhausting couple of weeks, but completely worth it.
Think about what you love to do in your home university, and find similar activities abroad. Your host international office can point you either to potential student organizations or give you resources to find learn where and how the local students are involved.
Internship with University Sustainability Center
During my second semester abroad, I searched for an internship in order to get professional experience abroad. Since I had a background in environmental work, I contacted the Office of Sustainability of my host university. After walking into their office, I was offered the opportunity to research and write a grant proposal for sustainability projects in the university. Through the semester, I interviewed program directors of sustainability offices all over North America and met with Chilean administrators to discuss the potential implementation of the fund. It was a great learning experience; I built my Spanish language portfolio, and I worked towards a project that was important to me in a new environment.
Ask whether your program includes internship or research opportunities. You can also ask around and find your own opportunities; people tend to appreciate the help of interested and enthusiastic English speakers with their project.
It doesn't stop there – take a moment and get inspired by these other examples of UT students getting involved abroad:
Internships
Service learning
Sports
Brad played Quidditch in England: the Homeland of Harry Potter.
Oliver joined intramural sports to play soccer in Germany.
To study abroad is more than just taking a couple of classes, just like the experience being a university student in the U.S. spreads past the lecture hall. Getting involved in familiar or new activities gives you the chance to get to know locals and your new city outside of a class setting. If you're interested in study abroad, come talk to one of the Peer Advisors at the International Office; we're available on a walk-in basis Monday through Friday from 9-5. Hope to see you soon!