Chile is the southernmost country in South America and is called "The End of The World." I get to be here in Santiago, Chile, for more than 100 days, but since this is my first week ever outside of the U.S., this is the start of the world for me. 
Currently, Chile requires all travelers entering to complete lots of forms and COVID tests to keep the country's infection rate low. The beauty inside and outside of Santiago is well worth the trouble. 
Santiago has a population of nearly 8 million, which is around 45% of the entire country's population. Santiago is an old city founded in 1541, but it is continually growing and developing, so there is an amazing mix of old and new buildings. Also, Chile has taken in immigrants from all over Europe, so there are many neighborhoods with Germanic or Italian influences throughout the city.   
Unlike many students, I only took Spanish in college for three years before coming here, which is less than anyone in my program. So, the large language barrier and the quarantine I had to complete on my first day made it very hard to feel like I'd made the right decision. However, I have since learned how welcoming and friendly Chileans are. 
My separation anxiety and fears have decreased thanks to the kindness of the locals and my program. My program is great for any pre-health student like myself since we get clinical observations and an amazing Spanish immersion experience. I want other science and pre-health students to know that studying abroad is a great experience that can help us be better students and scientists. For other students, there is a plethora of study abroad programs that offer a great opportunity to see the world and learn in a new environment.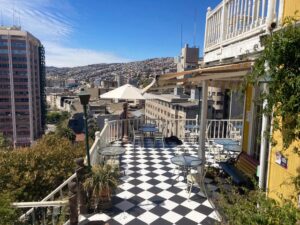 Classes will start this coming week, but for now, I have been kept busy with orientation to my program and everything Chile has to offer. After moving in and getting acquainted with my host family, I have had four full days of orientation. 
Although orientation was exhausting, it has been a great distraction from our fears and has helped us adjust to life in Santiago faster. Most of our time was spent learning about Chile's culture, what makes it unique, and its distinct dialect of Spanish. We have also gotten to experience just a few of the amazing things Chile has to offer.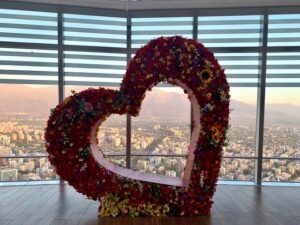 One afternoon we went to the Sky Costanera, which is the tallest building in all of South America. Although the views from the 62nd floor were incredible, seeing the Andes is always breathtaking for me. Being from Houston and studying in Austin, I have never experienced a mountain range this large and close to the city. Because the Andes is an ever-looming presence to the east of Santiago, it is common for people to refer to the east as cordillera, the mountain range, and the west as costa, the coast. 
Another astounding place in Santiago is San Cristobal Hill, located in the middle of the city. At over 2,500 feet the hill can be seen from almost anywhere in Santiago and has many different attractions. The hill houses the national zoo, Japanese garden, two pools, amphitheater and many historic buildings.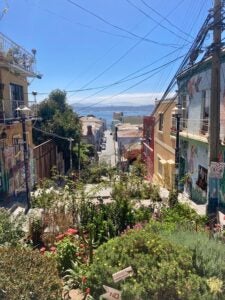 For our last day before classes, we took an excursion to the coastal towns of Valparaíso and Viña Del Mar. Chile was once a military dictatorship, and under the general's reign, the congress was dissolved. When democracy was reinstated, a new congress building was built in Valparaíso instead of the crowded city center of Santiago.
In addition, Valparaíso is an important seaport with many freighters constantly being loaded and unloaded. Valparaíso is built upon large hills like San Francisco, but the artwork, buildings, and streets set it apart from other cities. We used a cable car to get up a hill, where we saw some of the best views of the Pacific, both cities and of the local murals.   
Because Chileans' largest meal is lunch, we had a three-course meal with fresh salmon with an amazing view on the edge of one of the hills. After lunch and exploring Valparaíso's extensive street art, we took the scenic 15-minute bus ride to Viña Del Mar, which is more of a tourist beach town with never-ending beach access.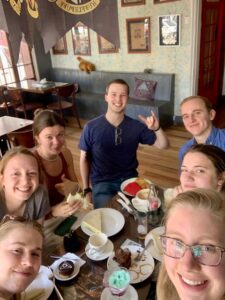 For all my Texans: The Gulf Coast holds a special place in my heart, but the beauty and strength of the Pacific in Viña Del Mar have us beat. The amazing thing about this trip is that these cities are only 2 hours from Santiago, so these beautiful places are only an in-the-moment decision, an Uber and a day trip away. 
 I'm glad to have gotten an orientation week to learn more about Chile and see what it has to offer before classes begin. I am excited to continue learning Spanish and the Chilean culture in my classes.   
A week ago, when I arrived in Chile, I did not think I had enough Spanish experience to survive, but I have been amazed by my improvement in comprehension and speaking every day. I look forward to balancing my schoolwork with traveling and adventures in Chile. I hope everyone who reads this realizes there is a great adventure waiting for them in Chile! ¡Nos vemos!  
 This post was contributed by Jordan Matkin, a Global Ambassador for Spring 2022. Jordan is a fourth-year neuroscience major and Spanish and social work minor studying abroad in Santiago, Chile.