Greetings from halfway across the world! My name is Nichelle Haley, and I am doing an internship in Singapore for the summer. Singapore is +12 hours from my hometown of Atlanta, Georgia, and +13 hours from Austin. So every night in Austin, it is already tomorrow in Singapore.
I remember when I first told my family I wanted to go, they questioned me and told me how far away it was, but I just reminded them the world is a beautiful place and I want to see as much of it as I can.
They probably were saying, "I told you so" the day I left because I woke up with a stomach bug ahead of my three flights totaling 22 hours. Traveling across the world by yourself can be scary but traveling across the world by yourself while sick is truly frightening. Luckily, the kindness of strangers and flight attendants held me up until I arrived in Singapore June 2.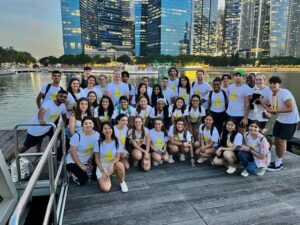 Flash-forward three weeks, and I am having the most amazing and rewarding experience! Traveling has always had a special place in my heart, but doing an internship abroad is a lot different from just exploring a new city. I have work Monday through Friday, 9:30 a.m. – 6:00 p.m. and am remote Monday, Tuesday and Thursday.
On the days I go into the office, I wake up at about 8:00 a.m. and get dressed for the day. I grab a coffee and a pastry and head to catch the bus! I board the #147 bus to 211 Henderson Road, where advertising agency Splash Productions is located.
Once I arrive, I am usually asked, "Have you had your breakfast?" which is similar to "How are you?" I then convene with Esther, my supervisor, to discuss my tasks for the week. My main responsibility is gathering content for MTI — the Ministry of Trade and Industry — and their social media accounts (mainly Facebook and LinkedIn).
Additionally, I help prepare social media reports using Sprout Social, a social media analytics tool. Throughout the day, I assist people in the office when they need it and if I am not busy. However, work is not all that happens in Singapore.
I am thankful to have come to Singapore with a program called Absolute Internship, which helped me connect with Splash. Additionally, Absolute has planned various day and weekend trips for us throughout our 8 weeks here. We also have activities during the week, like dinners, career development workshops, and cultural activities.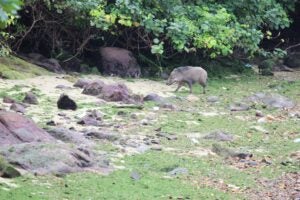 On June 11, we took a day trip to Pulau Ubin, one of the last remaining traditional Singaporean villages! After a short bus ride and an even quicker boat trip, we arrived to bike around the beautiful island. While riding, we encountered monkeys that attacked anyone with open food, which was thankfully not me. After our first bike ride, we walked along a path over the beach and the marsh.
Once we returned to our rest stop and enjoyed some snacks, we set out to bike again. The ride began much like the first one — until the sky opened up and we explored Pulau Ubin in the rain. When we made it back to the bike shop, we were soaked from head to toe, but our smiles and laughter echoed through the restaurant where we stopped to grab a bite to eat. Eventually, the rain stopped, and we returned to mainland Singapore.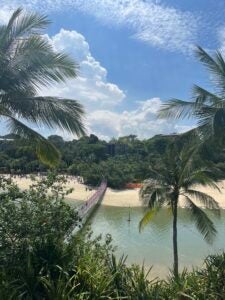 Our first weekend trip was to Sentosa, a Singaporean island. We left around 10:15 in the morning and were on the island by about 11:15. Once we arrived, our group dropped our bags off at the hotel, Oasia Resort, and then went to grab lunch at a food court, where our food had already been ordered since there were about 50 of us.
I had crispy garlic chicken that came with rice and was delicious! All the food in Singapore is delicious, which is good for me because I love to eat. Additionally, the portion sizes here are much bigger than in America.
After eating lunch, we took sky cable cars to the other side of Sentosa, heading toward Siloso beach. At this point, most of us were ready to kick our feet up on the beach but our program coordinators had planned a walk along the sky trail for us first. Although this was fun, it was hot and I was ready to jump in the ocean. After a short walk, we were told that "free time" had begun, and me and a few others practically ran to the beach, threw our stuff down and jumped into the ocean.
For hours, we relaxed and played on the beach before me and a few others went zip lining over the forest and beach. Heights are not my favorite thing, but I love adventure, so I made the trade-off because you can probably only say you went zip lining in Singapore once. I am glad I took the plunge because it was so fun and an amazing feeling, soaring over the trees and ocean.
On Sunday we enjoyed the beach before taking out a boat with our group. As we sailed by the harbor, the sun began to set, and the conversations dwindled as we just took in the beauty of Singapore and Mother Nature. And just as the sun sets, this blog post must end… but stay tuned for my second post coming in July!
This post was contributed by Nichelle Haley, a junior majoring in marketing and completing an Absolute Internship in Singapore.