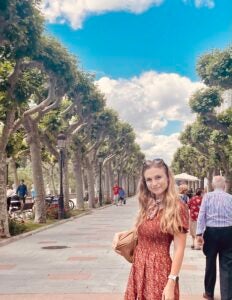 Taking the leap to study abroad for the entire summer was not an easy decision for me, to say the least. While I eagerly looked forward to being fully immersed in the language and culture of Spain, a part of me wished I could soak up this last summer with my parents before going out into the world for myself. 
With an abundance of apprehension, I boarded my flight from Texas to Santander, Spain. After a flight cancellation that set my arrival back an entire day, I finally stepped onto Spanish soil for the first time. I was exhausted and overwhelmed, and a wave of homesickness was already setting in.
As I made my way from the airport to the University of Cantabria to meet my study abroad group for the first time, I chided myself for not feeling more excited or happy to be in Spain. This was an opportunity of a lifetime, and I was too busy letting negative emotions interfere with my first perceptions of my new home.
Fortunately, while on a tour of our new city those first few hours, I found a tinge of solace in speaking with other students from UT. This feeling progressed, and by the end of the tour, I was certain I had begun to acquire friendships with an amazing new group of people.  
While the next week or so of my time in Santander was plagued with homesickness, I found it to be endurable because of the camaraderie I found among my new friends. An instant smile spreads across my face when I recall those first few days exploring the city together.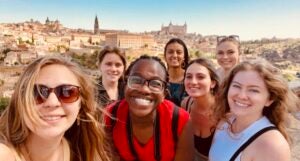 I can still vividly recall the sound of our laughter as we blundered our way through ordering in restaurants for the first time, with our greatest blooper being when we asked the waiter for sangre (blood) instead of sangría.
By learning early on to laugh at ourselves when we made a mistake in Spanish, I feel we did ourselves a great favor. Learning a language is all about trial and error, and if you don't occasionally (horribly) embarrass yourself in your target language, then you are not improving. 
In addition to many eventful days spent together in Santander, my friends and I decided it was only right to explore other parts of Spain, and we set off to the great city that is Barcelona. Arriving on a Thursday night, we knew we had approximately 36 hours to see as much as we possibly could before our flight home. Friday morning, we set out with a full agenda of all we wanted to see. We marveled at art inspired by the '60s counterculture and then raced halfway across town with a lamb chop wrapped in a napkin to view the visceral paintings of Pablo Picasso before noon.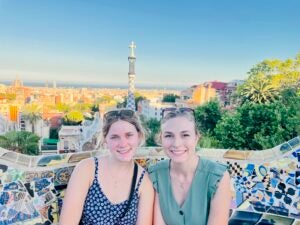 We proceeded to be awestruck by Gaudí's masterpieces, including Casa Batlló, La Sagrada Familia, and Park Güell. After this eventful day full of art, history and much laughter with my friends, we spent our evening at a discoteca, where we met many people from across the globe. I was awestruck by the tales of people's travels and found myself reclaiming the excitement I'd had for traveling before my homesickness dashed the feeling out.  
As the sun rose and the sounds of morning surrounded us, I felt for the first time since arriving that I was finally regaining my passion for traveling and learning more about the wonderful country that is Spain. These realizations would never have come if not for the evening and the wonderful times spent with my friends, and for this I am eternally grateful to them.  
This post was contributed by Darby Duncan, a senior majoring in international relations and global studies studying abroad in Santander, Spain.