"Does the world seem bigger now, or smaller?" 
I'd met up with my high school best friend in Prague. She was studying abroad in Scotland, and her semester had just finished; I still had about half of my semester left. We were sharing "trdlnik" near the Charles Bridge, and I was asking her about her experience. 
She frowned, leaving her spoon half-buried in custard cream. "Bigger, I think," she replied. "You?" 
I searched for an answer to my own question. "Smaller," I said finally. "I've never really felt far from home."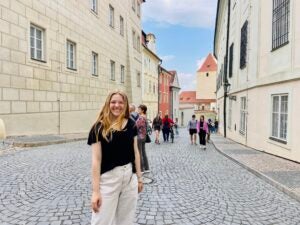 I haven't ever been able to conceptualize the distance from home. I understand it in numbers, thousands of miles that don't mean anything to me, hours of air travel—but even still, home is just a train and a flight and a couple of layovers away. Once you start traveling, once you can go anywhere, the world isn't really all that big. 
At the same time, the vastness of our planet is surprising me still. Studying abroad has shown me that understanding a place has layers. A few examples: my Dutch class, analog astronaut geology training, and flight and orbital mechanics.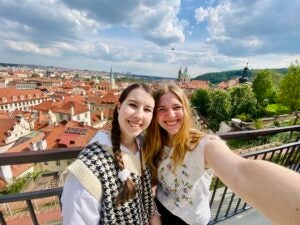 Dutch at TU Delft is taught using a method developed by the school: You self-study from the textbook and, during class time, you discuss in Dutch. In one of our first classes, our professor asked me why I was learning Dutch. "Nederlands is leuke," I said haltingly. "Dutch is fun." I didn't have the words to say what I really meant: that I'm on a semester exchange but, even though I'm not here long, I wanted to be more immersed in the local culture by learning the language. 
You don't really need to know Dutch to get around in the Netherlands. I've had a few instances where it might have helped, but most Dutch people speak amazing English—even people at the shops, which isn't the case in most other countries I've visited. For me, the process of learning the local language has been an experience of opening my eyes to a wider world. I remember waiting at the train station and hearing the announcement in Dutch that the train would arrive fifteen minutes late. I understood it. I looked around the platform wide-eyed, reading signs that even a few weeks ago would have been unintelligible. This is what I mean by the world having layers: Before, I could get by and catch my train, but I was existing in a surface state, with this whole deeper dimension unseen. I felt that I was understanding more of the world rather than just existing in it.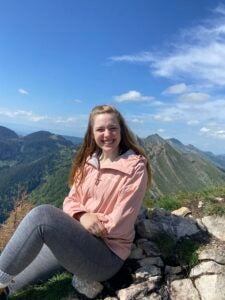 I had the same feeling during my geology training for my analog astronaut mission. I travel to Switzerland about once a month for trainings with our organization, Asclepios. Astronauts have to learn a wide range of skills to be self-sufficient on their missions; we simulate this, too. I've learned how to give sutures, remove teeth and provide psychological first aid. I've had photography, resilience and CPR training. Recently, my team hiked through the Alps for geology training. The geologists with us pointed out landscape features—a U-shaped valley carved out by a glacier long ago, strata in the rock faces that showed how, thousands of years prior, the mountains had folded over themselves as tectonic plates squeezed them together. I hike a lot, but looking around now, reading the landscape-like history, I saw a new dimension of the world.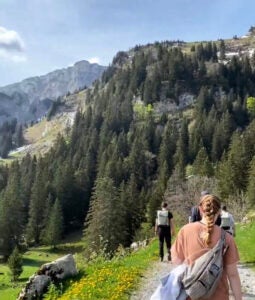 I experience this even in my aerospace engineering classes. Coming to TU Delft, I'd never taken any courses related to air travel. All of my work has been strictly space-related. In my flight and orbital mechanics class, we learned the strategies and physics that guide planes to take off and land. Every time I fly now I think about it—bank angles, glideslope and rate one turns.  
The more I learn, the bigger and smaller the world becomes simultaneously. I see things I haven't seen before, and new dimensions open to me. At the same time, I realize there are so many things I didn't even know I didn't know. Being here is teaching me to appreciate the complexity and intricacy of learning a place, a course, a language. I'm wondering if maybe the size of the world isn't so much in distance but in layers. In that sense, there is always infinitely more to discover!  
This post was contributed by Katie Mulry, a Global Ambassador for Spring 2022. Katie is a third-year aerospace engineering major studying abroad in Delft, Netherlands. Read Katie's first post here.